We buy houses in Corona for cash directly from you. We are not wholesalers and don't work with realtors, so you'll get paid the full price and won't have to pay realtor commissions - the profits are yours to keep. And we'll take care of the closing costs. Our goal is to make selling your house simple and easy and reinvigorate communities while doing so.
No Repairs or Investments
We buy houses in Corona in the state they're in for the best prices possible. There's no reason for you to invest in repairs when you can sell to buyers that are looking for potential and not the current state of the home. You can sell your house regardless of if it's:
Distressed
Encumbered
Under foreclosure
Inherited
Custom Terms of Sale for Your Corona Home
We can help you sell your house in Corona fast and without hassle, under flexible terms, tailored to suit your needs. Our home-buying process is based on our mission - to make the sale as stress-free as possible for you. Contact us, tell us more about your situation, and we'll come up with the best possible solution for you.
Set the Assessment Date for Your Corona House
Naturally, we'll need to visit your Corona, CA home for an on-site assessment. However, we value your time, so you are the one who sets the assessment date. In addition, one visit is all it takes. Once we evaluate your property, we'll give you a cash offer and all the time you need to consider it. If you accept it, we can move forward as soon as you want.
Flexible Closing Date
Regardless of whether you need to sell your Corona, CA house fast or are just planning ahead, SleeveUp Homes can be the right solution for you. We can set the closing date within one week, or at any later date that suits you. There is no rush on our part, so it's up to you to decide how quickly you want to move forward.
No Pressure to Move Out from Your Home
At SleeveUp homes, we know that selling your house isn't always a simple deal. If you need to sell ASAP but need more time to make other arrangements, we can come up with a solution so you can sell your house fast in Corona, but move out at a later time.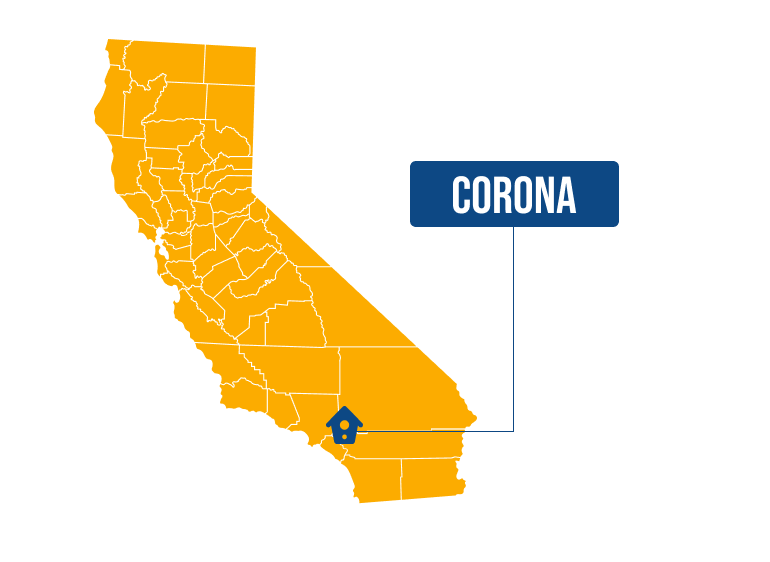 No Commissions or Closing Costs
The price you agree to is the amount you end up getting for your house. If you decide to sell your Corona, CA house to us, you can rest assured there won't be any agent commissions or closing costs you need to worry about. As direct buyers, we handle everything and pass on the savings from agent commissions to you.
Request a cash offer - no strings attached - and get $10,000 more regardless of the state your property is in.
HOW IT WORKS
We Buy Houses in Corona Directly from You
We don't work with agents or realtors - We buy property directly from you. Hence, all terms of the sale depend solely on you and us. No third parties are involved. This is why we are able to pay you top dollar for your home and help you close the sale as quickly as you want.
Get a Cash Offer for Your Corona Home
Selling your home can be stressful, but it doesn't have to be. Selling your house for cash is easier than you may think with the right buyer, and thanks to our flexible terms and simple process, you won't need to wait months before receiving payment.
Reach out to us, we'll give you a no-obligation cash offer, and you can sell your house fast in Corona, CA!
GET CASH OFFER