Sell Your House in Temecula in Just One Week
At SleeveUp Homes, we pride ourselves on our speed and the ability to help home sellers offload their property fast. As a matter of fact, we could help you sell your house in just one week. No realtors, wholesalers, or anyone else involved. We're your direct buyers, and we buy houses as-is. There's no need for repairs or investments of any kind, which is one of the reasons why we're able to close sales so fast. If you don't want to waste your precious time, reach out to us. We'll give you top dollar for your house and help you close the deal in the shortest amount of time.
Sell your house fast in Temecula, CA!
Average Home Value in Temecula in 2023:
~ $707,000
---
Decrease in Selling Price Since 2022:
~ 2.9%
GET CASH OFFER
No Need for Repairs
SleeveUp Homes buys houses as-is. That means that you don't have to worry about repairs or investing in your property before you decide to sell. Repairs and investments go against what we stand for, and that's speed, flexibility, and enabling our clients to move out as early as they want.
Let us know that you're willing to sell your house, we'll give you our assessment, and that's it. Our no-obligation offer is completely free for you to accept or reject. It's as fast and easy as one-two-three.
You Are in Full Control of the Process
You're the one who pulls all the strings. It's you, our client, who decides when we get to see the house, and you're the one who gets to say how fast or slow we move with the deal. We don't want you to feel pressured into doing anything. If our offer isn't good enough for you, you can refuse it. What you say goes.
Schedule a Visit
You decide when one of our agents can visit the property. We will make you an offer right then and there after assessing the property value. We don't expect you to give us an answer right away, feel free to take your time. We assure you that we'll give you top dollar for your property.
Set a Closing Date
If our offer is acceptable to you, we can schedule one day when we're to formalize the sale and close the deal. It can be any day of your choosing, we're capable of closing the deal as early as in one week if you're fine with that. Once we come to an agreement, we'll throw in $10,000 before you close to help you in this transitional period.
You Don't Have to Move Out Right Now
Once the deal is closed, you won't have to move out immediately. Tell us how much time you need to get your affairs in order, and then you can move. We're very flexible and willing to work with you every step of the way. Don't shy away from discussing anything with us or asking questions. We're here to help.

Request a cash offer - no strings attached - and get $10,000 more regardless of the state your property is in.
HOW IT WORKS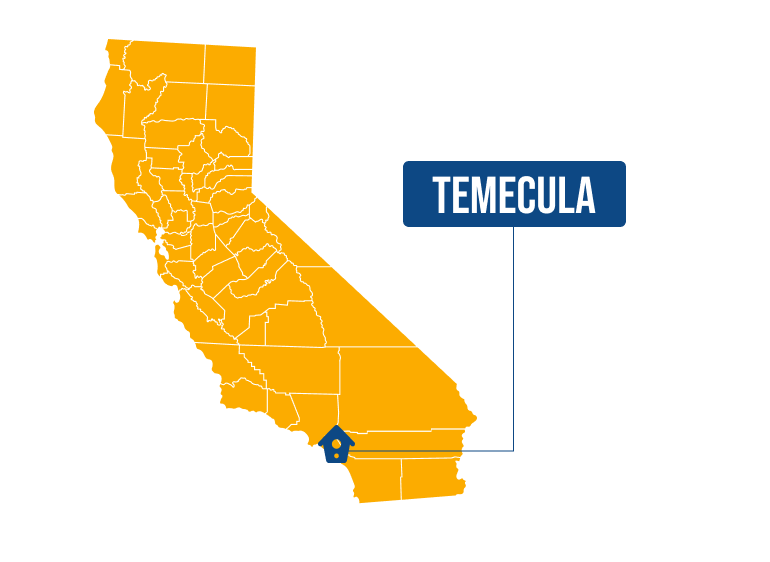 No Realtor Commissions
Since we're your buyers, there's no need to involve real estate agents and pay their commissions. The price that we offer you for your house is yours to keep. There are no hidden costs here — we really do pay the top dollar that we offer you. You can sell your house fast in Temecula and get the full amount.
We Buy Houses in Temecula Directly from You
We are not wholesalers or realtors. We won't be wasting your time by looking for other buyers and then just taking a cut of the price. We are your direct buyers and pay top dollar for houses in South California. Let us know if you're willing to sell and we'll make you a no-obligation cash offer.
GET CASH OFFER
Get a Cash Offer for Your Temecula CA House
Contact us to get a top-dollar cash offer for your Temecula, CA house. We're fast, flexible, and let you control the process. Reach out to us today.