You can quickly and easily sell your house in the city of Riverside for cash! We buy houses in Riverside for top dollar directly from you - no middlemen involved.
You won't be paying any realtor commission nor do you need to invest in repairs or hold open houses. We will buy your house as-is and you can close in as little as 7 days if you reach out to us now.
SleeveUp Homes Will Buy Your Property in the State It's In
You don't need to invest in repairs or make your home presentable for buyers when you can sell your house as-is and still get the best price. SleeveUp Homes buys all types of properties, including:
Properties facing foreclosure
Encumbered properties
Distressed properties
Inherited properties
The Selling Terms Are Flexibles
Selling your house and moving out is not an easy process. We get that. That is why our team will be as accommodating as possible and you can dictate the terms of sale. We can work together to find an arrangement that causes you the least amount of stress.
We Come When You Tell Us
After you give us a call, one of our members will come to take a look at your house. Tell us a time you are free and that's when we'll pay you a visit. We will answer your question and explain the selling process, as well as do an on-site assessment and make you a no-obligation cash offer.
Set a Closing Date that Works for You
You choose when you wish to close. In most cases, we can help you close in as little as seven days if time is of the essence. On the other hand, we will wait as long as you need us to in case you need to get your affairs in order before selling.
Tell Us When You Want to Move Out
You can stay in your old home even after you close. We understand that you may not have a new place lined up. Communicate with us and we can negotiate a later move-out date. All of our terms are flexible and we know that we can find an arrangement that works for all.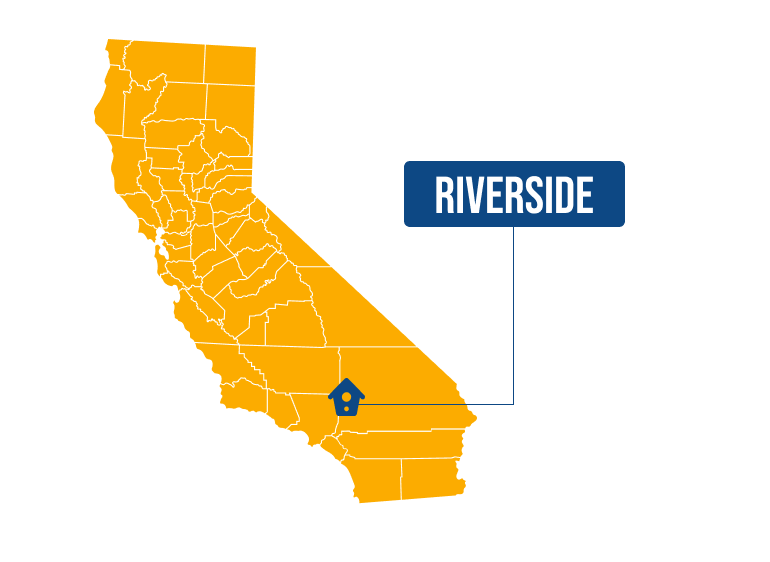 No Commission or Closing Costs
SleeveUp Homes eliminates the middlemen so you don't have to pay any realtor commissions. You get to keep the full amount you make from the sale. Plus, we take care of the closing costs, so that's one less expense for you.
HOW IT WORKS
We Buy Houses in Riverside Directly from You
We can negotiate the terms of sale because we are direct Southern California buyers. You are not selling to out-of-state flippers or wholesalers. This is the main reason we can offer you the best price and why we can let you control the selling process.
Request a Cash Offer for Your Riverside Home
Reach out to us and sell your house fast in Riverside! We'll make you a cash offer and if the offer is not to your liking, you can always leave and we'll be here if you come back. And we're more than happy to answer any questions you have if you give us a call.
GET CASH OFFER