You can sell your house in Norwalk for cash and avoid dealing with realtors or searching for buyers. We will buy your property directly from you in the condition it's in.
Sell Your Norwalk House As-Is
The traditional selling process necessitates investing in repairs, making your home presentable for sale, and negotiating with many buyers. However, when you sell to SleeveUp Homes, you cut through all the noise. We will buy your property as-is and pay top dollar. You can easily sell:
A house in foreclosure
A distressed house
A house encumbered by debt
A house encumbered by debt
You Direct the Selling Process
SleeveUp Homes was founded with the idea that selling a home should be as stress-free as possible and that everyone deserves a fair payout, without getting low-balled. For this reason, you are included in every stage of the selling process and get to decide the terms.
Schedule a Visit
We need to do an on-site assessment of your Norwalk home before making you an offer. Tell us the time and date that works for you and we'll pay you a visit. You'll get a cash offer that you can take your time with. There's no pressure to sell – our offer is on the table and we'll wait for you to make a decision
Decide on the Closing Date
Once you've made your decision, it's up to you how quickly you want it to be done. If time is of the essence, you can close in a week in most cases. A later closing date is even easier. It's your call how quickly or slowly you want to move forward with the sale.
There's No Pressure to Move Out After Closing
We understand that selling a house and making new arrangements isn't easy. A lot of our clients need the cash now but don't have a place to move to. That's why we can make a deal where you continue living in your old house after you close. Clearly communicate what you need and we'll do our best to make it happen.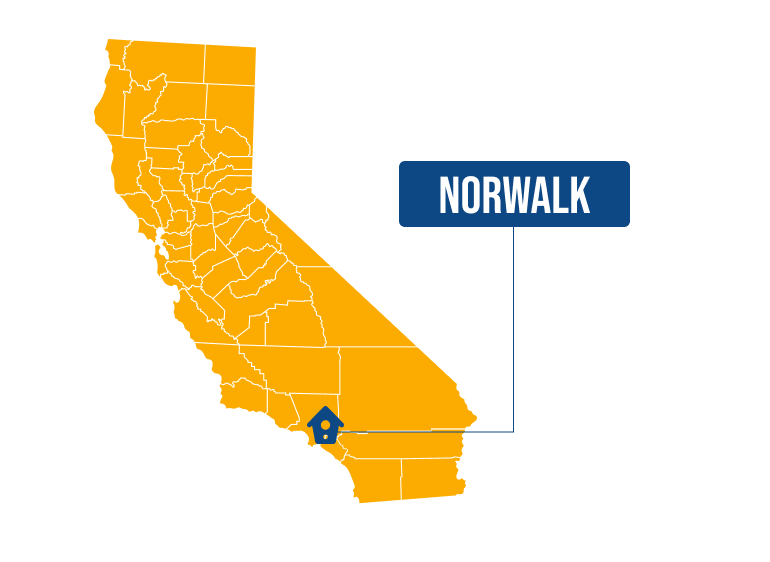 No Realtor Commission, No Closing Costs
In a traditional sale, you would pay your realtor a good chunk of the final price in commission and may even need to pay a portion of the closing costs. With SleeveUp Homes, there's no commission because no middlemen are involved and we pay the closing costs.
Request a cash offer - no strings attached - and get $10,000 more regardless of the state your property is in.
HOW IT WORKS
Sell to a Local Southern California Company
We pride ourselves on being part of the community. You are not selling to out-of-state flippers or wholesalers, but local investors. You will always have an open line of communication with us and can negotiate all the terms of sale.
Get a Cash Offer for Your Norwalk House
Give us a call or fill out the form to request a cash offer and we'll get back to you promptly. Compare our offer with others you've received and take your time with the decision. Once you've made up your mind, we can help you be over and done in 7 days.
GET CASH OFFER