Do you want to sell your Oceanside home quickly? If so, SleeveUp Homes is the right buyer for you! We buy houses regardless of their current state across Southern California.
Avoid dealing with agents, realtors, and other middlemen. Sell your house in Oceanside to direct buyers and save both time and money. Give us a call to get a cash offer for your property and get paid in as little as 7 days.
We Buy Property in any Condition:
Property encumbered by debt
Distressed homes
Inherited property
foreclosure
Negotiate Flexible Terms
Moving is hard and so is finding the right buyer for your home. But we're here to make sure you do it right. We'll work around your schedule and address any concerns you may have. We'll even provide some helpful tips and tricks along the way!
Tell us more about your situation and needs, and we can tailor the sale terms to suit both parties together. You get a say in the process from day one and, more importantly, you can negotiate directly with us.
We'll Visit When You Say So
You schedule the time when we visit your Oceanside house to perform an on-site assessment. As soon as we have evaluated your property, we'll give you a cash offer so you immediately know where you stand. We don't want to take up more of your time than necessary.
Flexible Closing Date
If you agree to our offer, we can expedite the process and close within a week if you are in a hurry to sell. Otherwise, we can agree to any closing date that suits you - no pressure whatsoever. Once the closing date is scheduled, we can even give you an advance in the amount of $10,000 to help you move or cover other expenses.
Sell Now, Move Out When it Suits You
If you decide to sell your house in Oceanside to us, you won't need to move out as soon as we close. If you need time to make other arrangements and would like to keep living in the house after you've sold it, we can make it work. Tell us about your situation, and we'll do our best to make the process as easy and stress-free as possible.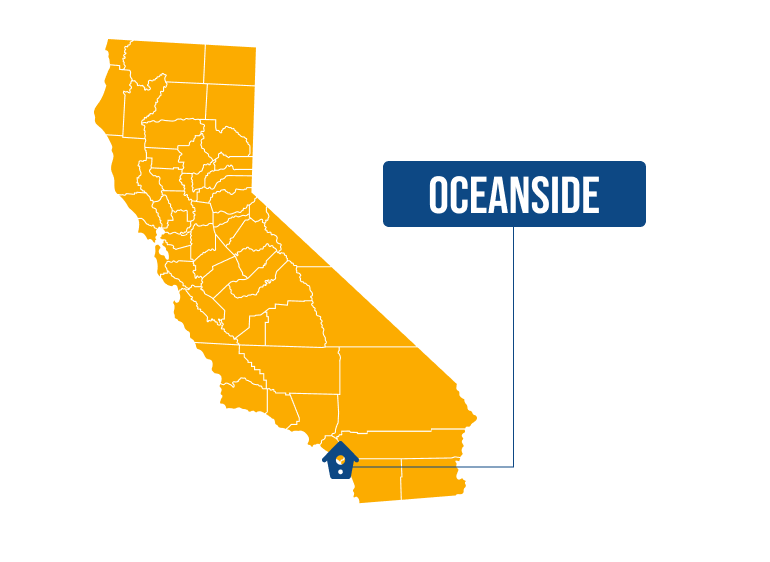 Avoid Dealing with Agents and Open House Days
From the first call you make to the moment when we close the sale, you'll be talking and negotiating directly with us. Our process doesn't involve agents or other middlemen, so there aren't any hidden fees to surprise you. The same goes for open house days.
Instead of paying fees, waiting for the right buyer to come along, and negotiating each time, the offer we make is valid until you accept or reject it. Once we schedule the closing date, we handle everything else and you receive the full amount you agreed to.
Request a cash offer - no strings attached - and get $10,000 more regardless of the state your property is in.
HOW IT WORKS
Sell to Direct Local Home Buyers
We are able to offer flexible terms and give you control over the process because we are direct buyers. The only two parties involved in the sale of your Oceanside home are SleeveUp Homes and you.
Get a Cash Offer for Your Oceanside Home
Reach out to us and sell your Oceanside house as-is for the best price you can get! You can request a no-obligation cash offer by filling out the form below. If you have any questions, give us a call, and our team will be more than happy to help you.
GET CASH OFFER