Get the best price for your Palm Springs home! If you need to sell quickly but don't want to lower your price, SleeveUp Homes is the perfect buyer for you. You can sell your house as-is in as little as 7 days.
And because you are selling directly to us, you get to keep the full proceeds from the sale – SleeveUp Homes will cover the closing costs and no realtors are involved so you won't be paying any commissions.
No Need to Invest Time or Money:
We buy houses in Palm Springs as-is. You don't need to waste time on holding open houses or making repairs to attract buyers - we'll take care of the repairs ourselves once you sell your Palm Springs property. And when we say we buy as-is, we mean it. You can easily sell:
A distressed property
An encumbered property
An inherited home
Property facing foreclosure
Sell How You Want to Sell
Our terms of sale are flexible and negotiable and the entire process is designed to help you make the right choices for your specific situation. We will work on your schedule and let you determine:
The Date of the Visit
Contact us to arrange a visit at a time convenient for you. When it suits you, one of our team members will come to take a look at your property and do an on-site assessment, as well as answer any questions you may have. You'll get a no-obligation cash offer that you're free to accept or refuse.
The Closing Date
If you accept our offer, you can close quickly or slowly, dictated only by what you need. If you need the money right away, we'll work with you to close in as little as 7 days. In case you need more time, set a later closing date.
When You Move Out
In addition, you don't have to move out as soon you sell your Palm Springs home. We get that you may need more time to find another place. That's why we can work out an arrangement where you stay in your old home even after you sell. Just tell us directly what you need and we can find a way to make it work together.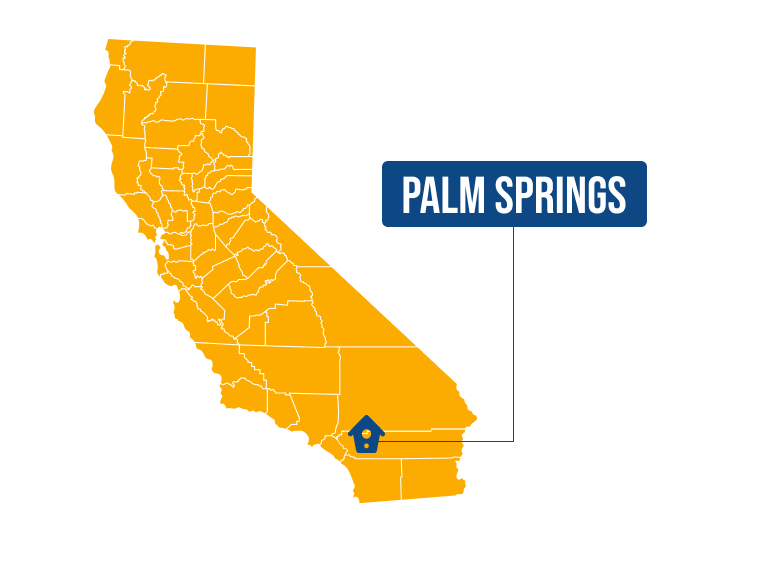 No Hidden Fees, Closing Costs, or Realtor Commissions
The cash we offer you is cash you get to keep. There are no hidden costs and SleeveUp Homes will take care of the closing costs. And because you're not selling through realtors, there is no commission you need to pay.
Request a cash offer - no strings attached - and get $10,000 more regardless of the state your property is in.
HOW IT WORKS
We Buy Houses in Palm Springs Directly from You
SleeveUp Homes can eliminate the middleman and let you negotiate the terms of sale because we are direct buyers. You are communicating and negotiating directly with us. Making requests or changes and asking questions is always possible precisely because you always have an open line of communication.
Get a Cash Offer for Your Palm Springs Home
Contact us by giving us a call or filling in the online form to get a no-obligation cash offer. We will get back to you as soon as possible to start the process. Sell your house fast in Palm Springs and make top dollar!
GET CASH OFFER