Don't want to invest time or money into repairing or refurbishing your house before selling? No problem - SleeveUp Homes buys properties as-is for the best price possible. We understand investing in a house you want to sell isn't always the best option or even possible. Instead, sell your house in Hemet fast for cash, regardless of its current state, with the option to close in as little as 7 days.
Sell Your Home in Hemet in Any Condition
Going through the traditional sale process usually means waiting for a couple of months for the right buyer to show up in addition to investing in repairs. At SleeveUp Homes, we buy houses in Hemet directly from the owners. Hence, we can buy your Hemet home much faster and through a simple process. Reach out to us to get a cash offer, and we can close the sale within a week!
We will buy your property in the condition it's in, including:
Homes facing foreclosure
Inherited properties
Distress properties
Underwater properties
Unmatched Flexibility
As direct buyers, we can offer you terms and flexibility you wouldn't get anywhere else. Selling your house, especially if you are moving, can be a stressful process. But it doesn't need to be. With SleeveUp homes, you are in complete control from day one and we'll do our best to tailor the sale terms according to your needs and situation.
Schedule a Visit to Your Hemet Home
You decide when we visit your property to perform a one-time assessment. Once we do, we can give you a fair cash offer on the spot. However, you can take all the time you need to consider it. If you decide you want to sell to us, let us know, and we can continue the sales process however quickly you want to.
You Decide on the Closing Date
Whether you are in a hurry or want to prolong the closing date, we can accommodate you. If you need the cash as soon as possible, we can close within a week. Otherwise, you can set the date to a later time. In addition, we can give you $10,000 as soon as the closing date is agreed upon to help you with moving or other expenses you may have.
Take Your Time Moving Out
We often work with homeowners who need the funds quickly but would prefer to stay in their homes a while longer. If this is your case, we can come up with a flexible arrangement that lets you stay in your Hemet house after you've sold it. Whether you need time to find another place to stay, move to a new city, or buy another property, all you need to do is let us know, and we'll come up with a solution.
Request a cash offer - no strings attached - and get $10,000 more regardless of the state your property is in.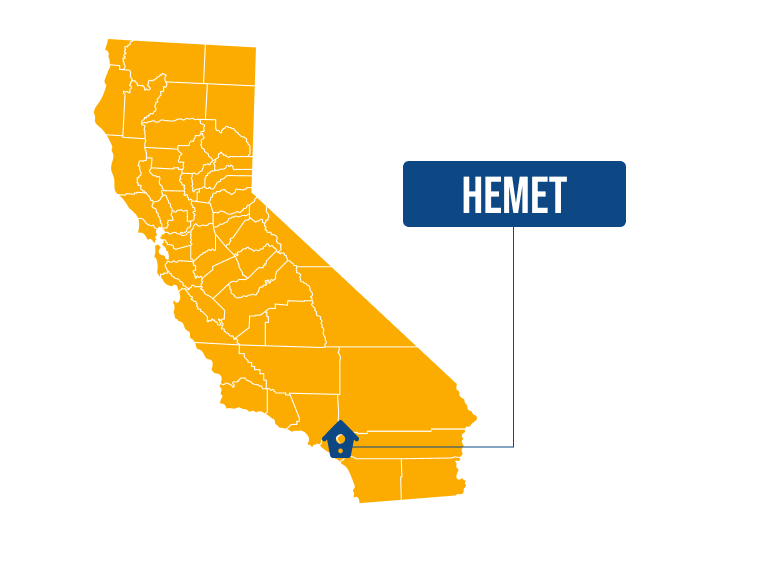 No Realtor Commissions
Unlike the traditional process, with SleeveUp Homes, there are no middlemen to take their piece of the pie. The amount of cash we offer is all for you. That means you don't need to worry about any commissions, fees, or hidden costs. Plus, we'll cover the closing costs. So sell your home fast in Hement and keep all the proceeds!
HOW IT WORKS
We Buy Homes Directly from Owners
We buy houses in Hemet directly from the owners. Since we are direct buyers, there are no third parties involved at any stage of our process, so you can negotiate terms with us.
If you are interested in how much cash you could get for your house in Hemet, reach out and request a no-obligation cash offer. We are guaranteed to offer you the best price for your property as-is, along with an advance of $10,000 and all the flexibility you need.
Get a Cash Offer for Your Hemet Home
Cut out all the middlemen and sell your house fast in Hemet and for top dollar! Talk to us, and we can come up with the terms and solutions to help you make the process as simple as possible.
GET CASH OFFER