You can sell your house in Moreno Valley to us in just one week without investing a single dollar in the property. We buy houses as-is, and we do it fast. SleeveUp Homes helps you sell your house fast and lets you pocket all the cash, whereas you'd have to suffer open houses and real estate agent commissions in a traditional sales process.
Our process is simple and efficient. Get a no-obligation cash offer from us, and if it's alright with you, you get the money and we buy your house. It can all be over in just one week if you're in a hurry.
SleeveUp Homes buy property in any state:
Encumbered property
Distressed houses
Inherited property
No Need for Investmentss
Not everyone can afford to invest in the house they're hoping to sell. Repairs are quite costly, and often necessary to get a fair price for your property. With SleeveUp Homes, you can forget all about expensive repairs and unnecessary investments. We'll give you top dollar for your house as-is, no repairs or investments required. It's the perfect opportunity for you to sell fast and still get the money your house is worth. Talk to us to get a no-obligation cash offer and sell a house that you don't want or need.
You Schedule the Time when We Visit the Property
We can come to see your Anaheim house whenever it suits you. Once we make an on-site assessment, we'll give you a no-obligation cash offer and answer any and all your questions.
Flexible Sales Process
You're in total control of the sales process. Our goal is to make it as flexible and organized as you need it to be. You're the one who says what goes and what doesn't. You schedule visits to your property, closing dates, and when you move out. We want to make the whole process completely seller-friendly.
Arrange a Visit to Your House
First, we need to come to see the property and assess its value before we proceed with the rest of the remaining steps. You decide when we get to visit your house. Once we assess the value of your Moreno Valley property, we'll make you an offer immediately. You don't have to wait, as we don't want to waste any of your precious time. However, you don't have to give us an answer right away. Feel free to consider our offer before giving us an answer.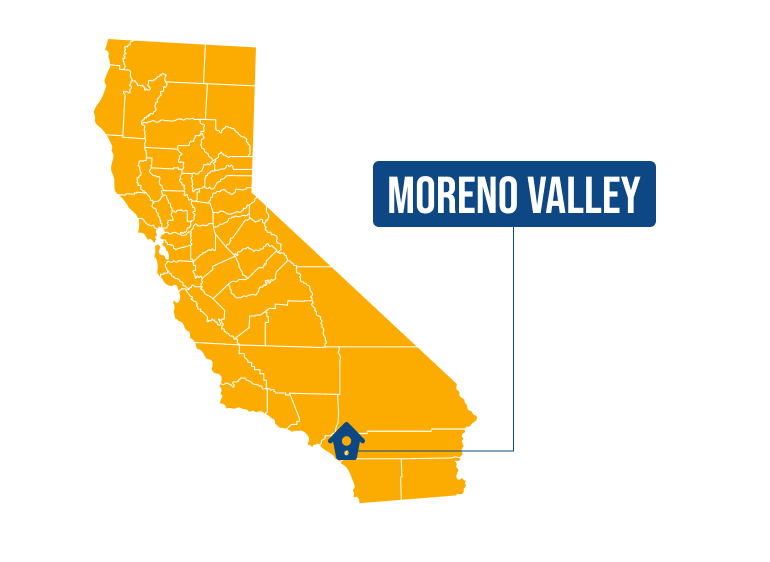 Set a Closing Date
If you decide to accept our offer, come up with a closing date that works for you. Once we've come to an agreement, we'll give you $10,000 to help you make all the arrangements before the closing date arrives.
Request a cash offer - no strings attached - and get $10,000 more regardless of the state your property is in.
HOW IT WORKS
You Don't Have to Move out Immediately
Once you sell your Moreno Valley house to us, you don't have to worry about moving immediately. The speed with which we operate is often too much for some people, and they need more time to make arrangements and find a place to move to. We won't ask you to move out as soon as the sale is through. Feel free to let us know how much time you need and we'll do our best to accommodate your needs.
No Closing Costs
There are no hidden or closing costs involved when selling your Moreno Valley house to SleeveUp Homes. The price we offer you is the price you get. Not to mention that it's a top dollar price that every home seller should hope to get.
GET CASH OFFER
We Buy Directly From You
There are no realtors or realtor commissions involved in the process. We are your direct buyers, and we pay the cash to you. You don't have to worry about losing out on hefty realtor commissions. Pocket all of the cash for yourself.
Get a Cash Offer for Your Moreno Valley CA House
Reach out to us to get a no-obligation cash offer for your Moreno Valley CA house. We make only top-dollar offers, so contact us at your earliest convenience to sell your house fast.