Need to sell your Buena Park house quickly? SleeveUp Homes is here to help. We buy properties as-is all across Southern California for the highest price.
The Best Offer and No Hidden Costs
You get to keep the full amount of what the house is sold for. Selling a home through a realtor can easily lose you upwards of 5% in commission. SleeveUp Homes is a direct buyer and we eliminate the middlemen, so the entire selling price ends up in your wallet.
And don't worry about closing costs or other fees. SleeveUp Homes will take care of everything and leave you with a clean bill. It might seem like we can't make you a good offer because of the benefits we provide. On the contrary – we will match and go above any other offer you've received.
Because we aren't flippers or wholesalers, we're not just looking to make a quick profit which is why we can give you top dollar. But don't take us at our word. Request a no-obligation cash offer and see that we are serious when we say SleeveUp Homes gives more.
Sell Your Fontana House As-Is
There's no need to invest in repairs to get the best price for your house. SleeveUp Homes looks for potential and not the current state, and that's what will guide the offer we make. If any repairs are needed, we'll do them ourselves once you sell the house.
And we mean it when we say we buy as-is. You can sell your house if it's:
Under foreclosure
Under mortgage
A distressed property
An inherited property
Close In 7-Days or When It Works for You
If you're looking to sell your house fast, you can close in as little as 7 days after you contact us. On the other hand, if you want to sell but can't do it right now, we'll work with you to find a schedule that suits you. The process is straightforward:
Schedule a Visit
Contact us and schedule a time when one of our team members will come to visit your home. We'll make an on-site assessment, give you an exact offer, and answer any questions you may have.
Choose the Closing Date
You can close in a week, in a month, or in three months – when it works for you. You are under no obligation to sell quickly if the situation isn't good right now. We'll make you a cash offer, but when you'll accept is up to you.
Plus a Flexible Moving Schedule
If you sell your home to us, it doesn't mean you have to move out right away. We understand that not everybody has another home ready and prepared beforehand, so we'll work with you to find an arrangement where you can stay in your old home even after you sell it.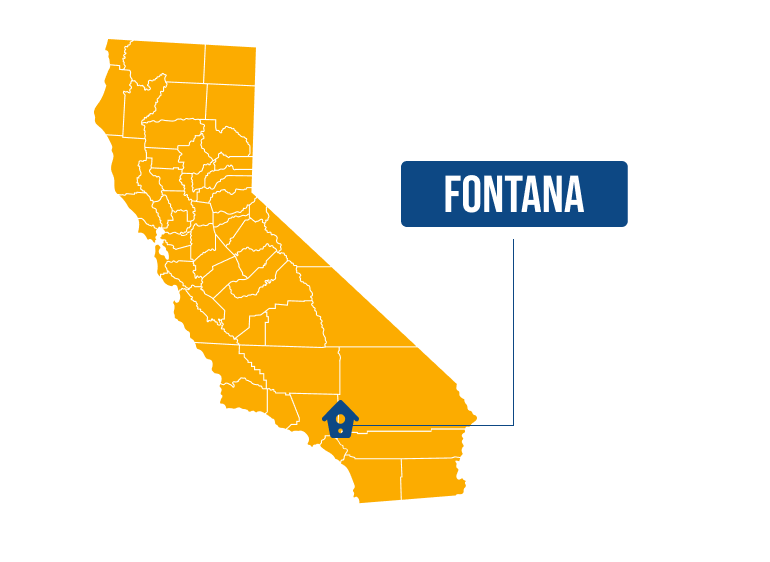 We Are Local Real Estate Buyers
SleeveUp Homes is a Southern California company that wants to invest in our communities. You will have a direct line of communication to our staff at all times and we will be as involved in the entire process as you want us to be.
HOW IT WORKS
Sell My House Fast in Fontana, CA
Contact us to get a cash offer and see what can give you. No pressure, no obligations beforehand, you move at your own pace. If you have any additional questions, our team will be more than happy to answer them.
Get a Cash Offer for Your Fontana House
Contact us today to request a no-obligation cash offer and see where you stand. All terms are open for negotiation and our team will gladly answer any questions you have.
GET CASH OFFER