You can sell your Long Beach house for cash without holding open houses or doing any preparations. We are cash home buyers and will buy your house for top dollar - and you can close in as little as 7 days!
We are not flippers or wholesalers and you're not selling through a realtor, so not only can you get the best price possible, but you also don't need to pay any real estate agent commissions. On top of that, we'll take care of the closing costs, so all the proceeds from the sale go right into your pocket.
Sell As-Is:
You can sell your house for top dollar without investing a dime. There is no reason to make small or extensive repairs or invest in renovations when SleeveUp Homes buys all types of houses as-is. And you can also sell your house for cash if it is:
Facing foreclosure
A distressed property
Encumbered by debt
Inherited
A rental property
Communicate Your Terms
We offer flexible terms that you won't get in a traditional sale process - you decide what suits you best. Because selling a house is too often very complicated, we have designed the process to be as straightforward as possible and you get to control it from start to finish.
Arrange an On-Site Inspection
Give us a call and tell us when you would like us to pay your property a visit. We will do an on-site inspection and give you a no-obligation cash offer. Accept it straight away or peruse other offers and contact us once you make up your mind.
Set a Closing Date
If you think we're giving you a fair price and you accept our offer, it's time to set a closing date for your Long Beach house. In most cases, you can close in as little as a week. If that's too soon for you, tell us when you'd like to close and we'll wait as long as needed.
The Move-Out Date Is Flexible
Finding a new place to live and moving out can be stressful, so we'll do everything in our power to make the transition as smooth as possible. As the former property owner, you don't need to move out as soon as you sell your home. Communicate with us and we can work out an arrangement where you continue living in your old home for a time after you sell.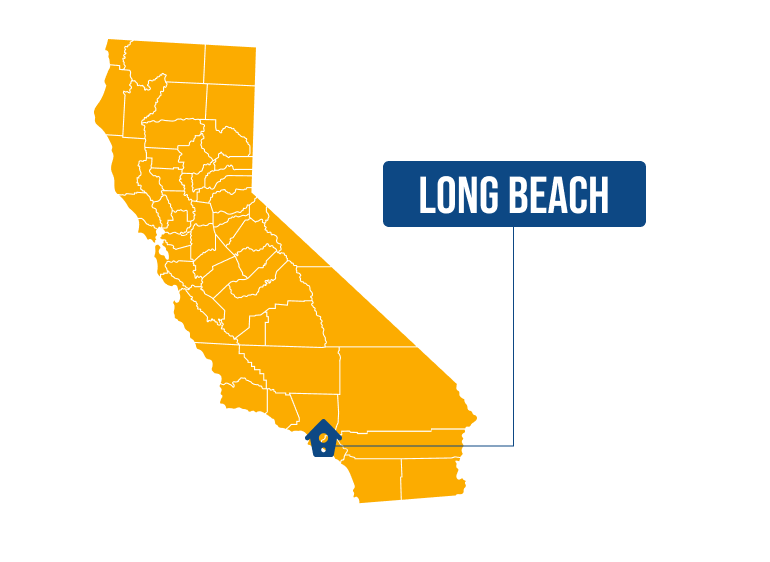 No Closing Costs or Realtor Commissions
Because you are not selling through a realtor, you won't be paying any commissions or agent fees. On top of that, SleeveUp Homes will take care of the closing costs. In short, all the money you make from the sale remains in your wallet and doesn't go towards paying off the sale expenses.
Request a cash offer - no strings attached - and get $10,000 more regardless of the state your property is in. Sell your house fast for cash in Long Beach, CA!
HOW IT WORKS
Work Are Direct Cash Buyers in Southern California
SleeveUp Homes is a Southern California company, so you are not dealing with intermediaries. You are communicating directly with us, which is why we are confident that we can find an arrangement that works for you. Our aim is to rejuvenate communities so we will always pay a fair cash price.
Request a Cash Offer
We buy houses for cash in Long Beach, CA. Reach out to us by filling out the online form and get a no-obligation cash offer for your Long Beach home. Regardless of the state of the real estate market, we will always offer top dollar. Tell us what other offers you've received and we'll show you how you can do better.
GET CASH OFFER