Need to sell your Ventura house on a tight schedule? We're the buyers you're looking for. SleeveUp Homes pays cash for homes across Southern California, regardless of their state.
We are direct buyers, so you won't need to deal with real estate agents and their commissions, repairs, or house showings. Reach out to us and we can buy your Ventura house in 7 days or less, under flexible terms and for top dollar.
We Buy Houses in Ventura As-Is
At SleeveUp Homes, we don't need you to make any investments into your property before selling. Repairs can be costly and time-consuming, so if you're in a hurry or don't want to spend money on refurbishing, you don't need to.
We buy houses in Ventura in any condition:
Distressed property
Encumbered property
Under foreclosure
Inherited
We Tailor the Sale Terms to Your Needs
With SleeveUp Homes, you are in control of the sale process and get to decide on the terms under which you want to sell your property. Instead of dealing with agents, paying commissions, and adapting to their schedules, we offer complete flexibility and will adapt to you. Our mission is to help homeowners looking to sell do so through a quick, stress-free process, with zero additional costs, and for a fair price.
We Can Visit Whenever it Suits You
You get to decide when we visit your house in Ventura to make an on-site assessment. As soon as we do, we'll give you a fair cash offer and you'll know exactly where you stand. The assessment itself is free of charge and takes only one visit. You have all the flexibility you need from day one.
Set a Closing Date that Works for You
Once you accept our cash offer, we can proceed with the sale at any pace that you are comfortable with. This means you decide what the closing date will be. We can accommodate you whether you want to complete the sale in less than a week or want to prolong the process. There is no pressure on you.
Set the Date When You Move Out
If you are looking to get the funds you need for another purchase or need to sell quickly for any other reason, but don't want to move out of your Ventura home right away, we can come to an arrangement that lets you stay in your house even after you sell it. You won't find such flexibility anywhere else.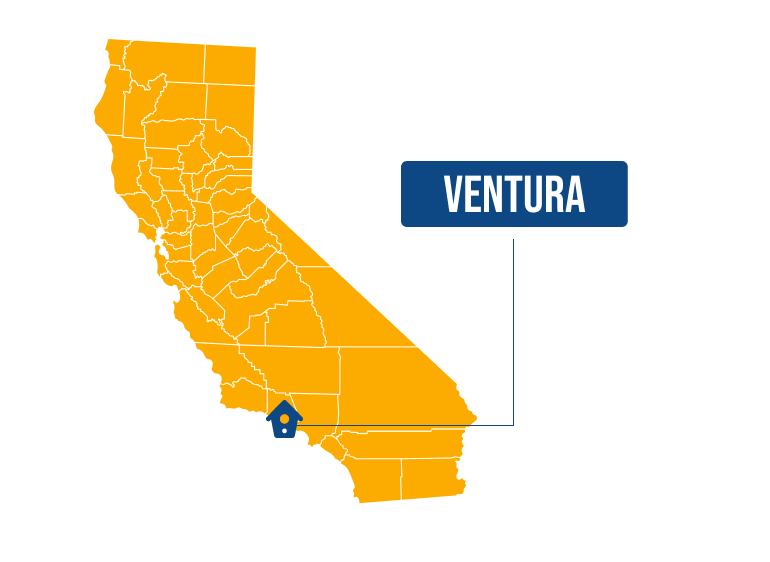 No Commissions or Closing Costs
The cash offer you agree to is the amount you get paid in the end. There are no deductions, hidden costs, or fees. Since we don't work with agents or other middlemen, you don't need to worry about their commissions - that's why we can top any offer you would get for your Ventura house from traditional buyers.
Reach out to us to get a no-obligation offer for your house and find out how much cash you can get for your property as-is.
HOW IT WORKS
Direct Buyers - No Middlemen
There are no third parties involved in the process of selling your house in Ventura. We are direct buyers, so you can negotiate with us regarding all terms of the sale. We'll do our best to accommodate you and come up with unique solutions tailored to your needs. Instead of paying agents, we pass on the savings to you.
Get a Cash Offer for Your Ventura House
So, how can you sell your house in Ventura fast and get the most money? Fill out our contact form or reach out via phone and we'll get back to you with a no-strings-attached offer for your house in Ventura. We're here to answer all questions and talk you through the process with you in control.
GET CASH OFFER