Don't waste your precious time selling your Glendale house the old-fashioned way. Open houses and real estate agents are unnecessary time sinks. And don't get us started on realtor commissions. Working with SleeveUp Homes will get you around all of that. We offer a flexible and fast sales process that will see you earning the top dollar for your property in a record amount of time. Talk to us today about selling your Glendale house and we'll give your our best no-obligation cash offer.
No Need For Repairs
SleeveUp Homes buys houses as-is. That means you don't have to spend your hard-earned money repairing a property that you want to sell anyway. We'll buy the house from you in its current shape and give you the top dollar for it. You'll be able to carry on with your life without worrying about fixing up property that you don't want anymore.
Sell Your Glendale House When You Want
You're in complete control over the selling process. SleeveUp Homes offers all the flexibility you need by putting you in charge of the whole process. Let us know when you can have ys assess the property and make you an offer. Likewise, you'll be the one to let us know if our offer is alright and if you wish to proceed and close the deal.
Schedule a Visit to Your Property
Want to sell your Gkebdake house for the top dollar? Give us a call and let us know when one of our agents can make their way to your property to assess its value. We'll make you an offer and give you some time to think about it, if necessary.
Set a Closing Date
If you're ready to accept our offer, please let us know and give us a closing date that works for you. It doesn't have to be right now, but if you're in a hurry, we can certainly help you close the sale as soon as you need it to.
Flexible Moving Out Schedule
Don't know where to go after selling your house? That's fine, give us an estimate and stay in the house until you're ready to move out.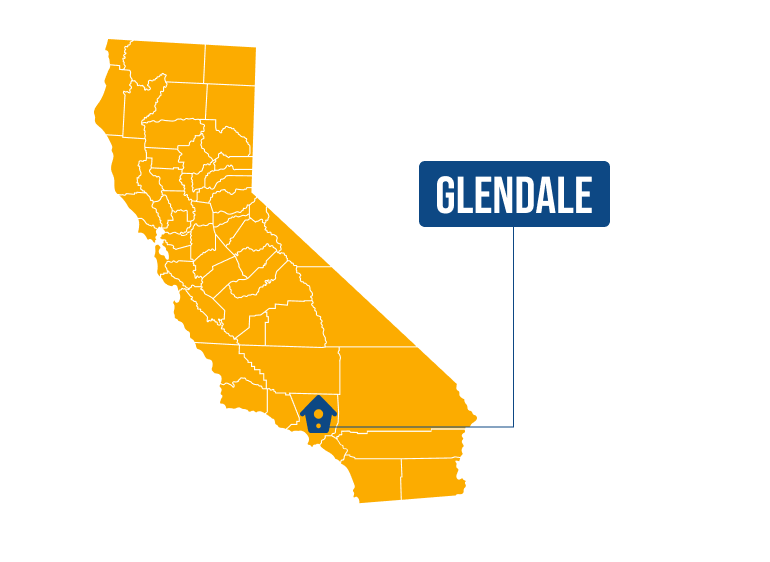 No Hidden Costs
There are no hidden closing costs or any other types of costs involved. SleeveUp Homes will make you an offer based on our assessment of the property value. If you accept our offer, you'll get the full amount of cash we agreed on.
Request a cash offer - no strings attached - and get $10,000 more regardless of the state your property is in.
HOW IT WORKS
There's no one else involved in the process. We are the direct buyers so you won't have to pay commissions to real estate agents or anyone else. That's how we offer fast sales and flexible selling terms.
Get a Cash Offer for Your Glendale CA House
Talk to us today to get a cash offer for your Glendale CA house. We'll make you a no-obligation cash offer once we've assessed the value of your property. If you want to sell fast and earn top dollar for your property, there's no better direct buyer than SleeveUp Homes.
GET CASH OFFER