Selling a house can take up quite a bit of your time and tie you up in open houses and buyer negotiations. SleeveUp Homes has taken what is usually a time-consuming process and turned it into a simple matter of selling your home to a direct buyer for the top dollar. Let us know if you have a house to sell in Chula Vista. We'll assess the property, make you an offer, and the rest is up to you. If you want speed and flexibility, you won't find a better partner than SleeveUp Homes.
We Buy Houses in Any State of Repair
Want to sell your house in Chula Vista but don't want to invest too much? With SleeveUp Homes, you won't have to invest anything into the property you're trying to sell. We'll buy your house as-is, without demanding repairs and expensive investments.
We understand that some people don't have the time or the money to invest into a property. If you need to move fast and don't want to get caught up in a variety of expenses associated with owning property, sell it to us. The entire deal could be over in a single week if needs be.
Sell Your Property When You Want To
Are you looking for flexibility in the selling process? Don't want to get bogged down in open houses and realtor commissions? Talk to us and sell your house for the top dollar at your leisure. When dealing with SleeveUp Homes, you're in full control of the entire process. You get to say when we can assess the property and if and when we're to close the deal.
Arrange a Visit to Your Property
The first step is to get one of our representatives down to your property so that they can assess it. You pick the day and time, and our agent will be there to give you our assessment and make you an offer based on it. You don't have to give them an answer immediately. Take your time, and let us know when you've come to a conclusion.
Set a Closing Date
If you find our offer compelling, do let us know and give us a closing date that suits you. Once you're ready, we'll close the deal and you'll have sold your Chula Vista house for a top dollar. Before we close the deal, we'll give you $10,000 if we come to an agreement regarding the sale of your house.
You Don't Have to Move out Immediately
Moving out as soon as the house is sold is not necessary. You can move out at a later date if you don't know where to go once the house is sold. We won't force you out of your home, and we'll work with you while you find the next place to live.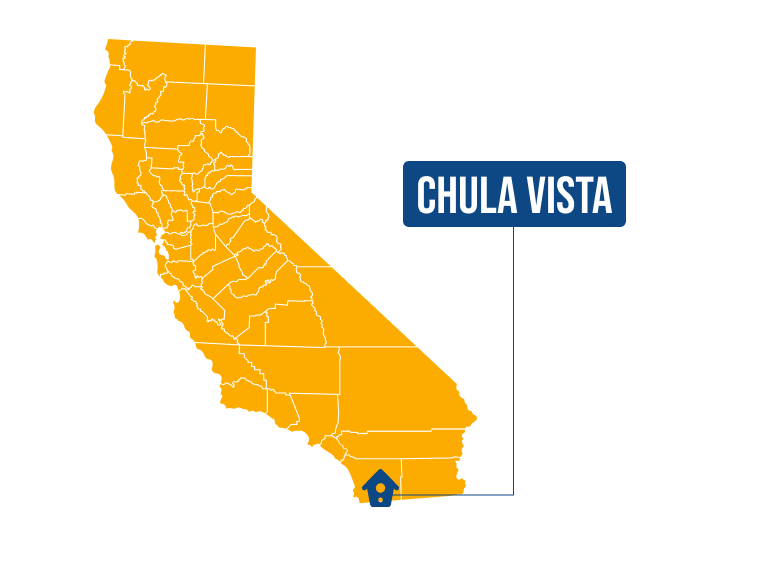 There are no hidden costs when dealing with SleeveUp Homes. We pay the top dollar for all the houses we buy, and the mount of money that we offer you is exactly what you're going to receive once the deal is through.
Request a cash offer - no strings attached - and get $10,000 more regardless of the state your property is in.
HOW IT WORKS
We're not realtors or wholesalers. We are direct buyers, which means you don't have to share the cash you receive for your house with anyone else. You get to keep all the money and pay zero in commissions.
Get a Cash Offer for Your Chula Vista CA House
Reach out to us about selling your Chula Vista CA house and we'll give you our best offer. Our no-obligation cash offer is your ticket to selling your house fast and moving on with your life. Talk to us today.
GET CASH OFFER