Looking to change your current National City address or end your woes with troublesome rental tenants? The traditional selling process – going through realtors, preparing your home, holding open houses, and waiting for the right cash buyer to come along – is tedious, to say the least. But it doesn't have to be.
Avoid a difficult selling situation right from the start – sell your National City property for cash at competitive prices to SleeveUp Homes in as-is condition. If you're looking for a quick sale and closing process, you can be done with the entire buying process in as little as 7 days.
No real estate agent commissions, real estate taxes, realtor fees, mountains of paperwork, or expensive repairs - just fair value cash price and a straightforward process.

No Open Houses or Repairs Needed: We Buy National City Houses As-Is
You don't need to waste time filling piles of paperwork and holding tons of showings, hoping you'll find someone to buy your National City house in cash or spend your hard-earned money to make additional repairs to increase the value of an unwanted property. SleeveUp Homes will do all the heavy lifting for you.
We'll buy your property in its current condition and take care of the entire transaction and any necessary repairs. You'll get a fair cash price and enjoy a painless transaction even if your property is:
Facing foreclosure
Encumbered by debt
A distressed home
Inherited
Take the Reigns: You Set the Terms
Most regular people have little experience with selling a home – that's why we have a simple, hassle-free process in place that comes with a host of benefits.
Working with direct local Southern California buyers allows for greater flexibility when selling real estate properties.
You get to determine most terms of sale, and all other terms of the buying process are negotiable. The entire process can be boiled down to 3 simple steps below.
Tell Us When to Visit
After you give us a call, one of our agents will pay your National City property a visit whenever it's convenient for you. They will perform an on-site assessment, make you a fair value cash offer, and address any questions you might have. We value honesty, open communication, and transparency, so you can expect guaranteed cash and no hidden fees.
Don't worry; you don't need to take the offer on the spot – feel free to explore other options and get back to us later. We'll be waiting with an honest price, ready to shake hands.
Decide on a Closing Date
If you decide to take us up on our cash offer, it's time to set the closing date. We will give you time to get your affairs in order, as we understand the different kinds of situations homeowners might face. On the other hand, in case you need to sell your National City home quickly, we can close in as little as 7 days. Whatever you set your mind on, fair cash is guaranteed, and the choices are all yours.
Sell Now, Move-Out When You Need To
With SleeveUp Homes, you're not just selling your National City house; you're gaining a trusted partner who values your needs above all else. While you have the freedom to move out as soon as you desire, we understand that flexibility and timing are everything.
Suppose you need additional time to orchestrate your move, secure a new abode, or transition tenants out of your rental property. In that case, we're here to tailor an arrangement allowing you to occupy your old house until you're ready to move with cash in hand. We believe in the power of convenience and understanding, ensuring your transition is seamless and stress-free.
Don't let the pressure of a rushed move dictate your timeline. Let us work together to create a harmonious solution that grants you the time you need to confidently make your move and sell your house for cash with peace of mind.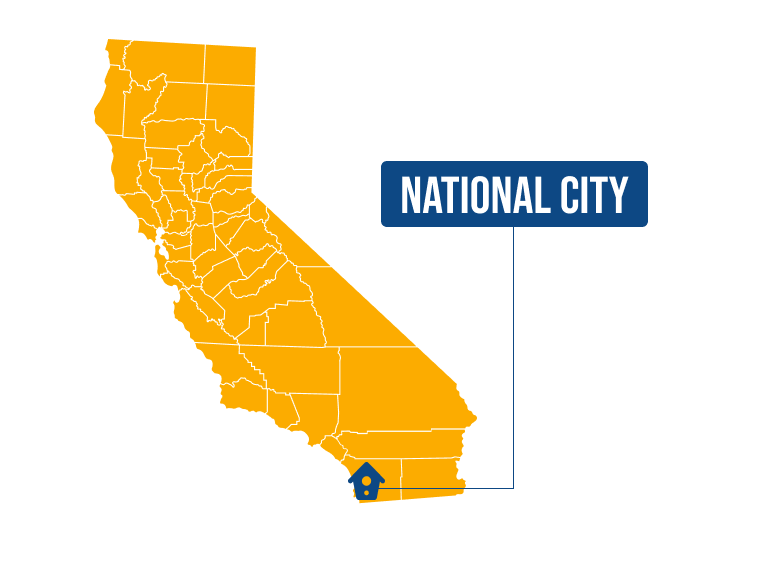 No Agent Commissions, Closing Costs, or Hidden Fees
More often than not, a typical sales transaction includes unfortunate situations, large costs towards repairs, and dealing with real estate companies, to name a few potential complexities. Luckily, buying houses for cash is what we do best!
Since you are selling to direct local Southern California buyers, you won't have to deal with the real estate market, extensive paperwork, or pay hefty realtor commissions. You incur no sale-related expenses, and all the proceeds go straight into your bank account while we cover the closing costs.
Request a cash offer - no strings attached - and get $10,000 more regardless of the state your property is in and sell your National City home stress-free.

HOW IT WORKS
Sell Directly to Local National City Cash Home Buyers
SleeveUp Homes is a local Southern California company. We live and work in this community, so working with us means you always have an open line of communication. Since you are not dealing with any middlemen but a local "cash for houses company," you can directly negotiate terms of sale that suit you.
Request a Cash Offer for Your National City House
To sell your National City house for cash, simply fill out the online cash offer form or give us a call and request a no-obligation cash offer. We'll get back to you as soon as possible to arrange a visit. You are under no obligation to sell – see what we can do for you and how it compares to other offers you've received. We're confident SleeveUp Homes can do better.
GET CASH OFFER