Sell your San Bernardino home for cash through a quick and hassle-free process! Avoid investing in repairs, handling agents, or scheduling open house days. Get a cash offer for your property and close in as little time as seven days.
Reach out to us and we'll give you a no-obligation offer for your house in San Bernardino!
At SleeveUp Homes, We Buy Property in Any State:
Property encumbered by debt
Distressed homes
Inherited property
Sell Your House Fast in San Bernardino, CA Under Flexible Terms
Moving out of your house isn't always easy, but our team knows how to make it happen as smoothly as possible. At SleeveUp Homes, we'll make sure to remove all the stress from the process, and we'll do whatever we can to make sure everything goes as planned.
We can tailor all terms of the sale to your needs to accommodate your schedule, plans, and needs. Whether you want to go through with it as quickly as possible, need cash in advance, or are looking to sell now but move out at a later date, we can find a way to make it work.
We Visit the Property When it Suits You
You set the date when our team will visit your San Bernardino house to make an assessment. This is a one-time visit where we determine the value of your property and give you a no-obligation cash offer.
You Decide When We Close
If you agree to our offer, we can set any closing date that suits you. Usually, we can close in 7 days or less, but we can set any closing date that suits you. There's no rush on our end, so you can take your time and remain in control of the process.
Flexible Move-Out Date
If you need to sell your house fast in San Bernardino but would prefer to move out at a later date, we can come to an arrangement that suits both parties. At SleeveUp Homes, our mission is to make the process as stress-free as possible for you, and since we are direct buyers, the terms of the sale and the moving-out date are all open for discussion.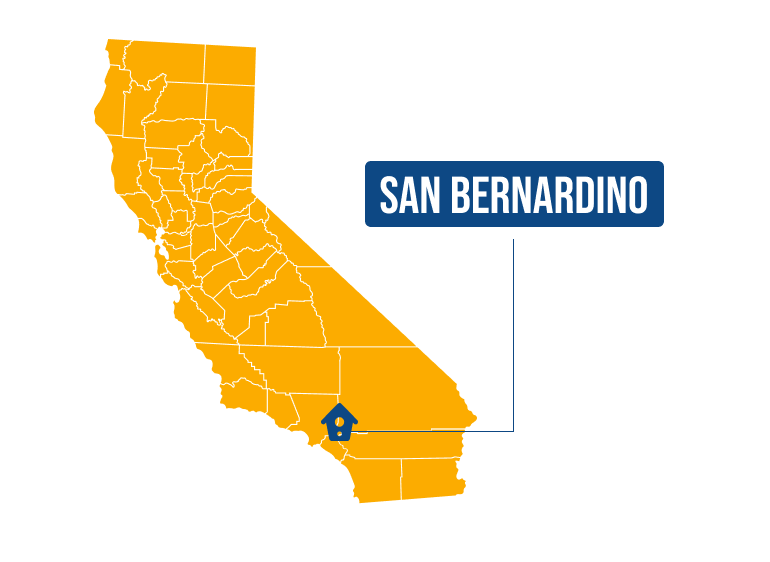 No Agent Fees or Closing Costs
Unlike selling your house in San Bernardino the traditional way, with SleeveUp Homes you don't have to worry about dealing with real estate agents, paying fees, or closing costs. The offer you receive from us is the full amount you get once the sale goes through.
With no third parties and their fees involved in the process, we pass on the savings to you. In addition, if you decide to sell to us, you can get up to $10,000 in advance once we agree upon the closing date.
HOW IT WORKS
We Are Direct Local Home Buyers in San Bernardino
We can offer flexible terms and beat any price you would receive elsewhere because we are direct buyers.
Reach out to us, and we can assess the state of your property, evaluate your specific situation and needs, and come up with the right terms to accommodate you. Avoid dealing with agents and open house days. Our three-step process allows you to stay in full control, sell your San Bernardino house fast, and get top dollar for your home.
We Buy Houses in San Bernardino for Cash
Contact us today to get a no-obligation cash offer for your San Bernardino home! We'll do our best to answer any questions or concerns you may have, and adjust all terms to your unique situation.
GET CASH OFFER