Are you looking to sell your house in Palmdale as-is? At SleeveUp Homes, we buy property in all conditions. Instead of investing in repairs and dealing with agents and open house days, sell to direct buyers and let us handle everything. Reach out to us and you can get paid within a week.
No Repairs Needed
There's no need to repair, clean, or refurbish your house if you decide to sell to us. We buy property regardless of the condition it is currently in.
Encumbered property
Distressed houses
Inherited property
Property under foreclosure
Sell Your House Under Flexible Terms
Sellers often feel pressured when selling their houses, especially if they need to sell quickly. However, if you decide to sell to us, we'll make sure you avoid this pressure by adjusting all terms of the sale to accommodate you.
Our client-centered approach gives you all the flexibility you need and ensures you get a say in all matters. We'll work around your timeline and adjust to your schedule.
You Decide When We Visit Your House
Let us know when you want our staff to visit your property to make an on-site assessment. We value your time, so we'll adjust to your schedule and make sure one visit is all it takes. As soon as we're done with the assessment, we'll give you a no-obligation cash offer and let you consider it.
Instead of scheduling open house days one after the other, you'll get an offer right away with the option to move forward immediately.
You Decide on the Closing Date
If you decide to sell your house in Palmdale to us after considering our offer, we can move forward at any pace that works for you. In most cases, we can close within as little as a week, but that doesn't mean we need to.
If you want to take your time and make other arrangements, we'll be happy to set the closing date to a later time that you are comfortable with. As soon as the closing date is agreed upon, we can give you an advance payment of $10,000 to help you cover relocation or other expenses.
No Rush to Move Out
You don't have to move out as soon as you sell your Palmdale house. Many of our clients need time to finish moving or settle other matters and would prefer to stay in their home after selling it. If this is also your case, let us know, and we can work out a solution together.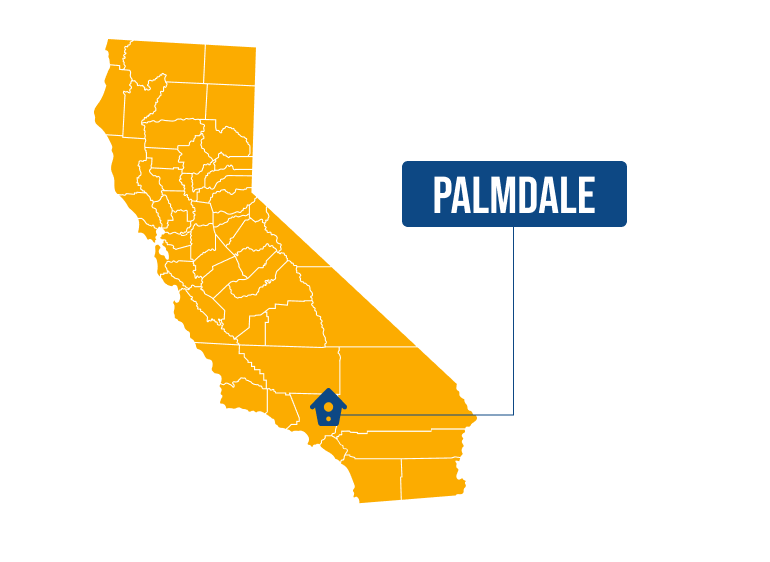 Avoid Paying Realtor Commissions and Hidden Costs
The amount we offer you after the on-site assessment is the same amount you end up keeping after you sell your Palmdale house to us. With no middlemen involved in the process, there aren't any commissions or hidden costs to worry about.
That's one of the reasons why we can offer you more money compared to working with realtors.
Request a cash offer - no strings attached - and get $10,000 more regardless of the state your property is in.
HOW IT WORKS
We buy property directly from homeowners all over Southern California. If you decide to sell your house in Palmdale to us, our one-time assessment can replace countless house showings and all the preparation they require.
Since we are independent buyers, you can negotiate terms directly with us, and we'll address any questions or concerns you have.
Get a Cash Offer for Your Palmdale Home
Reach out to us by phone or online and get a cash offer for your Palmdale house! Our staff will answer all questions regarding our process and the flexible terms we can offer you. Save both time and money and sell your house as-is for top dollar.
GET CASH OFFER