Forget about costly repairs and investments into your property. We buy houses in Rialto as-is, without the need for even the most insignificant changes and repairs. We don't want to waste your time, we understand that not everyone wants to go through the traditional sales process. Get a cash offer from us, regardless of the state of the property, and close the deal within a week.
Close the Deal in One Week
Not only are you not required to make any repairs or investments, but you also don't have to wait months for the direct buyer to come through. We are the direct cash buyer you're waiting for. Give us a call, we'll drop by, and give you our honest offer for your Rialto house. If it's something you're willing to accept, we can close the deal in as little time as one week. Sell your house faster than ever before!
Flexible Sales Process
Since we're direct buyers and work with you, and you alone, throughout the whole sales process, everything is as flexible as it gets. You choose when we can see the house, you set the closing date, and you decide when you want to move out. It doesn't get much more flexible than that.
Arrange a Visit to Your Property
First, we need to see the house. Arrange a visit from one of the SleeveUp Homes team members. Once we assess the value of your house, we'll give you an on-site cash offer then and there. Don't worry, you don't have to give us an answer right away. Take your time, and let us know your decision once you've thought our offer through.
Set a Closing Date
In case our offer meets your expectations, you decide when you want us to close the deal. If you're in a rush, we can close the deal in just one week. Take our cash offer and move on with your life without worrying about the property you neither want nor need. Once we agree on a closing date, we'll give you $10,000 right away to help cover some of your expenses.
You Don't Have to Move out Immediately
Move out as soon as the house is sold or not. It's up to you. We won't require you to leave the house as soon as the deal is through. Our process is simply too fast, and most people can't move or find a new place to live in that short amount of time. That is why need to be flexible and work with you to find a solution that suits you. Talk to us, we're certain we can come to a mutually beneficial agreement.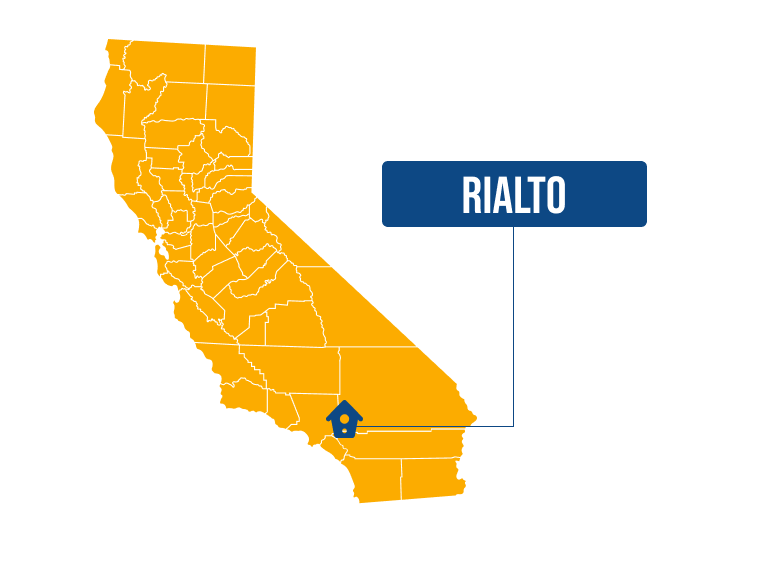 No Agent Commissions
We buy houses in Rialto, CA without involving any third parties. Our process cuts out all the middlemen. The cash offer you get is all for you. There are no agents involved, meaning no agent commissions that cut into the total amount of money that you get for your property.
Request a cash offer - no strings attached - and get $10,000 more regardless of the state your property is in.
HOW IT WORKS
Sell Your House to Direct Buyers
SleeveUp Homes is a direct cash buyer. There are no wholesalers or real estate agents involved. We'll give you a no-obligation cash offer for your house as soon as we see it. Sell your property in the least amount of time and pocket the full price of the sale.
Get a Cash Offer for Your Rialto House
So, how can I sell my house fast in Rialto, CA? Get a no-obligation cash offer for your Rialto house and close within the week. There's no need for investments, repairs, or middlemen. Sell directly to us, keep all the cash, and enjoy the flexibility of working with SleeveUp Homes.
GET CASH OFFER