Do you want to sell your Santa Ana home quickly? If so, SleeveUp Homes can help! We buy houses in Santa Ana in any condition for cash!
Avoid investing in repairs, dealing with agents, and scheduling open house days altogether. Call us now to get a cash offer for your Santa Ana home and close in as little as 7 days.
SleeveUp Homes Will Buy Real Estate in Any Condition:
Property encumbered by debt
Distressed homes
Inherited property
We Buy Houses in Santa Ana Under Flexible Terms
We know that it's hard to move out of your home, but we're here to help. Our team understands that moving is stressful, so we'll work around your needs to get things done quickly. We'll also be there to answer any questions or concerns you may have along the way.
Our approach and the flexibility we offer allow you to remain in control of the entire process from day one, and we will do our best to accommodate all your needs and make the process as stress-free for you as possible. Sell your house in Santa Ana under the best terms for you.
We'll Be There When You Say So
You schedule the time when we visit your Santa Ana house. We'll assess your home for free before giving you our cash offer, and tell you if there are things wrong with your property that could affect its value upfront, so you know exactly where you stand.
You Set the Closing Date
We don't need to close the deal within a week or less. Provided that you agree to our cash offer, we can move forward at any pace that suits you. We won't put any pressure on you to close before you are ready.
No Need to Move Out Immediately
With SleeveUp Homes, you can sell your house in Santa Ana for cash without needing to move out right away. If you are relocating because of a job offer, or need some time to find a new place to stay, we can arrange for you to continue living in your house until you've sorted everything out.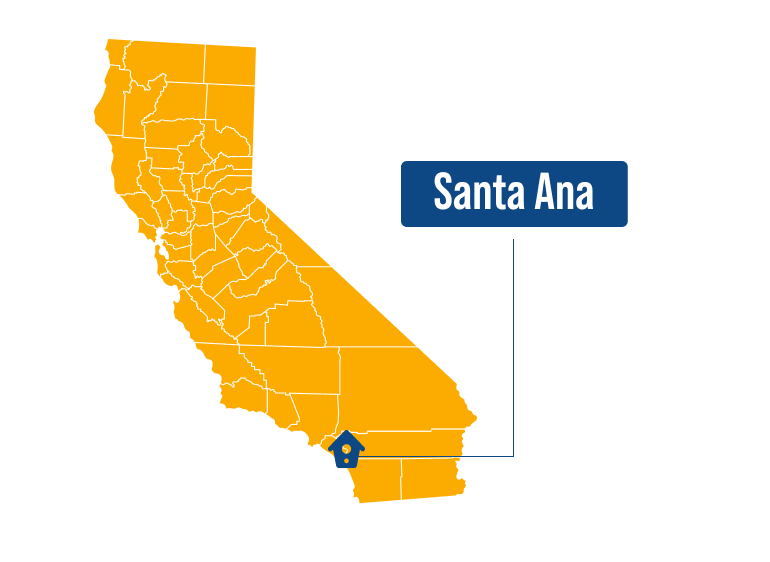 No Agent Fees or Closing Costs
You are guaranteed to receive the highest price for your house. We can help you avoid dealing with agents, realtors, and paying fees and closing costs. Instead, we pass on the savings to you!
This allows us to give you top dollar for your Santa Ana home, and you get to keep the full amount of the offer.
Reach out to us and we'll give you a no-obligation cash offer with the option to get $10,000 before the closing date if you decide to sell.
HOW IT WORKS
We Buy Houses in California Directly from You
At SleeveUp Homes, we buy property in Santa Ana directly from you. Unlike agents or realtors, we don't charge any commissions or fees, nor do we schedule house showings, etc. In addition, we communicate with you as buyers, so you can negotiate the terms of sale directly with us. In short - SleeveUp Homes and you are the only two parties involved in the process of selling your Santa Ana house.
Get a Cash Offer for Your Santa Ana Home
Reach out to us today to get a no-obligation cash offer for your Santa Ana home! We're here to help you sell your house in Santa Ana at the best price and with as little stress as possible.
GET CASH OFFER