Sell your house in Gardena quickly and get the highest price. SleeveUp Homes will buy your property as-is and you can close in 7 days.
Selling your house doesn't have to be stressful nor do you need to spend time or money on making repairs, holding open houses, or dealing with realtors. Give us a call and you can be done in a week.
Sell Your Home As-Is
SleeveUp Homes will pay top dollar to buy your house in its current condition. You don't need to make any repairs or get it ready for sale. We buy:
Properties in foreclosure
Distressed properties
Properties encumbered by debt
Inherited properties
You Call the Shots
Selling a home can be difficult. We get that. SleeveUp Homes offers a flexible selling process where you decide when and how you sell. The process is designed to be as clear as possible and is done in three steps.
If you find our offer appealing, it's your decision when you'll close. You can sell your house in 7 days if you need to hurry. In case you need more time, choose a later closing date. There is no pressure – you decide when to sell your Gardena house, our offer is on the table.
There Is No Pressure to Move Out
You don't have to move out as soon as you close. We will gladly make an arrangement where you continue living in your old home until you get your affairs in order. Just tell us what you need and we'll do our best to make it happen.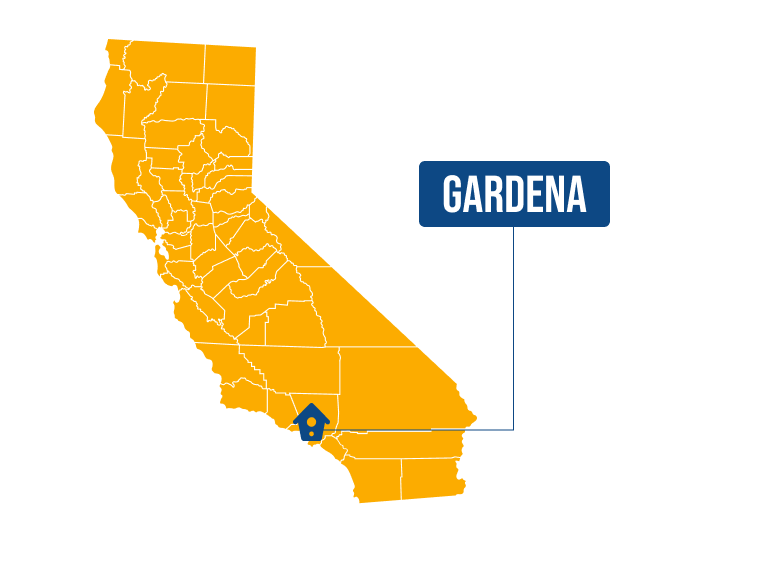 Avoid Paying Realtor Commissions or Closing Costs
You don't pay a realtor commission when you sell to SleeveUp Homes. There are no middlemen, just you and us. And we take care of the closing costs, so the full amount from the sale is yours to keep.
Reach out to us and we'll give you a no-obligation cash offer with the option to get $10,000 before the closing date if you decide to sell.
HOW IT WORKS
Sell to Southern Californians
We are direct buyers from Southern California. Skip the intermediaries and negotiate with the end buyer. We can offer such flexible terms of sale precisely because all business is done between you and us.
Get a Cash Offer for Your Gardena House
Give us a call or fill out the form to get a cash offer for your Gardena house. There are no strings attached – take your time to compare our offer with the others you've received and get back to us when you make up your mind. We're positive you'll easily notice the difference.
GET CASH OFFER