Need to sell your Buena Park house quickly? SleeveUp Homes is here to help. We buy properties as-is all across Southern California for top dollar.
And you won't be dealing with realtors or holding open houses – you are selling directly to us. Contact us and we can help you sell in as little as 7 days.
You Don't Need to Make Repairs
SleeveUp Homes will buy your home in the state it's in for the best price possible. There's no reason for you to invest in repairs when you can sell to a buyer that's looking for potential and not the current state of the home. You can sell your house, regardless of if it's:
A distressed property
An encumbered property
Under foreclosure
Inherited
Sell On Your Own Terms
You can sell in as little as 7 days, but you can also sell in a month or two. We understand how complex and stressful moving is, so you can sell your house in Buena Park on your own schedule.
Schedule a Visit and Get a Cash Offer
Contact us and we will come to take a look at your Buena Park house on a day that suits you. We'll make an on-site assessment and give you a no-obligation cash offer.
Arrange a Closing Date
If you accept our cash offer, you can close as quickly or as slowly as you like. Yes, you can sell your Buena Park house in a week, but if you need to make moving arrangements, stipulate a later closing date. You control the process.
Move Out When It Suits You
Need to sell your house to finance buying a new one, but don't have a place to live in the meantime? We understand that. You don't have to move out as soon as you sell your home - we can make an arrangement that works for you.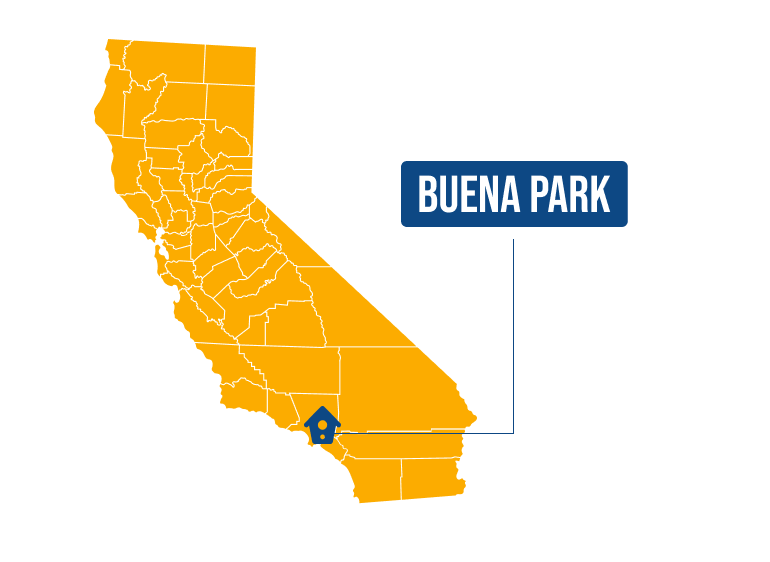 No Realtor Commissions or Closing Costs
You get to keep the full profits from the sale. We eliminate the middlemen, so you won't be dealing with realtors or real estate agents. The money that would go to pay the relator's commission goes into your wallet. The same goes for the closing costs – SleeveUp Homes will take care of them. The money that you get is yours, period.
Contact us to get a no-obligation cash offer and see the difference no commissions and closing costs make.
HOW IT WORKS
We Buy Houses in Buena Park Directly from You
If you decide to sell your Buena Park house to SleeveUp Homes, there are no intermediaries. The only two parties involved are you and we - you negotiate the terms of sale and make arrangements directly with us. We are Southern California locals and you will have an open line of communication with us at all times.
Get a Cash Offer for Your Buena Park House
Contact us today to request a no-obligation cash offer and see where you stand. All terms are open for negotiation and our team will gladly answer any questions you have.
GET CASH OFFER