Finding the right cash house buyer, getting a fair price, and selling your San Diego house for cash quickly can be a stress-inducing and time-consuming process, even more so if you need to make a property sale fast.
Instead of going through the traditional listing process and waiting months to get a potential buyer or a decent purchase price, you can sell your San Diego home to SleeveUp Homes - reputable cash home buyers able to close the deal in as little as 7 days, pay instant cash, and leave zero stress on your shoulders.
An outdated house in need of additional repairs? Low credit score? No problem. Costly real estate agent commissions and closing costs? Not at SleeveUp Homes. We buy San Diego County homes and rental properties in any condition, so there's no need to invest or make costly repairs. If you decide to sell, we'll handle the entire sales process and do all the legwork for you to ensure a quick sale.

Instant Buying Process: Sell Your San Diego, CA Home As-Is
If you need to sell your San Diego house quickly and make a faster sale without investing time and money in major repairs, SleeveUp Homes is the home buying company you are looking for. We buy houses for cash as-is, regardless of their current state or encumbrance, and offer competitive cash sale prices, even if your house is:
Encumbered by debt and mortgage payments
Distressed
Inherited
In foreclosure
In need of repairs
All the Flexibility you Need
Whether you are moving out of your San Diego home because of a job offer, a less pleasant life event, or are just looking to make a cash sale, you could probably do with some flexibility in the sale process. The traditional way of selling simply takes too much time and, more often than not, requires you to cover expensive repairs or hidden fees. Not with SleeveUp Homes.
Forget about yard signs, costly realtor commissions, closing costs, title companies, and dealing with the complexities of the real estate market. Our process is flexible, and negotiable, and allows you to get a fair cash estimate and quick cash for your San Diego home and stay in control during the entire selling process.
You Schedule the Assessment Date
Your time is valuable, so we've designed our real estate transaction process to take up as little of it as possible. We'll visit your San Diego house to perform an on-site assessment anytime that suits you. As soon as we assess its current state and value, we'll give you a fair cash offer and all the time you need to consider it - no pressure involved.
You Get to Decide on the Closing Date
Forget about the lengthy average closing period. At SleeveUp Homes, we can typically close any real estate property sale in less than a week. However, we don't need to. If you accept our top-dollar all-cash offer for your San Diego house, you can set the closing date to any time that works for you.
There is absolutely no pressure or hassle, and the reasonable cash offer we've made will stand even if you want to close later down the line. The terms are negotiable and the choice is all yours.

You Chose When You Move Out
As a home buying company, we know relocating can be stressful, so we'll do our best to accommodate your needs. If you need the money right away but would like to stay in your San Diego home for a while longer, we can arrange for you to keep living in your house even after the closing date.
In addition, we can pay you $10,000 dollars as soon as you decide to sell to help you cover any expenses you may be facing. We've got your back.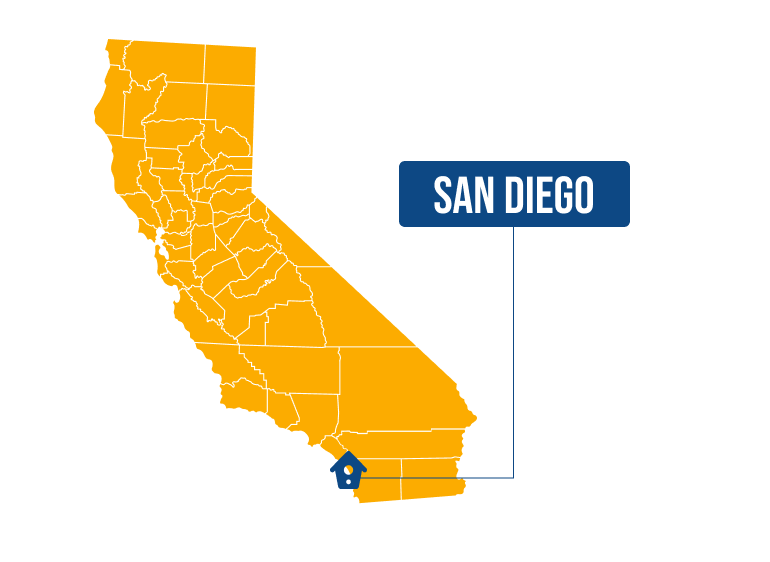 No Realtors, Commissions, or Fees
We don't work with real estate agents, real estate investors, or any other middlemen, so there aren't any commissions for you to worry about. Instead of paying escrow fees or realtor fees, we pass on the savings to you.
The amount we offer for your home is the total amount you end up with if you decide to sell your house in San Diego to us. The same goes for closing costs and hidden fees - there aren't any.
Request a 100 % free cash offer - no strings attached - and get $10,000 more regardless of the state your San Diego property is in.
HOW IT WORKS
Sell Directly to Local San Diego Home Buyers
We buy houses all over Southern California and San Diego County directly from homeowners looking for top offers for homes and serious cash buyers. Since no third parties are involved, you can negotiate directly with us, and we can tailor our terms and process to accommodate your unique situation.
The traditional listing process is a thing of the past - at SleeveUp Homes, flexible real estate solutions and quick sales are the new norm.

Get a Cash Offer for Your San Diego Home
Fill out our online form to get an online quote, or give us a call to request a 100% no-obligation cash offer for your house in San Diego. Our team will be more than happy to answer any questions you may have and arrange a visit if you are interested in shaking hands with us.
GET CASH OFFER