Do you want to sell your Thousand Oaks house for top dollar without holding open houses or investing in repairs? SleeveUp Homes will buy your home in the condition it is in.
Contact us to circumvent real estate agents, brokers, and their commissions and sell your house to local Southern California homebuyers.
No Need to Prep Your Home for Sale:
You don't need to hold open houses or invest in remodeling to find the perfect buyer. We buy houses in Thousand Oaks as-is and pay top dollar. Because we are not flippers or wholesalers, we are able to offer a better deal.
We will buy your property even if it is:
A distressed property
Encumbered
In foreclosure
Inherited
Sell How You Wish to Sell
For most people, selling a home is a once-in-a-lifetime occurrence. That also means most people can't acquire the experience necessary to understand the ins and outs of home selling and might get taken advantage of. This is why we have you set the terms of sale and not the other way around.
You're in control and decide when to:
Arrange a Visit
A date that works for you works for us. Contact us and tell us when one of our team members should come and take a look at your house. They will do an on-site inspection and give you a cash offer and explain, in detail, how the rest of the process works.
Set a Closing Date
If you like our offer, you get to set the closing date. You can sell your house fast in Thousand Oaks - even in as little as in a week. On the other hand, if you need a month or two to get ready, set a closing that works for you.
Move Out When It Suits You
You don't need to move out as soon as the sale is complete. We can work out an arrangement where you continue to live in your old home even after you sell it. If you need some time to get your affairs in order or find a new place to live, let's come to an agreement that works for all.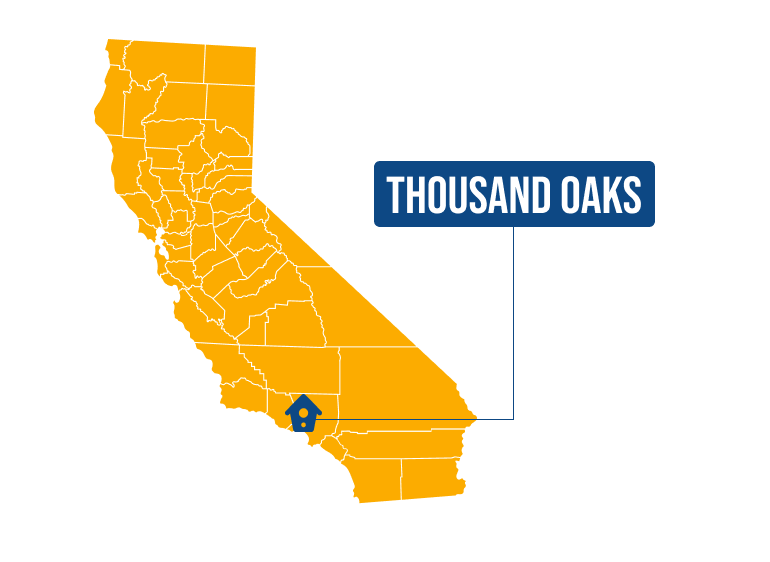 Circumvent Commissions and Closing Costs
You avoid real estate agents and brokers when you sell to SleeveUp Homes. So that means that you won't be paying any commissions. And because we take care of the closing costs, all of the proceeds from the sale remain in your bank account.
HOW IT WORKS
Sell to Southern California Locals
If you sell to us, you are selling to a Southern California company. There will be no intermediaries or middlemen – you talk and negotiate directly with us. If some terms are not agreeable to you, we can communicate and find a way to make it work, without inserting 5 unnecessary steps in between.
Contact Us to Get a Cash Offer
Give us a call or fill out the form to get a cash offer for your property. We will get back to you as soon as possible and answer any questions you may have. You can sell your house fast in Thousand Oaks or, if you don't find the offer suitable or don't think it's the right time to sell, you can still find out what you could get for your house, no strings attached.
GET CASH OFFER