Get top dollar for your house in Simi Valley in a matter of days. No need for real estate agents, their hefty commissions, and open house days. We buy houses in Simi Valley as-is, without the need for expensive repairs or investments.
Talk to us to get the best price for your house and we'll close the deal as fast as you need us to. We're highly flexible and working with us is a walk in the park.
We Buy Houses in Any State:
Fixing up old houses to make them sellable is a time-consuming process that requires a serious investment that not everyone can afford. You need to take care of all the repairs and get the house in shape before showing it to potential buyers. And that's not the only investment you need to make. The house also needs outstanding curbside appeal if you want anyone to buy it.
SleeveUp Homes will buy your house regardless of the state it's in. Leave revitalization to us. We'll make you an offer even if the house is in need of repairs. You can take our top-dollar offer and move on.
You Decide When You Want to Sell
The entire process is completely under your control. Let us see the property when you want, sell when you like, and move out when you're ready. When dealing with SleeveUp Homes, you're in full control. Take advantage of the flexibility and speed of working with us.
Arrange a Visit to Your House
We'll need to see the house before we can make you an offer. Schedule a visit to your property whenever you feel like it. It doesn't cost you anything to have us come over and assess the value of your home. After the on-site assessment, we'll give you a cash offer for your house. It's a no-obligation offer, so you don't have to give us an answer then and there.
Set a Closing Date
If you're ready to accept our offer, schedule a closing date and we'll take care of the rest. Sell your house in Simi Valley in as little as 7 days if you need the money quickly! But we don't have to close the deal immediately. Take your time, just remember that we can close the deal as soon as you feel like it.
Moving Out Is Flexible
Once the sale is finalized, you won't have to move out immediately. Not only are we flexible during the sales process but after it as well. We won't demand you leave your house as soon as we buy it from you. Tell us how much time you need to get your affairs in order, and we'll work with you to make sure you have enough time to prepare.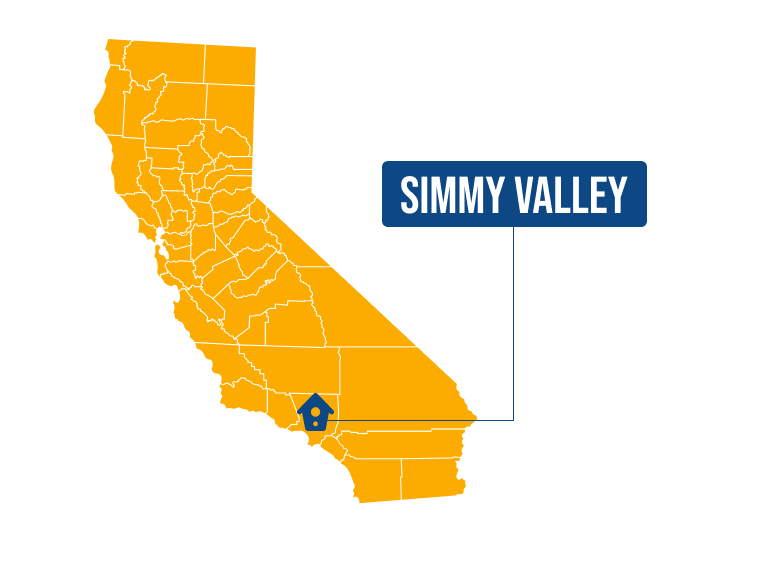 No Hidden Costs
There are no hidden costs or realtor commissions involved. The price we offer you is the price you'll get, and not a cent less. Talk to us to get a no-obligation cash offer as soon as possible.
Request a cash offer - no strings attached - and get $10,000 more regardless of the state your property is in.
HOW IT WORKS
We Buy Directly From You
We are direct buyers. There are no middlemen and no real estate agencies here. Just direct buyers offering you top dollar for your Simi Valley house. This is what lets us offer such flexible terms of sale - all negotiations are only between you and us.
Get a Cash Offer for Your Simi Valley House
Sell your house fast in Simi Valley, CA and get paid what your property is truly worth. We'll give you top dollar for your house and let you choose when to close the deal and when to move out. Let us know when we can see the property!
GET CASH OFFER