Thinking of making a move to Orange County? We can't blame you - quaint towns, beachy scenery, and laid-back vibes combined with plenty of attractions? Sounds like a winner. But with so many options to choose from, it can be a bit hard to distinguish the best cities to live in Orange County.
That's why we rounded up our favorites, along with what makes each of them special and perfect for turning a new page in your life.
What Makes Orange County So Attractive for Moving There?
Orange County keeps on attracting new residents, even though it's Southern California's smallest county. It is home to more than 3,000,000 people, which makes it the third-most populous county in the United States.
This dynamic cluster of towns, cities, and harbors proved to be fertile ground for a lot of enticing factors people search for when thinking about moving to another place. From the ever-sunny weather that birthed a relaxed culture and rich art scene, to its established tech community, Orange County is the place to be. But Orange County has a high score in quality of living that is hard to find in other parts of the US. Here, you can expect to find:
Great public schools
Fantastic opportunities for raising a family
A diverse community
No shortage of open job positions
Many Orange County cities with low crime rates
A rich cultural, art, and nightlife scene
And these characteristics are woven through a lot of its towns and cities.
Laguna Beach
Since we already singled out "laid-back vibes" as one of the characteristics of many places in Orange County, it would be a sin not to begin our list with Laguna Beach. There is a reason why artists have been settling here since the early 1900 - the sandy beaches of this town immediately spark your imagination. We can maybe even claim that it has the best beach in Orange County in general. And its relaxed residents additionally inspire you to turn to yourself, your needs, and live in the moment.
You are in no shortage of outdoor activities here. And we all know we're in dire need of more of those. You can take a jog down one of Laguna Beach's many parks, one of them being Heisler Park. Its lush coastal flora clashes vividly with the horizon and is great for biking, as well. Surfing is one of the favorite pastimes of residents. Lots of them go hiking in the 20,000 acres of protected land, as well.
You don't have to worry about the quality of education your child gets in Laguna Beach. Its public schools are rated A+. And the Laguna College of Art & Design stands out as an institution for higher education.
Irvine
Irvine is a planned city in the north of the county that boasts some of the best neighborhoods in Orange County. It's an excellent place to raise a family, ranking #10 in Niche's list of best places to raise a family in the US. The city is also ranked as one of the safest ones of its size. That additionally raises its attractiveness for people looking to move to Orange County.
Just like Laguna Beach, you will easily find outdoor fun here. Irvine is stacked with walkable and bikeable neighborhoods. And you can use your bike to ride to one of the city's many stores and restaurants. You will love the sight of numerous local businesses that aren't being pushed out by chain stores.
And with climate change becoming a more prominent factor in all of our lives, you will love this - Irvine is working hard on maintaining a healthy environment for its residents. In 2021 the city received the Beacon Spotlight Award for lowering its municipal greenhouse gas emissions. The local government also banned smoking in all public places, further enforcing environmental rights and restoring its resident's health.
Newport Beach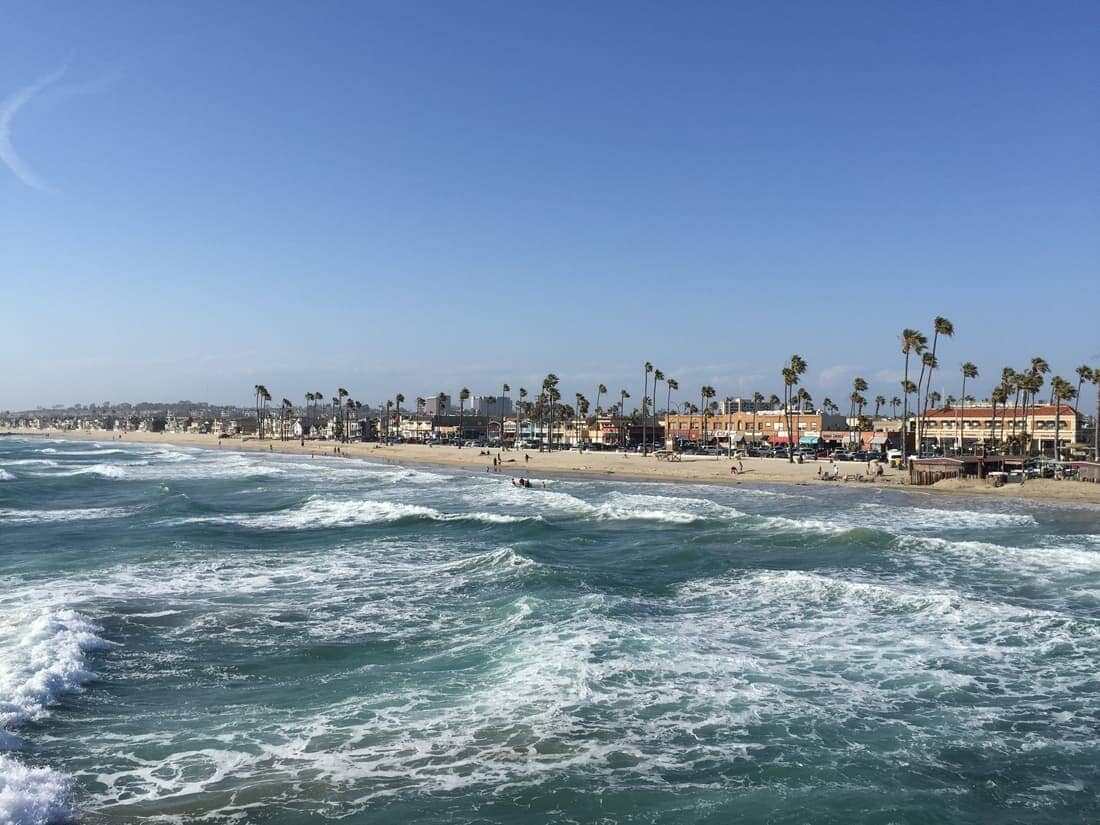 Newport Beach boasts a great location. It's a mid-size city of 85,000 people that gives you more than a killer view of the ocean. It's partially perched on San Joaquin Hills and nestled next to the Santa Ana River. It's a three-in-one deal that makes it one of the best beach towns to live in California.
If you move here with your kids, they will thank you later in life for providing them with an excellent education. And if you are looking to take a break and some me-time, keep in mind that Newport Beach has an A+ rating for its nightlife scene.
You can indulge in the scenery while surfing or birdwatching, or take a stroll down Newport Harbour. This attraction is actually among the biggest recreational harbors on the West Coast, offering kayaking and finishing. The city is also known for a median home value that is quite higher than the national average. But we can soften the blow of this information with another one. There are agencies out there that can buy your house for the highest price and thus finance your move.
Santa Ana
If you're focused on your career, then Santa Ana may be the best place to live in Orange County for you. With over 330,000 residents, it's one of the county's biggest cities that offers many career-boosting opportunities.
In recent years, the city saw a revitalization that now attracts business investments and development. Many high-tech companies are situated here, and educated workers under forty can score a promising position much easier than in other parts of the US. Overall, Santa Ana's unemployment rate is under the national level, and its living costs are suitable for young families that are just starting to grow.
The city will suit both introverts and extroverts. Whether you are looking for suburban quaintness or urban nightlife attractions, Santa Ana caters to both of those needs.
Anaheim
Anaheim is the most populous city in Orange County, California, with over 340,000 people living right next to the "Happiest Place on Earth." That's right - this city is home to the world's most-recognized amusement park - Disneyland!
And there is no denying that the humongous park that attracts millions each year had a role in helping the city grow. Today, Anaheim is an industrial and entertainment powerhouse of its own. The diverse city is graded positively for raising a family and its public school reputation, offering a mix of urban and suburban.
Cultural activities and green spaces are one of the city's many perks, as well as its median home value of $575,000. That number is well under the median value of homes of some other cities in the county.
Want to Make the Move to Orange County?
If you can now imagine living in Orange County, we can help you make that idea a reality. When you begin planning how to finance your home, contact SleeveUp Homes for a smooth beginning of your house-buying process. Our company buys houses in Southern California, and we give the best possible price. So if you are looking to buy a house in Orange County that is priced above the country's median level, you can sell your current house to us and save money for your dream OC home!
Another perk? We buy your house as-is. That means we take care of any necessary repairs. Want to see that we mean honest business? Contact us today and ask for a no-obligation cash offer to see where our partnership could lead you!