Being active is a healthy habit, it favors both your body and mental health. Unfortunately, many people get unmotivated to work out because they dread going to the gym. Some people get anxious and cannot work out around other people, especially if it is crowded. Others do not have enough time - they work a lot, the gym is far away, or they have young children. Whatever the reason is behind not going to the gym, there are ways to bring the gym to your home.
You might say "I wish, but my apartment is so tiny", but don't worry, we got you! We were thinking about the best small home gym idea for fitness lovers living in a limited space. Before you start making designs in your head, ask yourself some questions. You don't want to overestimate or underestimate your workout routine.
Listen to Your Body
The best small home gym idea is to ask your body what it wants. Do you do pilates or heavyweights? Do you need a stationary bike or a treadmill? What do you like and what do you need? Those are some things to think about before you start designing your space.
You might be someone who needs just a quick half-hour workout to feel active or someone who is a dedicated fitness enthusiast. Each person is going to have different needs and possibilities. It is a bad idea to copy a small home gym idea from someone who doesn't have the same workout habits as you.
1. Gym in a Designated Corner
Look around your apartment. Is there a space that you don't actually use for anything? It doesn't have to be ample space; any corner will do. You can add a floor-to-ceiling mirror, a workout mat, and a small shelf for your weights and resistance bands. You could easily make it match your apartment or house design just by picking out a nice color of a mat.
Stationary bikes and treadmills fit into a compact space if you are more into cardio. They can be a part of your living room, where you could work out and watch TV simultaneously. If you are very serious about your fitness story, this might not be enough for you. This small home gym idea is perfect for those who like to work out for the fun of it.
2. Gym in a Closet
Just as you can have a dedicated space for a home gym, you can also create storage space to fit all your equipment when you are not using it. You can find foldable treadmills that can fit in a closet, and most of the lightweight workout equipment can be placed there, as well. So, you can set it up wherever you like it, but as soon as you are done - in the closet, it goes.
Storing your equipment is an efficient way to keep your house aesthetics untouched, prevent clutter, and also have all you need right there. Not only will it save you a lot of time that you would spend traveling back and forth to the gym, but it is a money-saver small home gym idea, too.
3. Workout with a View
If you have a window with a nice view, put a stationary piece of workout equipment in front of it and feel the motivation rising. A good window view is priceless, and your home gym design doesn't have to be too complicated, so combine your breathtaking view and your love for cardio to create the perfect workout environment.
Stationary equipment has mixed reviews from users - some love the practicality of it, while others deem it too boring. However, you can always pretend that you are going through the forest or the beach when looking outside the window at the beautiful view.
4. White Walls, Lighting, and Mirrors
Everyone knows that brightly colored walls, large windows that let in plenty of light, and strategically placed mirrors can make a small area appear much larger. If you have a small home gym idea but think that it would feel cluttered and messy - try this trick.
Color the walls around the gym area white, and add a mirror to cheat the eye - this should make the space look wider. Now, the lighting of the gym is about preference, since some people prefer working out under dimmed or neon lights, and others like to work out in an illuminated space. One thing is for sure - small home gyms will feel larger under a bright natural light.
5. Wall Storage
Wall organizers can serve as a home gym, too. You are going to get extra space if you put the workout equipment shelf nicely organized and on display. There are many ways to do this. You could DIY it or buy it at a furniture store. If you handle heavy equipment it might be better to buy a special rack that can support the weight.
6. Hidden Under the Stairs
The space under the stairs is often left unused, because of its shape and size. Undoubtedly, it is a perfect space for a small gym area, especially if you are a petite person. This is where you can do sit-ups, pull-ups, and planks, you can even install some pieces of equipment.
Stairs themselves can serve as a piece of gym equipment for that glute build-up. If you don't have the space under the stairs to work out, this is where you can create gym storage. It can look minimalistic and clean, while also being functional.
7. Attic or Basement Gym
House owners often wonder how to utilize the space of their attics or basements. It usually serves as a cluttered storage room, but you can transform it into a home gym. A home gym setup can fit perfectly in that kind of space, and you don't have to worry about ruining your home's aesthetics.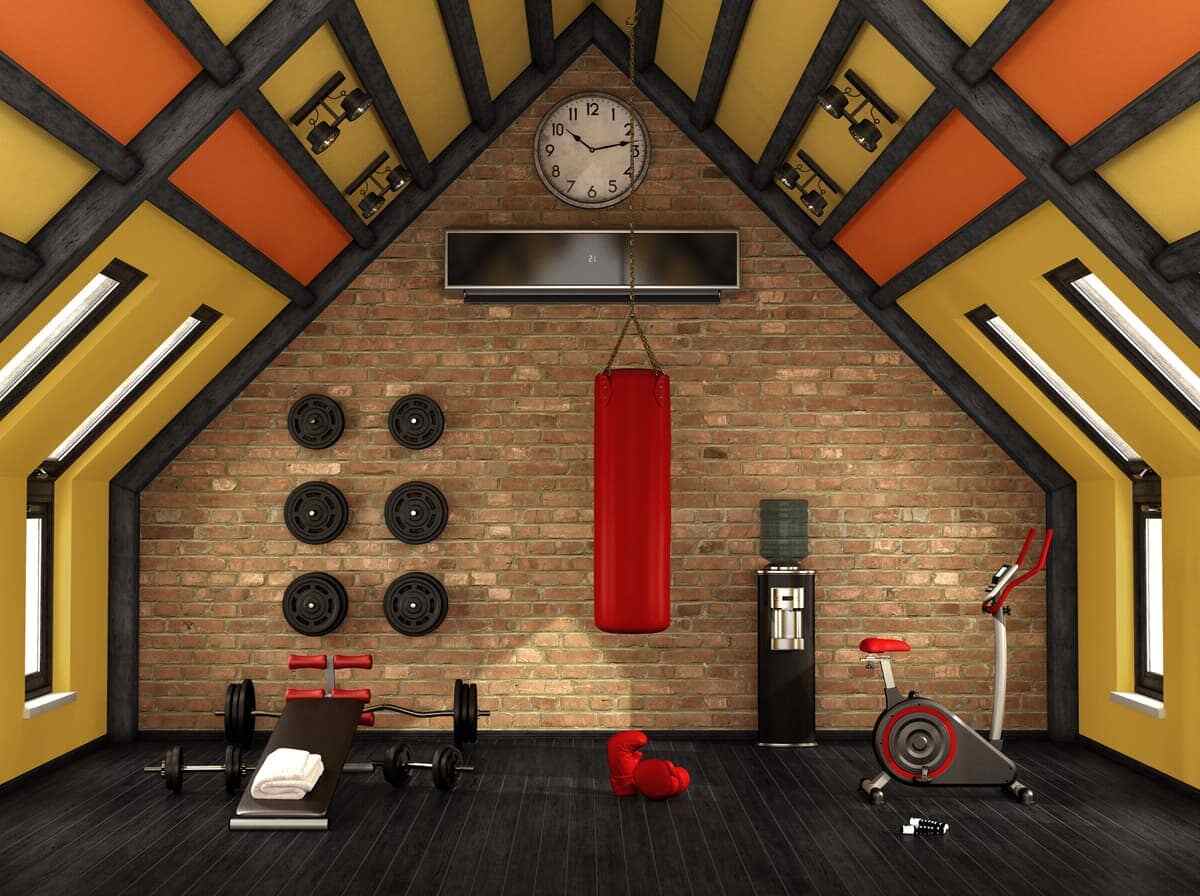 This kind of transformation offers ample space for the equipment that could never fit into your house. Of course, buying multipurpose equipment will save you significant space and money. Having a gym in your attic or basement is a good way to subdivide your living space, which will help you organize your day.
8. Garage Makeover
A good small home gym idea is to put it in a garage, next to your organized storage space. Garages are a great place for a home workout zone, because they are high and wide enough to put all kinds of equipment, plus have the space for a mat. You just need to add good lighting and a few wall decorations, because if you put in some effort, your garage can look like a real gym.
9. Outside Gym
People who live in areas with nice weather don't need space inside their homes when they can use the space in their backyards to create a small home gym. The idea is to make a workout area by flooring one part of the yard and covering it in case of bad weather, where you can either put your equipment or just use it as your fitness routine space.
Moreover, if you like street workouts your backyard presents the ideal opportunity for a small home gym idea. Make sure to add appropriate flooring because it protects your legs and knees from injuries.
10. Meditation Nook
If you don't have enough space, or you don't feel like moving stuff around - a simple meditation nook can help your fitness routine. No small home gym idea can help you if you live in a match-box-sized apartment, but a meditation nook can be a nice, calming corner of your place to decompress and think things through. Think of it as a workout area for your mind.
How Can Space Help My Fitness Journey
It is not surprising that you need more space if you live in a tiny home. More space gives more freedom of movement and more workout motivation. If you are thinking of upgrading to a larger house, contact SleeveUp Homes to sell your old home for top dollar to finance the new purchase.
Not only will more space in a new house help your workout routine, but you will have more storage space and room to grow. That is why we offer the best price for your property as-is. There is no need to do any big renovations or repairs, we will take care of everything. Request a cash offer and see that we are serious when we claim to pay top dollar.