The garage is often that place in the house that gets cluttered fast, and it looks like it belongs on an episode of Hoarders soon after you tidy it up. What is it about garages that make them a household's miscellaneous bin? It is usually a lack of storage and space to fit everything that isn't used that often. We compiled a list of DIY garage storage ideas that you can easily do by yourself.
But what is the cheapest way to organize a garage? The answer is probably - do it yourself. We know that remodeling projects are stressful for a family. You would more likely wish to put that work and money into a living space. Rather than spending money on a big garage storage space adjustment, it could be fun and cheap to commit to a weekend DIY garage storage project.
What Does It Mean to Maximize Space?
When you decide to DIY your garage, it is all about maximizing the existing storage space instead of adding square footage. What does it mean to maximize space? It is to take advantage of unused space, meaning every inch available on the walls, floors, and even ceilings in the garage.
There are plenty of garage wall organizers you could buy in a hardware store. Still, in this article, we are talking about DIY garage storage projects. You first need to take everything out of the garage, declutter, and start from scratch; then, you will see that you have ample storage space to fit everything.
When you have a clean slate, start measuring everything and finding some DIY garage storage ideas below. Be realistic with your abilities and your budget. Do not forget to label everything. It is so easy but functional.
The best garage storage system is the one that fits your family's needs. The functionality of the space will change once you ask yourself and your family what you use the garage for? Is it a workshop or a gym, or is the car often parked inside? After answering these questions, finding the inspiration, and measuring, you are all set to start your DIY garage storage makeover.
Overhead Storage Unit
Overhead space is often unduly overlooked because it may seem impractical as a storage unit. But we all have some things in our garage that we never use, such as childhood memorabilia and seasonal items that we use once a year.
Overhead storage could be a great way to optimize the garage space if you park the car inside. You can use the ladder or a stool for quick access. If you search online for overhead DIY garage storage, you will find many ways to install shelves and sliders. Still, we chose two storage methods that anyone familiar with tools can create in no time.
Sliding Storage on the Ceiling
A storage unit on the ceiling is a perfect DIY garage storage solution for those homeowners who have many hobbies but not enough storage in their house. There are two ways to keep storage bins on the ceiling, either on a sliding drawer or on a fixed shelf.
Sliding ceiling storage has to be one of the best garage storage systems. You need plastic tote boxes and wooden strips. You need the totes to have a thicker rim so they can fit in between the stripes. Wooden stripes need to be strong enough, so using a pine stop strip is best. Use strong glue if you plan to store light to medium light items, and screws and nails for something heavier.
Storage on the ceiling can also be in the form of a fixed hanging shelf or a hanger for ladders, yard equipment, and even bike storage. Ceiling storage is an innovative and cheap garage organization trick if you lack space. Grab your tools and start your DIY garage storage reorganization this spring.
Storage over the door
The area around and horizontal space over the garage door is often unused space. This is one of the most accessible garage shelving ideas that can be done even by those not as handy. These shelves are more approachable than the hanging storage because it is screwed into the wall and not the ceiling.
You need wooden studs and plywood, connector screws, and corner connectors. This shelf is solid, so you can put anything there, from camping gear to some tools and machines. The price of this DIY garage storage project depends on the size of the shelf, but it is around $150, and it will take approximately 10 hours to finish.
Universal Use of a Coat Rack
Coat racks are not just for hanging coats anymore. The simplest thing that you can do and call it a DIY garage storage project is to put two small coat rack hangers next to each other. It is an easy trick for storing things with a handle and a wider head, such as shovels and rakes.
The space can be maximized and organized by some simple stuff. For example, grab a smaller chain piece, roll up your hose and hand it on a coat rack. There you have it - a hose rack.
You can also easily create a coat rack for your screwdrivers and wrenches. Take a piece of wood and poke holes the size of your screwdrivers, or carve the dimensions of your wrenches and drill the piece of wood into the wall.
Of course, a coat rack can be just that - a hanger for rainy coats and winter jackets. You can put it right next to the entrance door. This is a clever way to keep your house clean during bad weather days. A DIY garage storage project can be a quick task if you think out of the box.
Tool Storage
There are many tool storage ideas for garages, but not all are DIY storage ideas. You can buy a metal board with holes for tool hanging, but why not make it yourself? Here is a neat garage tool organization idea – screw a jar lid on a piece of wood and store tiny fasteners for a tidier look.
Another DIY garage storage project that could take one to two days to finish is a tool wall. One of the best wall storage ideas is to screw small iron hooks into a piece of wood and fill out the vertical space on your wall. Tools usually have a hole at the bottom of their handle, so you can hang them by it. Otherwise, you can just place them over the two iron hooks.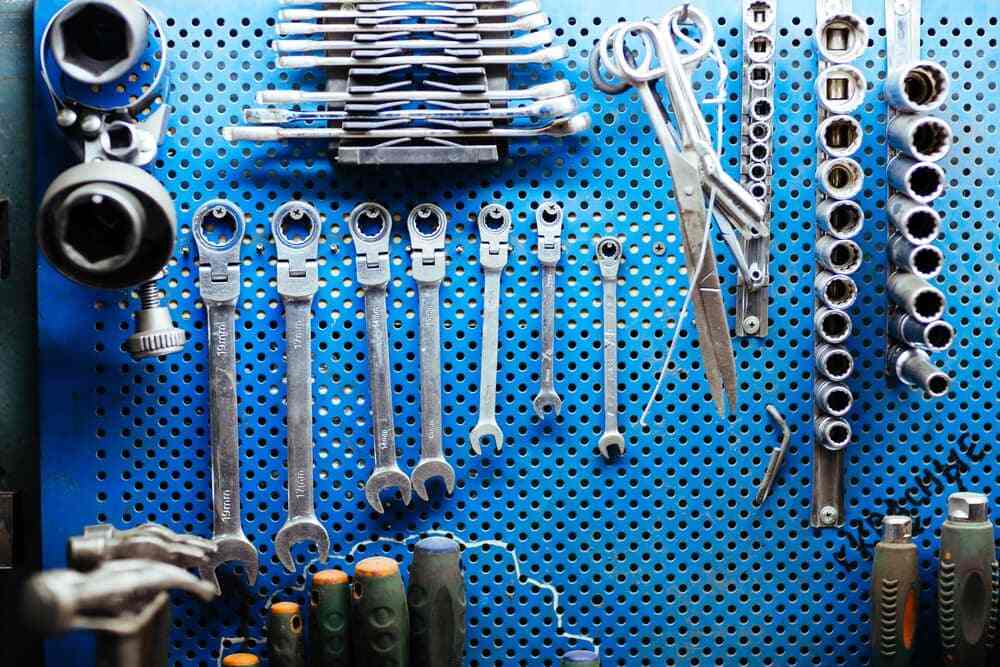 This is useful for homeowners who use their garage as a workshop, so they need their tools in a prominent, accessible place. If you don't have many tools in your garage, a DIY garage storage wall is unnecessary and will only take up space.
Yard Tool Rack
Yard tools generally take up so much space because of their size and shape. Luckily there are ways around the mess that they create. Best garage storage systems have vertical space designed for yard tools.
You can take two thick but tall wooden boards and make a cut at an angle. That cut should be as thick as the widest handle of your yard tools. It should be at an angle so the tools wouldn't fall down.
DIY garage storage ideas are everywhere on the internet, but they often seem impossible for an average homeowner. But the pool noodle trick will not disappoint you. Make a yard tool holder out of a pool noodle by cutting it in half and gluing it onto a wall. Make slits in the pool noodle to wedge the handles in. This is as easy as it sounds.
Fishing Equipment storage
The pool noodle trick works for fishing equipment, but especially the fishing rods, as they are thin and the slits on the noodles are narrow. But if you are a passionate fisherman, the noodles will probably not be enough for all your equipment.
You can create an overhead holder for your rods by fixing pieces of wood onto a ceiling and screwing wide hooks with an open side. That way, your rods will stay safe and not make a mess.
DIY garage storage for fishing equipment can also be a display of all your baits. If you have a lot of baits, this bait rack will offer you access to all of them. Plus, it sure is fun to have a colorful garage decoys exhibit.
Sliding Door Cabinet
DIY garage storage cabinets are usually made for different tools and machines, mainly to keep them out of kids' reach. If you are handy with tools or like to learn new things - this is your sign to build a sliding door garage cabinet. This is the way to go if you want that minimalist style but have too much stuff.
This project could be the peak of the DIY garage organization, so it is challenging. Still, it can be done with proper tools, confidence, and patience. This cabinet is a floor-to-ceiling construction with a lot of storage space.
You can add as many shelves as you need and the racks and holders that we listed in this article. Basically, if you could fit everything you own in overhead storage and this cabinet, you would have a clean garage to work out in or make it a little dance studio.
Recycle Plastic Bottles
Your next DIY garage storage project could be eco-friendly, too. It is not much, but you could save plastic bottles, and rather than throwing them away - you can use them to make a storage unit.
If you have a wooden surface that is not too wide, screw bottle lids on both sides. Cut the oval shape at the top of the bottles twisted to the lids below. Cut the bottom of the bottles twisted to the top lids. This is best for storing smaller stuff, which is usually bought in bulk - nails, dowels, and other necessities that generally get lost in the chaos.
Another great way to recycle plastic bottles is to cut the tops and the bottoms, glue them on a wall or other firm surface - and store your yard tools. It is an easy DIY garage storage idea, but it makes all the difference.
Install Corner Shelves
When we say to maximize the space, we mean walls and ceilings, and don't forget the corners. Installing corner shelves beside the entrance to the house is so functional. This is where you can keep the shoewear that you do not want inside your home.
Do you want the boots you went fishing in on your hardwood floors? Make sure to install them far enough apart, so you can fit high boots and chunky shoes on top. Corner shelves could be used for storing all the things you brought with you from outside that you do not want to get inside.
Label Everything
The final advice is to label everything. There is something about having labeled plastic bins, that just scratches the "organizing" itch. Not only will you be more aware of what you keep and where, but it will be easier to clean the garage in the future. Every DIY garage storage project should include a label maker as the main tool.
If You Have Too Much Stuff
Sometimes a family gets too big for a house they own, they have more stuff they need, and much more memories to store. If you are thinking about upgrading your real estate because you do not have enough space and you need to sell your old home beforehand, contact SleeveUp Homes.
There are no DIY garage storage ideas that can help you if your house was suitable for two people, and now there are five of you. That is why we will pay top dollar for your property as-is, so you can upgrade without any worries. But there's no need to rush - request a cash offer and see how we can factor into your plans.