If you are trying to sell your house fast, you've probably run into a real estate wholesaler, but just didn't know it. These companies act as middlemen who buys homes en masse; their job is to purchase large numbers of homes and immediately resell them to flippers for a profit.
This may be a quick way to unload your house, but you need to know what you are getting into and the process may not be as quick and profitable to you as you might imagine. They can't always guarantee a quick closing, and they can't always give you the best offer for your property. Here's what you should consider before you search for a real estate wholesaler to buy your home.
What's a Real Estate Wholesaler?
First, let's talk about what wholesaling is. Wholesaling is a quick and easy way for someone with little or no real estate experience to get into the business and begin learning the industry. Many investors and landlords today may have even begun their careers through this method.
The entire business model of a real estate wholesaler is to act as a middleman. These businesses find properties like yours and put them under contract to purchase. In most cases, they don't have any intention of actually buying the house. They will take your contract and then sell the contract to investors or landlords or house-flippers.
That person will be the one actually buying your house. They make money based on how much they can sell that contract to an end buyer.
For example, let's say they offer you $300,000 for your house. You sign a contract with them. The real estate wholesaler will then shop that contract to their network of investors. Once they find an interested investor they will sell or assign that contract to the investor for $330,000. The investor buys your house, and the wholesaler walks away with $30,000 in their pocket.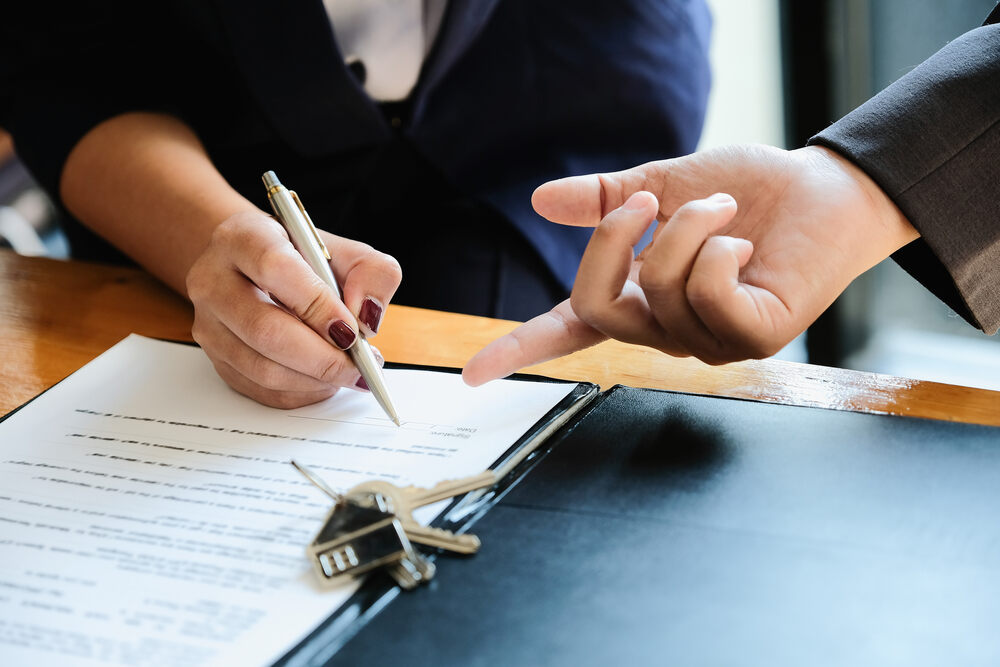 Real estate wholesalers always give lower offers than contractors and flippers.
That's not a bad deal for the wholesaler. They don't have to do any repairs and they don't take any risk. But that's up to $30,000 that could have been part of your offer. The wholesaler business model depends on facilitating these types of transactions, where they take a fee by simply being the middleman.
How Do You Know if Someone is a Wholesaler?
We Buy Houses Signs. You've probably seen handwritten "We Buy Houses" signs posted along roadway or stapled onto telephones. This isn't always a perfect indicator of a wholesaler, but it is a good sign.
Direct mail postcards. Have you ever gotten a letter or postcard in the mail asking to buy your house? It may have been handwritten or in an urgent envelope. This is a common method wholesalers use to find properties.
You can ask. In fact, you should ask, you need to know exactly what kind of contract you are signing when you work with an investor. Ask if they are a middle man. Will they be selling your contract to another investor? Ask what kind of spread they are making on the property.
Pros and Cons of Selling to a Wholesaler
Pros:
A good wholesaler will be transparent and tell you upfront what they are doing.
Wholesalers that have been doing it for a long time have a robust network of investors and can make good on their promise.
They are able to find a buyer for your house when no one else could have. This is one alternative to selling your property on your own.
Cons:
You don't make as much on your house as you could have if you had gone direct to the end buyer.
Sometimes the wholesaler can't find a buyer for your house and has to cancel the contract. You'll now have to start the process all over again.
Bottom Line
SleeveUp Homes is not a real estate wholesaler. We are direct real estate investors and home contractors. When we enter into a contract with you, we are the end buyer. There is no middle man that might squeeze you out some of the cash for your house.
Because we are the end buyer, there is no middle man and no hidden costs and fees. You don't have to fix up your house and make repairs, because we will do that as well. This allows us to present the highest cash offers in the Southern California area. We also have a network of title companies that allow us to schedule closing as quick as you need to work around your schedule and timeline.
If you don't want to go through the process of selling your home and you want to avoid the real estate wholesalers, SleeveUp Homes can help. We buy and rehab homes directly from homeowners, and we perform any repairs required to get a home into sale condition. We cut out the realtors and wholesalers to pay top dollar for your house regardless of condition.
If you're ready to sell your home for a fair price without the hassle, contact us today to get an offer.