Building your credit score is a lengthy process that requires organizational skills, responsibility, and sound financial management. Nevertheless, all of this can be insufficient when misfortune hits and you lose control of your finances. Missing a mortgage loan payment could have severe repercussions on your credit score. If this happens to you, you are probably wondering - how long does a foreclosure stay on your credit report?
A foreclosure stays on your credit report for seven years, after which it is automatically removed. Some special circumstances could prolong the period to 10 years, but it is usually gone the day after the seven-year period expires. That day is precisely seven years after the date of your first delinquency, so the first time you missed your mortgage payment.
But foreclosure is a complicated process. On top of the fact that many people feel humiliated and frustrated, the unfamiliarity of the situation is nerve-wracking. How long the foreclosure stays on your credit is a fixed element, but there are things to do before and after the closed foreclosure.
There are things to know and act upon to reclaim control over your payment history, all of which will be discussed in this article.
The Foreclosure Process
When you borrow money to buy a property, you sign a contract with the lender. By putting your signature on it, you agree to the terms and the consequences of non-compliance. Foreclosure is a legal process that happens after a borrower fails to uphold the terms of the contract; most often it occurs when there have been late payments.
Closed foreclosure means that the lender has taken over the ownership of the mortgaged property. Before a lender recovers the owed default by taking the house, the pre-foreclosure process starts and it can last more than 900 days.
Because each state has autonomy over foreclosure regulations, there are variations in the process, but it all starts with at least one or two missed mortgage payments. When you don't pay your bills on time, you first get a missed payment notice as a reminder.
After the next unpaid installment, the lender will send you a demand letter. These two letters are notices of a sort, but getting them does not mean that you have entered the foreclosure process. Only after 90 days of missed payments will the lender send you a notice of default, which starts the foreclosure.
The reinstatement period occurs after you have received the letter of default and lasts for thirty days. Reinstatement will hurt your credit score but not damage it in the long run. So how long does a foreclosure stay on your credit report if the foreclosure process is not completed?
It depends on the height of the score before the foreclosure. People with higher scores get hit more severely, and the reinstatement period is the last chance to save that credit history.
Types of Foreclosure
As mentioned above, states have autonomy over the foreclosure process, so the regulation is different almost everywhere. What varies the most is the time limits of the pre-forclosure process, as well as the process of selling a property - which is an actual act of foreclosure.
Two main types of foreclosure are used in the US: one goes through legal channels, and the other one avoids it. The nonjudicial foreclosure process is called the power of sale, and it is a common practice in 28 states. It is a speedy process that allows the lender to sell the property or hire a third party to sell the property.
The judicial process takes much more time, so the 22 states that use it have a higher average number of days in the foreclosure process. This is because the procedures have to go through court and prove that the borrower is delinquent. After the court decides to approve the foreclosure, the judicial process allows the lender to own the property and sell it traditionally or allow a sheriff's sale.
A sheriff's sale is an auction managed by the local authorities where the mortgaged property is sold to the highest bidder. After the lender collects their owed sum, the rest (if there is any) goes back to the borrower.
How Long Does a Timeshare Foreclosure Stay on Your Credit?
Timeshares can be foreclosed on, too. When it comes to shared property, or vacation homes, paying a mortgage payment comes with an addition of maintenance fees that are treated with equal importance. How long does a foreclosure stay on your credit score if a timeshare is being foreclosed on? Once again, seven years.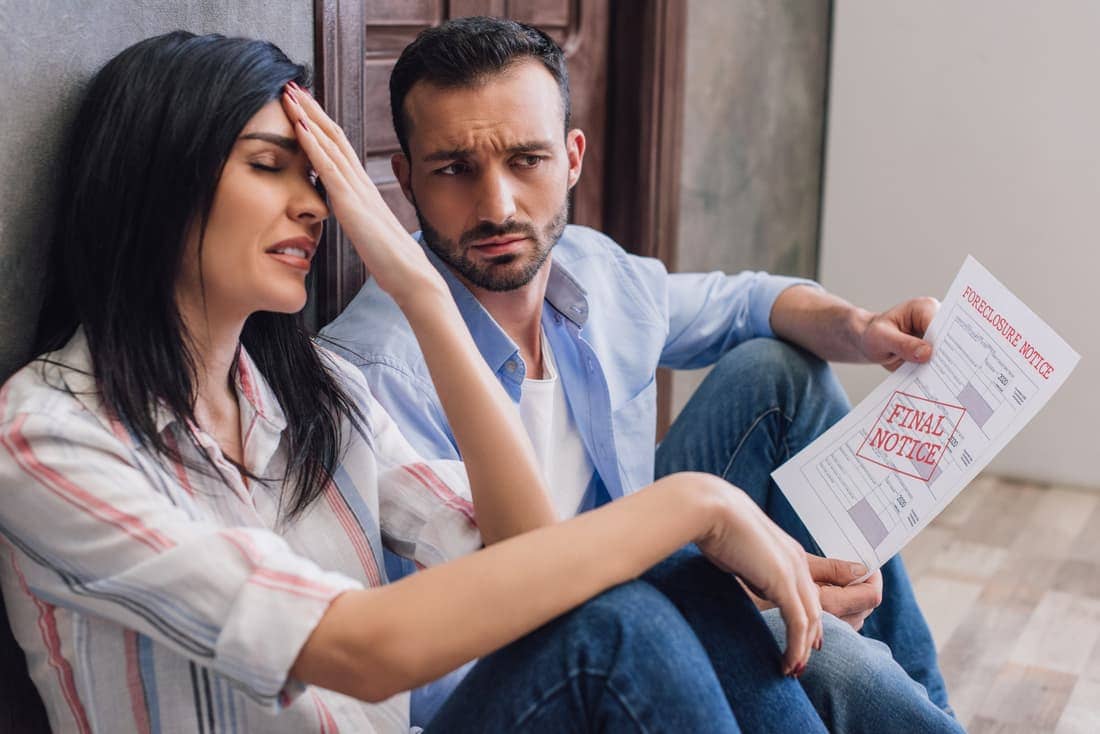 Timeshare foreclosure could strip you of 100 points and prevent you from getting other mortgages until the record is clean again. Similarly, the interest rates and insurance premiums are higher for people with any type of foreclosure on the record. So, the fact that you are sharing the property does not mean that you will not face the same consequences if you default.
Foreclosure's Effect on Your Credit Report
Foreclosure leaves consequences on the credit report, and there is no way around it. That is a seven-years-long reminder for lenders that they are dealing with a "risky" borrower. This could impact the borrower's life negatively in many ways.
First, the interest rates get higher and the credit cards' limits lower. Foreclosure could negatively impact the borrower's future job search, as it is legal in some states for an employer to access their employees' financial history records.
Since it is much harder, if not impossible, for a borrower to take out another mortgage and buy a house, they have to rent. Renting is also challenging because landlords have access to credit history records, too.
There is another hidden cost that surprises people after the closed foreclosure. Let's say you owe $300,000 for a property that got auctioned for $400,000. The IRS expects you to report that $100,000 as income on your taxes. You could circumvent this if you filed for bankruptcy or some other extenuating circumstance.
How to Build up Credit After Foreclosure
Wondering - how long does a foreclosure stay on your credit report - should not stop you from working on improving it and building it even before the foreclosure gets removed. There are ways that you can proactively work on bettering your bad credit.
What will help your credit score the most after the foreclosure is to maintain paying all other bills on time. Pay more than a minimum payment whenever possible and pay it before the due date, to keep that 35% of your score calculation safe.
Another 30% of the score calculation goes to the credit utilization rate, and you should keep it as low as possible. Mainly, it is a number that represents how much of the available credit you use. It is okay if you use less than 30% of what is available, but 10% would be perfect.
There are means by which you can build your credit score, such as applying for a secured credit card or a credit-builder loan. Credit builders are financial options for people who have no credit reputation or have a bad credit history, but they could come with high fees or deposits.
Avoiding Foreclosure
How can you avoid foreclosure if you are behind on mortgage payments? A foreclosure could sometimes be avoided by having open communication with your lender even before you fall too far behind on your mortgage payments.
There is a big chance that your lender will hear you out if you lost your job or have some medical issues. And it's not about your lender being empathetic to your plight (although that could be true for some), but that the foreclosure process is tiring and expensive for them as well.
If this is not the case, you could request a forbearance period, during which you are expected to get back on track, save up, and pay back what you had owed before. Some people cannot achieve this, and they usually opt for a loan modification or refinance if it is possible.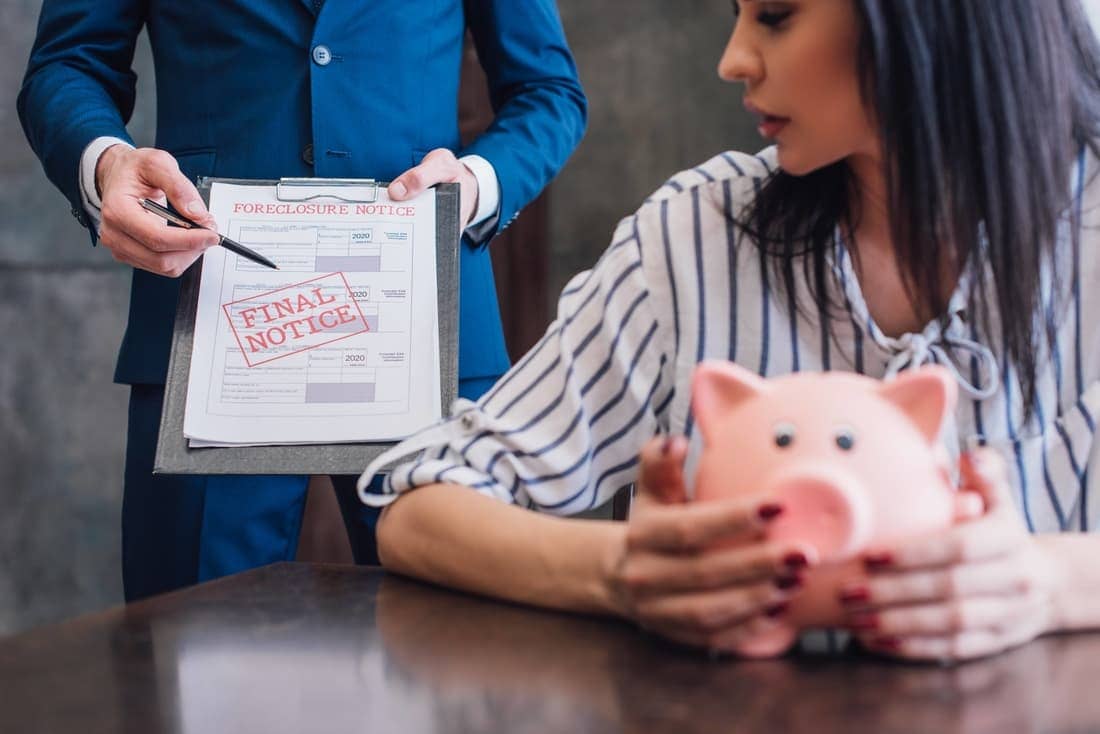 Those who are not eligible for any avoiding tactic and have to come to terms with losing the property still don't have to face foreclosure. Conducting a short sale is the way to go, but you need to seek approval from your lender beforehand. Short selling the property will get you less money than what you owe, but the lender will forgive the rest because it is cheaper than going into foreclosure.
Deed in Lieu of Foreclosure
The deed in lieu of foreclosure is an alternative to foreclosure that hits your record less severely. It is the agreement between you and your lender by which you are giving them the deed to your home, instead of them starting the foreclosure process.
As soon as they collect their deed, the lender releases you from everything you owe. If you were wondering how long does a deed in lieu of foreclosure stay on your credit - it is four years.
Sell Your Property Before It Is Too Late
When you realize you are in trouble - that is when you should act. If you know that the situation is not looking good and you have exhausted all other options, think about selling the house for top dollar before you even get to the default notice.
No need to go through that stressful process or short selling, when SleeveUp Homes offers the best deals for your property as-is and trully delivers. Request a cash offer to see how much money would be left over after you've paid off your debts if you sell to SleeveUp Homes.