Remodeling a home is not something that can usually be done for cheap. Plus, besides the cost of the materials and paying professionals to do it for you, it takes time. If you are remodeling in order to sell your house, sometimes the costs and benefits just don't add up. But, we'll share some DIY home improvement ideas that won't stress your budget.
We'll explain how you can make home improvements that will increase the value of your home, even if doing these kinds of things isn't your forte. So, get ready to roll up your sleeves and freshen up your house by applying some or all of these 10 home improvement ideas.
The First Step in Fixing Up an Old Home on a Budget – A Fresh Paint Job
When you want to get a good price for your home, you should start with a fresh coat of paint for your walls. It will make your house look cleaner and tidier for any potential buyer. And painting your walls is something you can definitely do on your own. All you need is a decent paint roller and some practice.
Luckily, you can practice as you work and cover up any mistakes you make. If you are unsatisfied with how you've painted a section of the wall, you can simply paint over it until it's up to your standards. And here's a pro tip – use some drop cloths or plastic sheets to protect from splashes or dripping.
Cleaning and scrubbing paint from your floors, cabinets, and countertops after a paint job is about half the work. Especially if you're new to painting. You can get these items at the same place you buy the paint at almost no cost. Trust us, taking an hour to put up protection before you start painting the walls of your home will save you many more hours later on.
And think about the color you chose. If the purpose of this home improvement is not to get a better price when selling, choose whichever color you like. But, if the intent is to get a better price for your home, choose a neutral color. The goal is to enable a potential buyer to imagine him or herself living in your home. And that means that your home should be less personalized.
Can You Paint the Floor?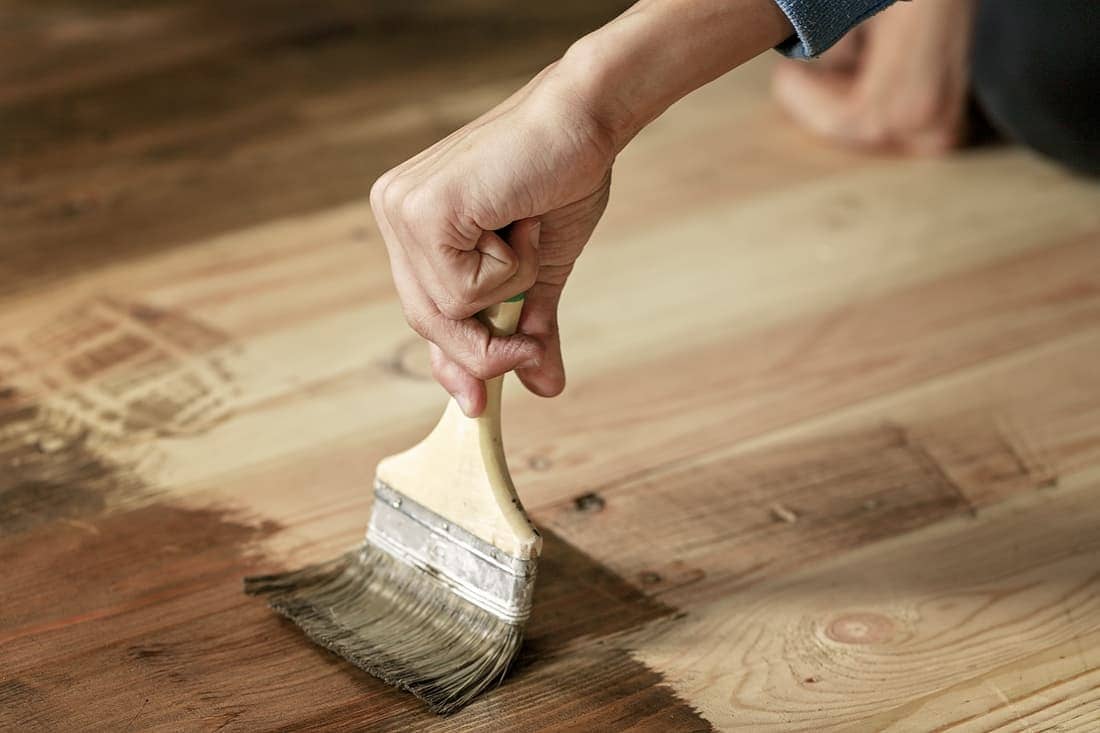 Painting floors seems kind of strange, doesn't it? This is one of those home improvement ideas that people rarely consider. And we get that, painting floors does seem kind of odd. But, refinishing floors often isn't possible if you are on a tight budget.
So the next best option is to liven up your floors with some new paint. You can do it right after you paint your walls. Just make sure you use some durable floor paint. And the same principle applies if you are looking to sell – simpler, neutral colors are a better option than a vibrant, highly-personalized color scheme.
On the Other Hand, Can You Put in Some New Flooring?
This is a home improvement idea that is not always cost-efficient, so think hard before you lay down new flooring. The cost of the materials is relatively high and you likely won't be able to do it on your own. Redoing your entire home is a major home improvement project, so it may be best to just sell your home as-is instead.
On the other hand, you can lay down some low-cost flooring in a couple of rooms. Vinyl tiles are a cheap alternative to laminated flooring and it goes well in bathrooms and laundry rooms. Self-adhesive vinyl tiles are not difficult to install and can be the middle ground between redoing your entire home and doing nothing.
Replace Your Old Appliances
When you're planning on selling your home, buying new appliances doesn't seem like the most sensible home improvement idea, does it? However, try thinking like a salesperson. The aim is to get the buyer interested in your home and first impressions are paramount. New appliances can make your home seem newer and fresher, which is more than enough.
Plus, old appliances absolutely suck up electricity. You've got a friend who replaced an old fridge recently. Ask them to compare their bills before and after getting the new fridge. You'll be surprised at the difference. And when you take the appliances with you once you sell your home, your bills will continue to be much lower than before.
Redo Your Doors and Windows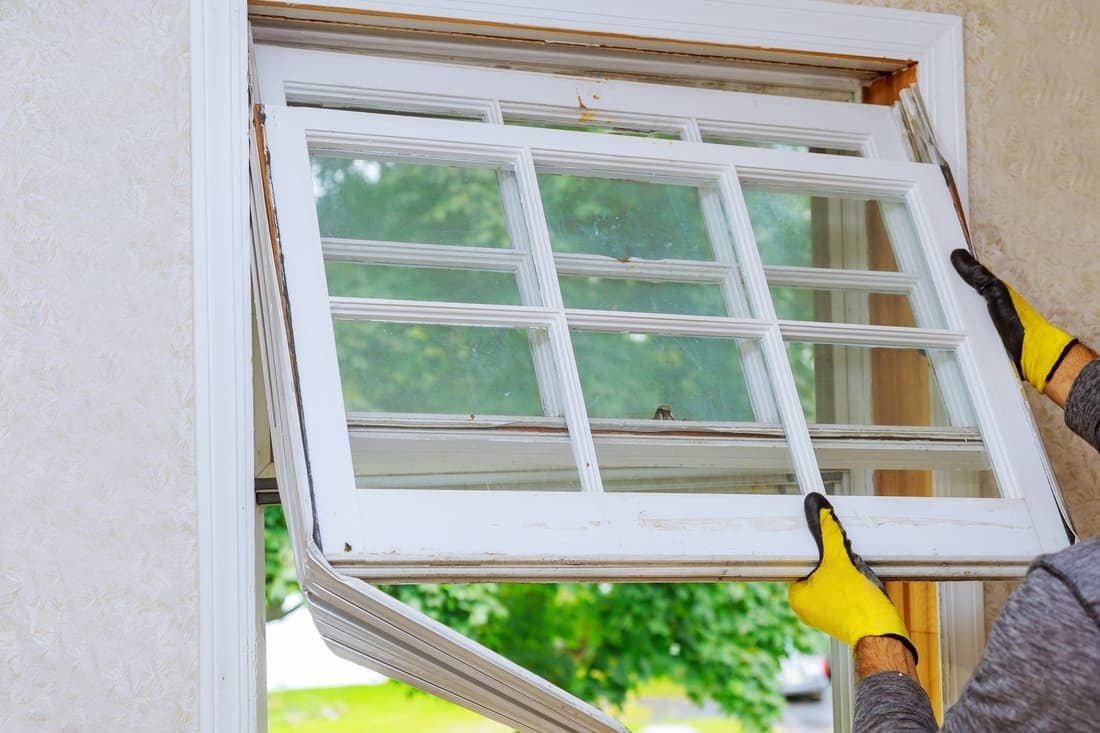 By now, you've likely noticed a trend with these home improvement ideas – focusing on the most visible and obvious aspects of your home that don't cost much to improve. So it's only natural that you should focus on your doors and windows a bit. And it's even more important if you have wooden doors and window frames.
Rain, the Sun, and simple wear and tear have likely caused some damage to your doors, window frames, and shutters. Refinishing these items is relatively easy and quite cheap. But it makes a huge difference. A freshly refinished wood entry door can be just the thing that makes a buyer interested in your house.
Give the Kitchen and Bathroom Cabinets a New Finish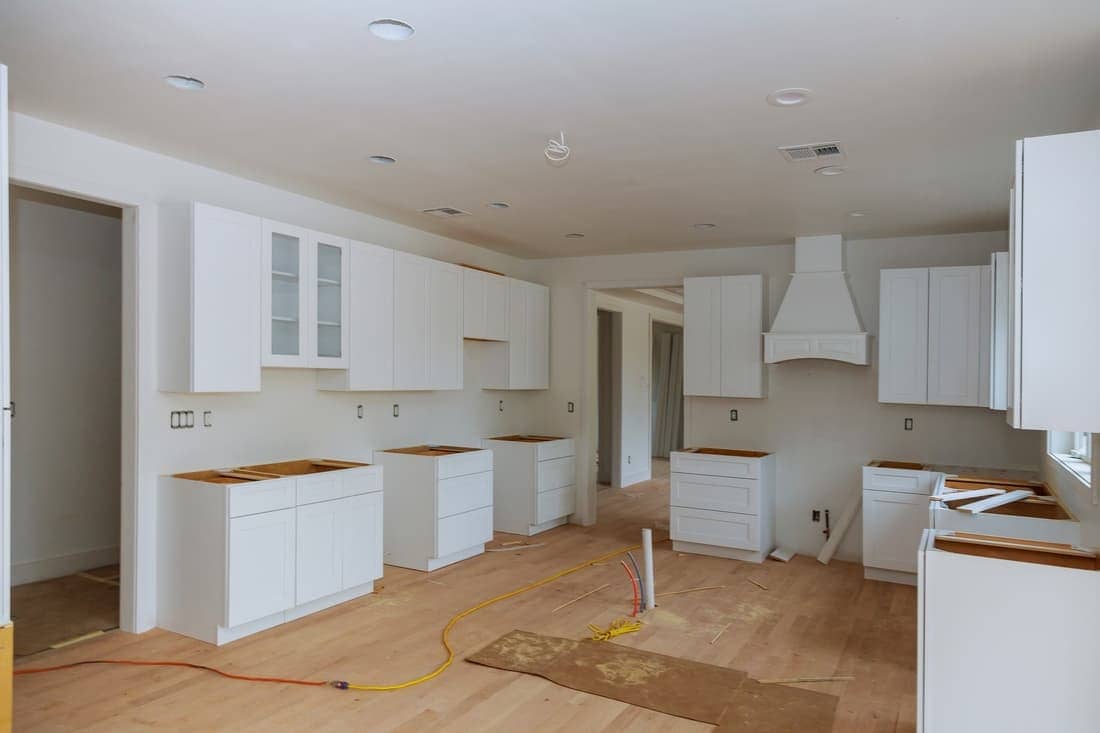 A rule of thumb when selling a home is that your kitchen and bathroom should be in as good a shape as they can be. These are two rooms that many buyers focus on, so they should be your focus too. So that means giving your cabinets a new finish. You can always buy new cabinets, but there's no need to do that if your old ones are structurally sound.
And new cabinets cost a pretty penny, so it's definitely not a home improvement idea you can do on a budget. But giving your cabinets a light sanding (or even striping the finish to bare wood) and applying a new coat of paint is something you can do on a budget. It will make your home appear more lively and help you negotiate a good price.
Taking Care of Decks and Patios
Anything that gets exposed to the elements eventually gets weathered. But a nice, clean deck or patio can be just what your home needs to stand out from the competition. You could replace the furniture you have outside, but that's less important and is not that cheap.
What you should do is take care of the floor, railing, and other wood elements that are part of the construction. For wood that was previously stained, first, apply some stripper and then sand and power-wash. This process will only take a few days. Ideally, you can stain, coat, and paint it afterward, but this can take a few weeks and, ultimately, isn't necessary.
A Simple Budget Home Improvement – Add Some Storage Space
The goal here is to make your house look bigger. If a potential buyer is under the impression that your home is spacious, you can negotiate a better price. And one way to do that is to add some storage space. Just to be clear, this doesn't include buying new cabinets, cupboards, etc.
Take a stroll around your home and try to spot the unused space. Are most of your walls bare? A few floating shelves can go there. Is there nothing beneath your staircase? Maybe a hanging coat rack would fit. The goal isn't to fill up every inch of space and make your home look cluttered, but don't be afraid to experiment a little.
Try To Emulate an Open Floor Plan
The same principle applies here as in the last point – the aim is to make your home appear more spacious. An open floor design is popular with buyers. For one, you could actually design an open floor plan. But that would entail removing walls and doing a decent bit of construction work, which definitely wouldn't be cheap.
If you have the time and resources, go for it. This is one of those home improvement ideas that is much likely to net you a buyer. But you can emulate an open floor design by rearranging the furniture, removing a few doors, and even installing a few mirrors to make the rooms appear bigger.
Do What You Can To Increase Your Home's Curb Appeal
Finally, you can't neglect the outside of your home. Not every buyer will be willing to come to an open house and inspect the inside unless they are motivated to do so. And that's why curb appeal is so important – it is the first step to attracting a buyer. It likely won't increase the value of your house (at least not substantially), but that's not the point.
The outside of your home is the face you show to the world. So keep it well-kempt. That can include keeping the lawn tidy and pressure-washing your driveway. You can replace your old mailbox and house number to make your home more appealing. Putting up some new lighting is also a good idea. In essence, do the small things that will make your home stand out.