What's the situation like for home sellers and buyers at the end of 2022? It's safe to say that it's still a seller's market but the rising prices and mortgage rates are driving many potential buyers out of the housing market. So what can you expect from real estate trends in 2023?
Will the current situation continue or will there be some major changes? Can you expect a stabilization of inflation and mortgage rates? We will show you what experts believe will happen in 2023, but let's assess the situation at the end of 2022 with some hard data first.
The Housing Market Situation at the End of 2022
The latest data from the National Association of Realtors shows that sales dropped by 28.4% year-over-year and the median existing-home price rose by 6.6% from October 2021, to $379,100. This is the 128 month in a row that home prices have risen.
The inventory level of unsold homes is at 1.22 million units, which is 0.8% less than in September and year-over-year. However, with fewer buyers, those 1.22 million units equate to 3.3 months of supply, which is more than the 2.4 months from October 2021. So, there are fewer unsold homes, but with fewer buyers, there are more months of supply.
With the high mortgage rates and the potential of them climbing higher, many wishful homeowners are fearful of getting a mortgage (or unable to), which leads to fewer sales Now, even sellers are starting to worry that we are begging to see an end to the seller's market. Will that worry come true in 2023?
Let's see what real estate experts have to say on the matter and what other real estate trends they predict for 2023.
What Will Happen with the Mortgage Rates in 2023?
Dennis Shirshikov, professor of economics and finance at the City University of New York believes that homebuyers will not get a break in 2023. "Continued inflation, overall higher interest rates, a potential recession, and geopolitical tensions will force 30-year and 15-year mortgage rates up throughout 2023 and will bring the two rates closer together as short-term risks rise," prof. Shirshikov stated per Bankrate.
Rick Sharga, executive VP for ATTOM Data Solutions has a somewhat different opinion. He believes that mortgage rates will peak in early 2023 but drop over the year to around 6.0% for 30-year fixed mortgages and 5.25% for the 15-year fixed. Yet, "This is entirely dependent on the Federal Reserve's ability to get inflation under control and ease up on its aggressive rate increases," states Sharga.
Nadia Evangelou, director of Real Estate Research at NAR, predicts three possible scenarios for 2023:
"In scenario #1, inflation continues to remain high, forcing the Fed to raise interest rates repeatedly. That means mortgage rates will keep climbing, possibly near 8.5 percent. In scenario #2, the consumer price index responds more to the Fed's rate hikes, and there is a gradual deceleration of inflation, causing mortgage rates to stabilize near 7 percent to 7.5 percent for 2023. In scenario #3, the Fed raises rates repeatedly to curb inflation and the economy falls into a recession. This could cause rates to likely drop to 5 percent."
Thus, even the more optimistic positions are qualified and depend on the overall economic situation in 2023 and how the Federal Reserve responds.
Will Home Sales Continue to Decline?
Sharga and Shirshikov predict that home sales will decline in 2023, and Evangelou shares their sentiment – in all 3 of her scenarios, she predicts a drop, by more than 10% in scenario 1, 7-8% in scenario 2, and by more than 15% in scenario 3.
Similarly, Redfin's analysts offer multiple scenarios, with one predicting that home sales will fall to levels not seen since 2011 in the first half of 2023, with a partial recovery in the second half. Redfin estimates 16% fewer home sales in 2023 than in 2022.
Seasonally-adjusted annualized rate of existing home sales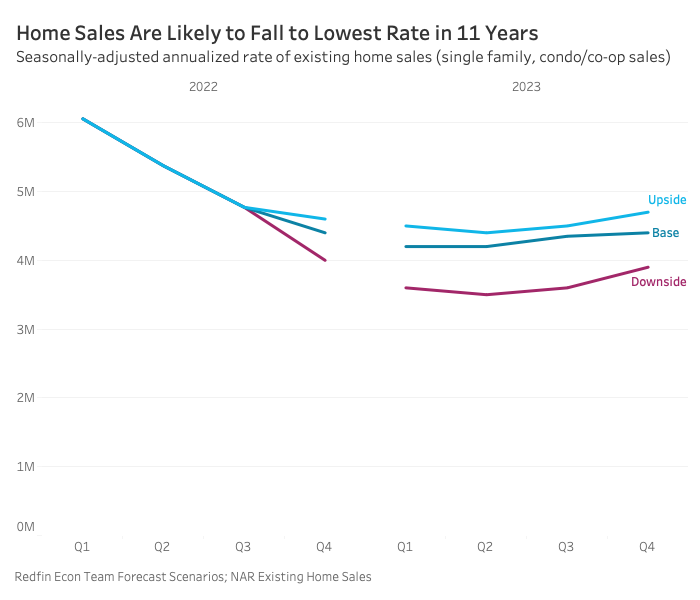 Source:Redfin
While declining home sales could lead to increased inventory, which could further lead to a drop in the prices, Robert Dietz, chief economist for the National Association of Home Builders, is not so confident.
He believes that the homebuilding industry will severely slow down due to high construction costs. "This will be the first year since 2011 to see a decline for single-family starts," Dietz stated. Fewer homes being built possibly means that inventory will not increase to such levels that you can expect a significant drop in prices.
Thus, most predictions are that home sales will drop but that inventory will stay limited, so it is questionable what impact this will have on the prices.
So What About Home Prices in 2023?
As far as real estate trends in 2023 for prices go, there is some consensus. Redfin offers up multiple scenarios and in one of those, home prices will drop by 5% in the first three quarters of 2023, then go to about 3% lower than in 2022. If this prediction comes true, it will be the first drop since 2012.
However, this is only one of Redfin's scenarios, while the rest either predict a small rise or a plateauing of prices. Yet, Sharga partially agrees with Redfin's first scenario, as he foresees a drop in prices between 5 – 10%.
Evangelou is more conservative in her estimate and expects prices in 2023 to be relatively stable and increase by 1%. While not a drop, 1% is a very modest increase, compared to previous years. Thus, the general consensus for 2023 seems to be that home prices will not significantly increase and we may even see a moderate drop.
Finally, Will Homes Be More Affordable in 2023?
In a scenario where prices do drop, will that make purchasing a house easier in 2023 than it was in the previous years? Unfortunately, the answer seems to be no. According to Shirshikov, a "fall in prices will not be enough to offset the rising interest rate and its contribution to the monthly payment."
Robert Johnson, professor of finance at Creighton University's Heider College of Business, agrees and believes that lower prices will be offset by higher mortgage rates. According to Johnson, "Overall home affordability won't change dramatically."
Real Estate Trends in 2023 Summed Up
As far as real estate trends in 2023 go, there is consensus on two matters:
Homes sales will decline;
Inventory levels will remain limited.
As far as mortgage rates go, most experts believe they will continue rising, with some predicting a slight drop later on in the year. On a positive note, we could see lower prices for the first time since 2012. Yet, even this drop will likely not make homes affordable, as rising inflation and mortgage rates will offset it.
At the end of the day, we need to wait and see what 2023 will bring and hope for the best. If there are any major moves in the real estate market, SleeveUp Homes will inform you as soon as they happen.