It will come as no big surprise that curb appeal is the number one selling point of your house. After all, it's the first impression people get of your home and first impressions matter. However, improving or maintaining curb appeal can be a relatively large undertaking. That's why this article will focus on low maintenance front yard curb appeal – you get what you need with minimal investment.
Whether you want your house to be appealing because that's how you like it or you are thinking of selling so you want to attract buyers, this article will provide front yard landscaping ideas that are easy to implement. If you are still unsure of the importance of curb appeal, well, 94% of real estate agents say that buyers pay more for houses with good curb appeal. So let's get to it.
Low Maintenance Landscaping Ideas
Display Your House – Cut Down on the Vegetation
Your home can appear messy when most of it is covered by mature trees or large shrubs. Even if the trees and shrubs are perfectly pruned, your home will appear overgrown at first glance. And because curb appeal is all about first impressions, this is not something you want. Additionally, it can make your home appear smaller, which is not a good thing.
Thus, cross the street and take a good look at your yard. Try to think from the perspective of potential buyers. Does your vegetation look out of control and messy? Does it shrink your house? If the answer is yes, pull out some trees and shrubs or give them a good trim. You don't need to apply innovative, modern front yard landscaping ideas if a simple trim will do the job.
Electric trimmers are not too expensive and they will help you do the job quickly. Just make sure you wear gloves and protective eyewear – there's no reason to injure yourself when doing front yard maintenance.
Or Add Some Vegetation
On the opposite end of too much vegetation is too little. Proper balance is essential to curb appeal. You have multiple options here – you can plant trees, shrubs, or lay garden beds. However, these plants take time (even years if we're talking about trees) to mature and bloom, so they are not a good option if you are increasing curb appeal in order to sell.
But that's why potted plants exist. They are the definition of low effort, low maintenance curb appeal. Buy flowers that are already in full bloom and you have a 5-minute colorful garden with the same effect as a flower bed.
And potted plants have another benefit – you can use the pots themselves to increase your curb appeal. Vary them by size and style if you are looking for some diversity, or keep them all the same if you are going for a uniform look. You can even go modern and use old shoes or kettles to get a unique look.
It's up to you to choose which option you go for, but too few plants is just as bad as too many plants. A good composition will make your house more vibrant and attract buyers.
Have You Considered Removing Your Grass Lawn?
A neatly mowed, tidy green grass lawn adds to curb appeal, there's no doubt about it. But it doesn't fall into the low maintenance front yard curb appeal category, particularly during times of drought, as it is so often in Southern California. So, have you considered removing it?
There are multiple rebates for removing grass turf in California, some going as high as $4 per square foot. The primary purpose is to conserve water usage and some even offer to install additional features like smart irrigation, stormwater retention systems, or a water feature.
But how would that affect your front yard curb appeal? Not at all, if you replaced grass turf with a sustainable landscape design with native plants. Drought-tolerant plants like cacti combined with gravel and stone are very popular right now and will have the same positive impact on passers-by.
So, while removing grass turf will not increase your curb appeal, it will make it low maintenance – no more mowing, watering, or fertilizing.
Some Cheap Installations
Redo Your Driveway or Walkway
Cracking cement and unruly weeds will bring down the overall appeal of your house. Buyers will come to inspect your home and this can make your home seem unkempt, consequently bringing down the price. Now, redoing the entire walkway or driveway can be expensive, and won't necessarily have the best return on investment.
And because this article focuses on low maintenance front yard curb appeal, this is not what we are suggesting. However, what you can do is redo your walkway with paving stones. Paving stones make your house look more sophisticated, plus they're much easier to repair – you replace one stone instead of repairing a whole section of concrete.
If this is the path you choose, go for a longer, winding walkway instead of a straight one leading to your door. It is visually more appealing and will increase your curb appeal. In case even this is too much work or beyond your budget, you can simply line your walkway with the potted plants we discussed before – it has a similar effect and when combined with a cracked walkway may give your house a rustic look, instead of an unmaintained one.
Remember, curb appeal is all about presentation and first impressions, so it doesn't matter why something is the way it is but what it appears to be.
Solar Lights for Night-Time Illumination
Now that we're finished with cheap, simple front yard landscaping ideas, let's move on to highlighting them. After all, why improve your curb appeal and then limit yourself to daytime viewing? A well-lit house will attract any buyer looking at your house at night, plus it looks great in listing photos. And if you install solar lanterns, it's a triple win.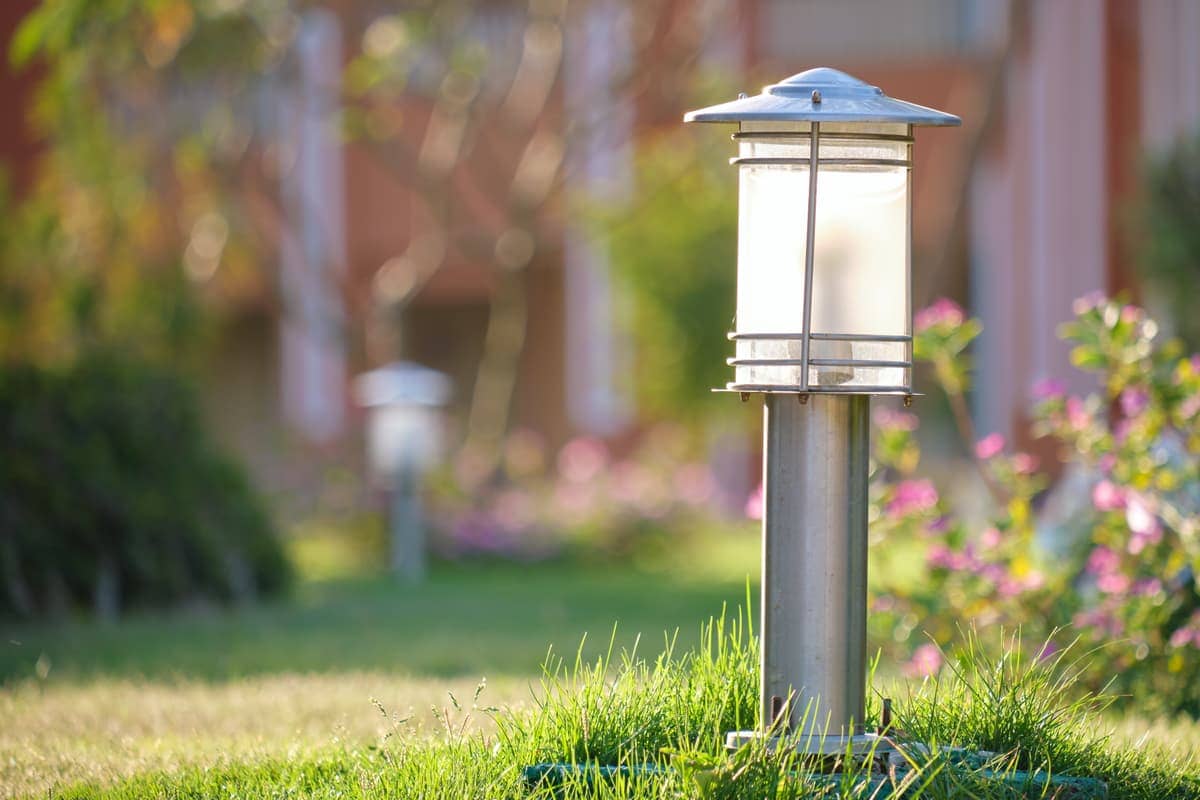 First, you have a well-lit house that increases your curb appeal all by itself. Second, solar lights are very low maintenance. Third, sustainability is another selling point. No, you are not building a sustainable home, but solar lanterns combined with sustainable landscaping are a good stepping stone and buyers are willing to pay more.
As far as where you should place the lights, well, you can experiment a bit. Try placing them along your walkway and any other feature you wish to highlight. Solar lanterns are easy and cheap to install, so don't be afraid to position them in different places until you find the look you want.
The Finishing Touches
Enhance Your Mailbox
We're talking about low maintenance front yard curb appeal, but still haven't mentioned your mailbox, which we'll rectify right now. The mailbox may seem small and insignificant, but it's often the first thing potential buyers see. Getting a new mailbox won't break the bank, afterward, it requires no maintenance, and you've got a new feature buyers will be attracted to.
But make sure you check the local laws or HOA ordinances if you are going for a more extravagant mailbox. On the other hand, if you don't want to change your mailbox, a fresh coat of paint will do a similar job. Choose either option, just don't leave your mailbox as-is if it is in a state of disrepair.
Get Some New House Numbers
Finally, we get to the simplest improvement you can make – changing your house numbers. This may seem even more insignificant, but think of it this way – you've got a nice new mailbox, a well-lit walkway, attractive landscaping features, and old generic house numbers. They will stick out like a sore thumb and kill the entire vibe.
Once again, you are not appealing to reason but to emotions. You want potential buyers to feel like they need to live in your house. That's why the overall impression matters. Make sure your numbers match the exterior finish and lighting fixtures and you've got a winner. Oh, we forgot to mention that house numbers are dirt cheap, even custom-made ones.
What's Even Better than Low Maintenance Front Yard Curb Appeal?
If you are selling your house, no need for curb appeal at all. SleeveUp Homes will buy your house for cash as-is and pay top dollar. You do not need to get your house ready for sale because we look for potential and will pay the full price either way.
That also means you don't need to make any repairs or hold open houses. And because you are selling directly to us, you won't have to pay a realtor commission. But don't take us at our word that we pay top dollar – request a cash offer, no strings attached, and take your time to think on it.