The moving industry is one of the largest in the US and there are innumerable companies that offer moving services. To paint a clearer picture - approximately 27.1 million Americans moved in 2021 (8.4% of the population) and that's the lowest number in decades. Unfortunately, that also means unscrupulous people try to take advantage and moving scams are prevalent.
How Serious Is the Issue?
Moving scams are not the only scams related to real estate, but they are one of the most common types. Many laws regulate how moving companies need to do business and the Federal Motor Carrier Safety Administration of the Department of Transportation provides oversight.
However, a series of laws starting in the 1980s that deregulated the moving industry in combination with the Carmack Amendment of 1935 has caused victims of moving scams to have little satisfactory recourse. On top of that, the FMCSA has slowly been stripped of many of its powers that could directly help consumers.
The Better Business Bureau (BBB), a non-profit whose mission is to advance marketplace trust, receives an average of 13,000 complaints annually and at least 1,335 moving companies have an F rating due to unresolved complaints or other factors.
Even worse, according to some estimates by the Federal Trade Commission, only 10% of fraud victims lodge complaints with law enforcement agencies or the BBB. Thus, the problem is likely much larger, even if the FTC's estimate is off.
In short, moving scams happen on a daily basis and everyone who moves should pay special attention to the moving company they hire.
Common Tactics Scammers Employ
The first step in learning how to avoid moving scams is to understand how scammers operate. Unfortunately, they're not as easy to spot as you might expect. You will rarely encounter a scammer that directly asks you to pay clearly unreasonable amounts of money. Their tactics and methods are usually more advanced, so let's go over the most common ones.
Payment in Advance
The first moving scam is the most straightforward one and the easiest to avoid. No reputable movers will ask you to pay in advance. The industry standard is that you pay at delivery. You may be asked to pay a small deposit for a reservation, but that's it. If any moving company asks you to pay upfront, hire another moving company.
The No-Look Guestimate
The price of your move will primarily depend on 3 factors:
The weight of your items
The dimensional weight of your items (the bulk)
The moving distance
So, to give you an estimate, your movers need to approximate how much your items weigh, how much space they'll take up on a truck/trucks, and how far they need to transport them. As far as the distance is concerned, there's really no issue – googling the distance between 2 locations couldn't be easier nowadays.
However, to estimate the weight and bulk, they need to send someone over to actually see your items. If you give a moving company a call and they ask you how many items you have and give you an estimate based on that, there's a strong chance you're dealing with moving scammers.
Homeowners have a hard time estimating how much stuff they own and professional movers are well aware of that. A reputable moving company will almost always send someone to do an in-person inspection and estimate. There may be exceptional circumstances where a phone call may be enough, but these are few and far between.
Let's say you're moving out of a mini-small studio apartment and have six 18'' x 16'' x 18'' boxes you need moved. In such a case, fine, maybe a conversation over the phone is enough for the estimate. But what's the chance you'll actually hire a moving company to transport such a small load?
In any case, here's how this moving scam operates. They give a great estimate over the phone. You're more than happy with the price, so you hire the moving company but don't get the estimate in writing – it was all done over the phone, after all, wasn't it? You arrange a moving date, pack your things, and wait for your movers to arrive.
When they do come, they provide you with the contract you need to sign, but the estimate is a few thousand dollars more than what was originally discussed. They'll likely have a "good" reason why the price is higher – maybe they'll shift the blame and say you didn't clearly explain how much stuff they need to move.
What options are you left with now? Sure, you don't need to sign the contract and can hire another moving company. But your stuff is already packed, you've probably canceled your lease, and don't have the time to go through the whole process again. This is precisely what moving scammers count on.
So you sign the contract and now you've paid thousands more than you expected.
The Casual Look
The principle here is the same as with the no-look guestimate scam, it's only a bit more advanced. In short, the moving scammers will send someone over to do an inspection, but it's mostly for show. They'll take a stroll through your house and cast a casual glance at each room.
A professional estimator from a reputable moving company, on the other hand, will check every detail and ask pointed questions. They will want to know exactly what items and goods you will be moving. If the estimator finishes in 10 minutes and gives you a great verbal estimate, that's a huge red flag that you are dealing with moving scammers.
In the end, you'll end up in the same situation as if they gave you an estimate over the phone. Moving day will come, they'll have you pay much more than what was originally estimated or they'll leave you on the street. The first step in avoiding moving scams is understanding how estimates should be done and not trusting anyone who doesn't do them properly.
It Was in the Fine Print
You understand how an estimator should do their job so scammers can't show up on the day of the move and give you no other option but to hire them. You do the smart thing and make sure you have an estimate in writing. But you should understand that there are two types of moving estimates:
Non-binding estimates
Binding estimates
Non-binding estimates, as the name implies, mean that you probably won't pay the exact cost that was listed. But even that is not that big of an issue with honest movers. Non-binding estimates are regulated by law and movers must give you a reasonably accurate estimate – they can only charge you up to 10% more of what the estimated cost was.
Moving scammers may load your items but ask you to pay way over 10% of the original non-binding estimate at delivery because the weight of your items was more than expected. Now, they hold your goods hostage until you pay the full amount. This is something they are not allowed to do by law, but that's why they're scammers.
Let's say that you're not comfortable even with a non-binding estimate, so you demand a binding one. You'll know how much you have to pay and that's it. But have you looked at the fine print?
Moving scammers will insert a clause into the contract that stipulates that the moving costs will not exceed a certain amount unless your items weigh more than what was estimated. Essentially, that makes the binding estimate no better than a non-binding one. To avoid moving scams, always read the fine print.
The Worst Kind
This is one of the rarer moving company scams, but it's the worst one. You contact a moving company, everything seems on the up and up, so you hire them to transport your items. But then your items never arrive and you can't get in touch with the movers.
Your property is gone and there's little chance you'll ever recover it. These types of moving scams are relatively rare because word quickly gets out and the scammers can't operate for too long. However, there's usually someone else that will take their place and you can never be sure that you won't be a victim of such blatant theft.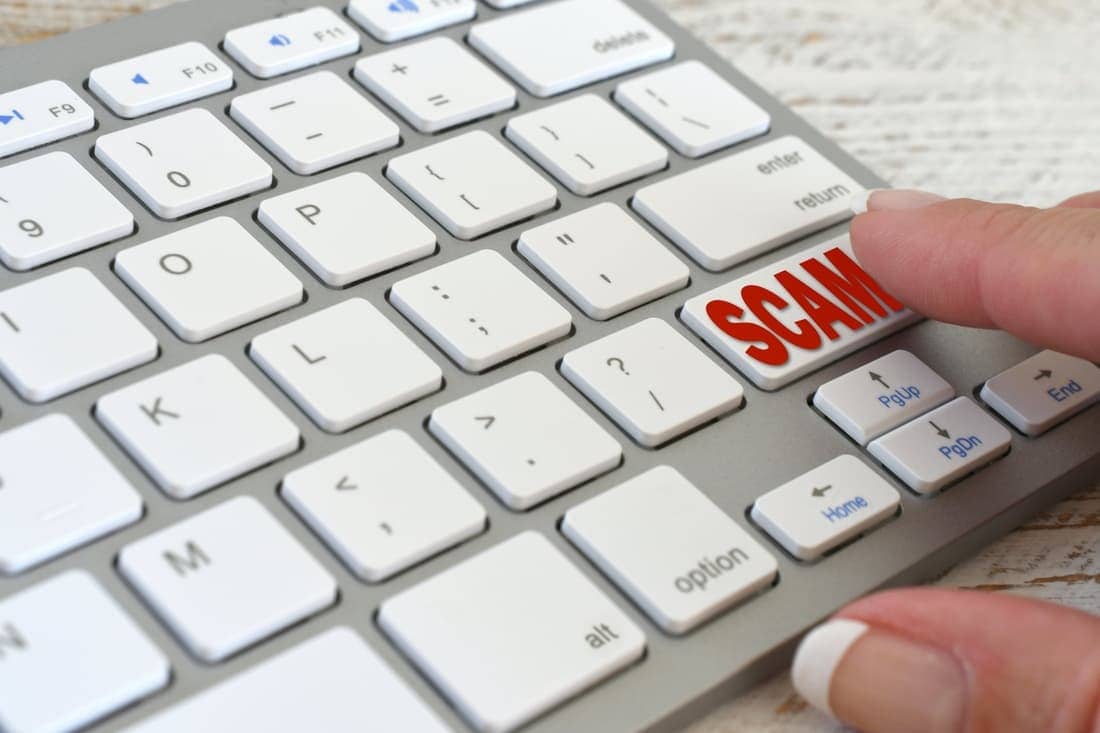 How Can You Avoid Moving Scams?
You can avoid moving scams in two steps: 1. knowing the red flags that indicate scammers and 2. only hiring professional, reputable moving companies. We've explained common methods scammers use and how you can spot them, so now it's time to discuss how you can find a good moving company.
How Can You Find a Reputable Moving Company?
Do the standard background check as you would with any business – get their name and DBA name, see how long they have been in business, check their reviews, and ideally contact real people who have used their services to find out their experiences. Make sure to ask for your moving company's license number and check if they are:
Licensed and insured in the FMCSA database and check the complaints history.
Contact the Better Business Bureau and ask about the company you are interested in.
What Should You Do if You Are a Victim of Moving Fraud?
Even if you take all the necessary precautions, you could still end up being the victim of a moving scam. You have multiple avenues you could pursue and we suggest you utilize all the free resources you have available:
Contact your local law enforcement agency to file a complaint.
File an official complaint with the FMCSA here.
File a complaint with the BBB here.
File a complaint with the American Trucker Association here.
Contact MoveRescue for assistance (MoveRescue is a collaborative effort between Mayflower and United Van Lines intended to help people avoid moving scams and help victims).
How Can You Protect Yourself From Other Real Estate Scams?
Moving scams are some of the most common scams related to real estate, but they're far from the only type. If you are selling your house in Southern California, you can make sure you are safe by selling it to SleeveUp Homes.
SleeveUp Homes was started to prevent people from being low-balled by wholesalers or flippers. We will buy your home as-is for top dollar and you won't be paying any realtor commissions or closing costs.
And we will gladly refer you to local Southern California moving companies with a reputable track record when you need to move out. But you don't need to make a commitment right away – request a no-obligation cash offer to see how much you can get for your property and make a decision in your own time.