All hands on deck! Summer is right around the corner, which means the outdoor season is, too. Summer calls for sultry, warm nights under the stars and sun-drenched gatherings, making backyard decks the ultimate destination of the season. We all want the perfect backyard – somewhere to escape, relax and unwind after a long day. If you're looking for affordable, creative, and unique patio deck ideas, you've come to the right place.
You can transform your home by creating a beautiful outdoor living space to expand and improve it, leaving you with a patio deck you can share with family and friends for decades to come and build lasting memories. Whether you have an existing deck in need of some love or longing for a new space to enjoy the sunny days with your family but have no idea where to start, we're here to help!
Tune in for some budget-friendly and modern patio deck ideas & designs for inspiration. Stop dreaming about your perfect deck and start building the ultimate outdoor retreat, on a budget!
Unique & Budget-Friendly Outdoor Deck Ideas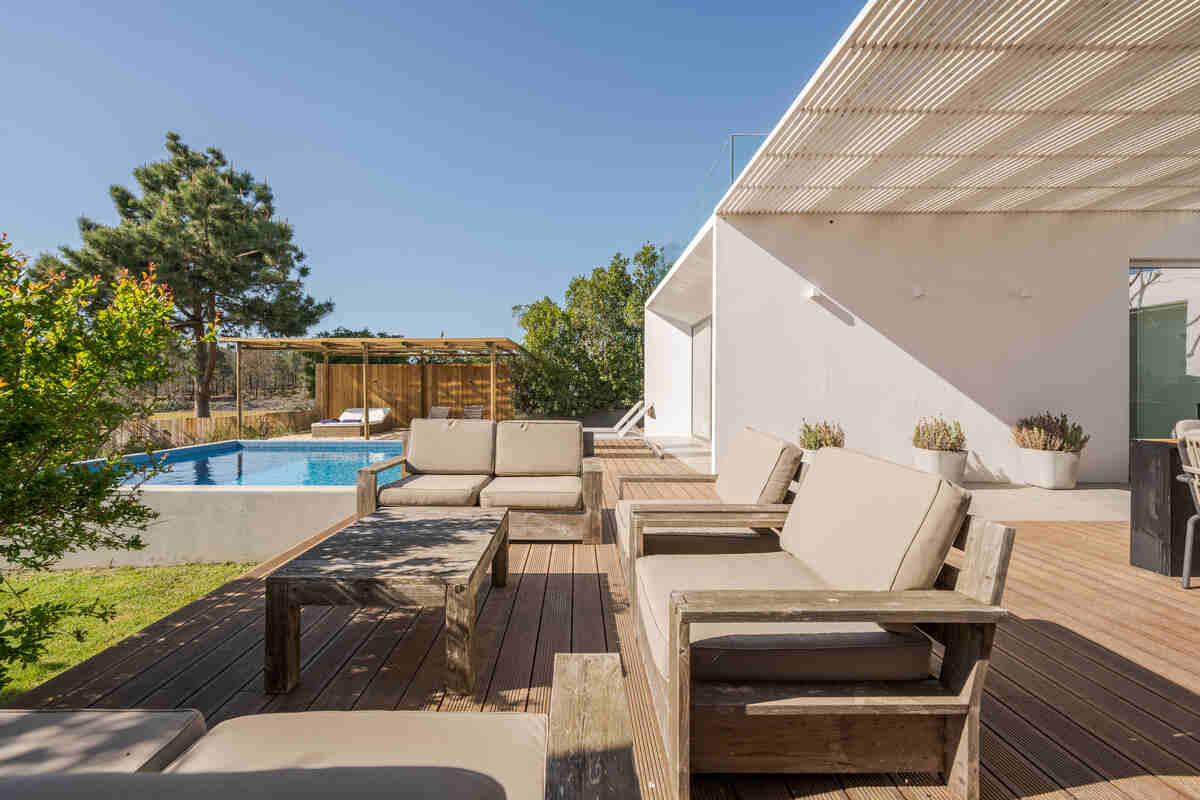 Want to spruce up your backyard but don't want to break the bank? Building a deck is a big investment and does not seem to fit everyone's budget. However, there are many ways to save and still have the most fantastic deck in the neighborhood, which is why all the outdoor deck ideas and designs listed in this article were hand-picked for those on a budget.
Having a fantastic back deck doesn't have to require a lot of money. All you have to do is get creative!
Wrap Around Deck Ideas
Stretching across multiple sides of a home's exterior, a wraparound deck allows you to easily change up your view or shift positions with the moving sun.
If you have a small backyard, a wraparound deck will keep your backyard open by hugging your home while still offering plenty of entertaining space. Tucked in beneath your home's roofing, it also doesn't require spending additional money on deck covering.
Pallet Deck Ideas
Pallet decks are the latest trend in DIY outdoor living. Pallet decking is a fantastic way to enhance your outdoor space and save money. As pallets are very solid and come in standard sizes, building a modern pallet deck could be the solution you were looking for.
The best part? Pallets are mostly free or cheap to get, making any pallet deck ideas you might have super budget-friendly. At the same time, they already come in perfect deck shapes, which saves tons of time and makes building any kind of deck quicker. You can build a floating deck out of pallets or even a pallet deck with stairs.
Hot Tub Deck Ideas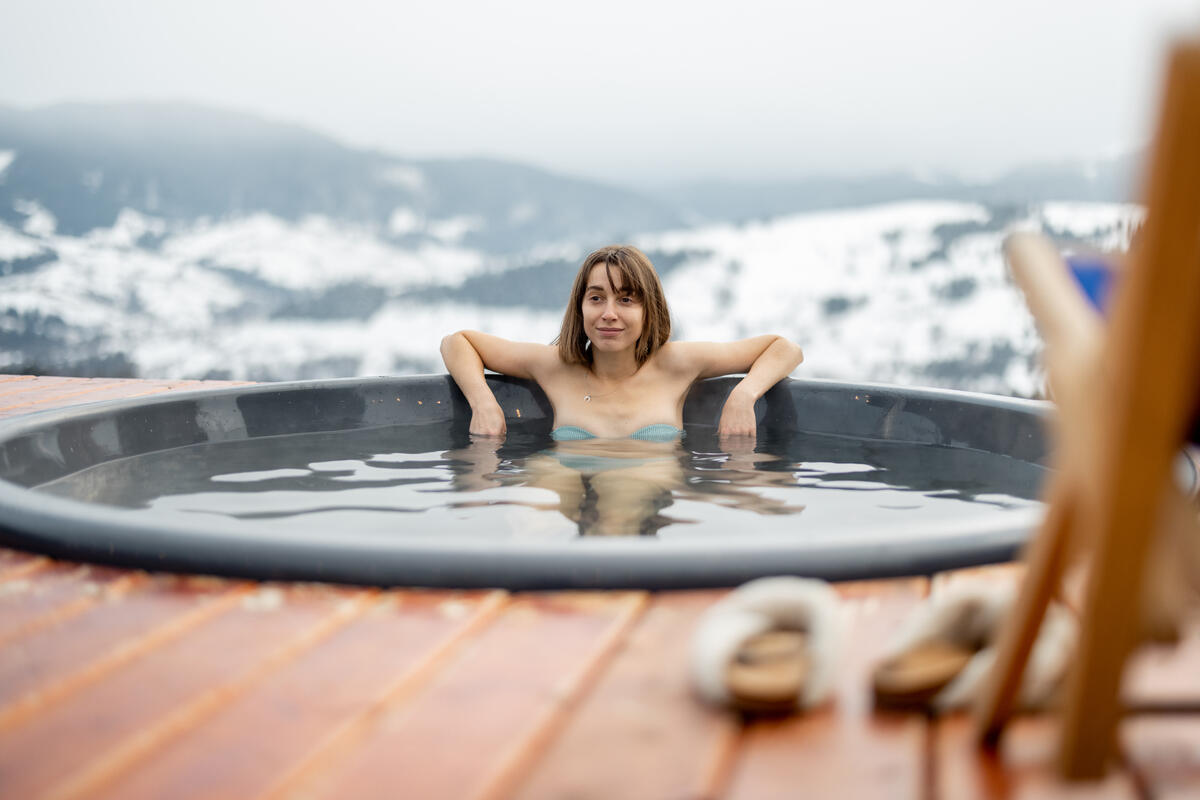 So, you can't fit or afford a pool in your backyard, but who needs that when you can have a hot tub on your deck instead? For saving sight lines around small spaces, sinking the hot tub in the deck area is an excellent modern deck idea. In-ground hot tubs create the illusion of more open space than a raised hot tub would on a small deck.
Think outside the standard wood platform with innovative design ideas for a range of deck settings and budgets. Skip the cost of stone or wood and use travertine or composite decking materials instead. Add some natural boulders and planters around the hot tub or decorate it with faux stone to give it a spa feel on a budget.
You can also create the illusion of having a larger hot tub by constructing the right type of decking around it. The trick is to make your decking proportional to the hot tub.
Small Deck Designs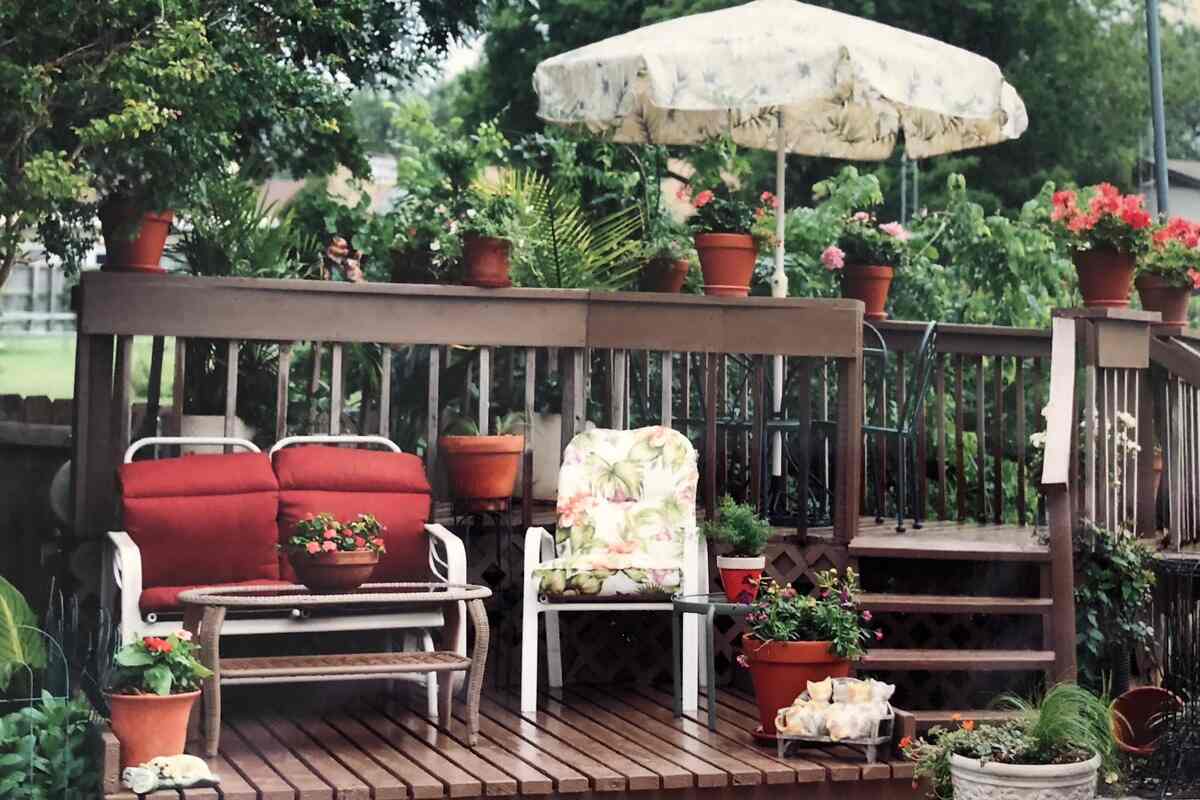 Limited backyard space doesn't mean you have to sacrifice style. However, smaller outdoor spaces require a bit more planning and thinking outside the box when it comes to designing and decorating your deck. Even if you don't have a sprawling backyard, there are plenty of small backyard deck designs that can serve as inspiration.
A ground level-deck is perfect for improving the aesthetics of small backyard spaces.
Glass railing can make a small deck feel bigger. Glass railings offer a better view of the surrounding greenery and also helps your deck more seamlessly blend with your surroundings.
Similarly, stylish and compact furniture – such as curved deck chairs that easily be tucked in under the table – afford more space on your small deck when not in use.
There's no wrong way to decorate a small deck, however, pops of color can make even the smallest deck feel utterly charming. Neutral furniture can blend with the decking and make it look bigger, but bold pillows and throws that mix-and-match solids, florals, and patterns can tie the look together.
Deck Ideas with Roof Extensions: Affordable Covered Deck Ideas
For those who desire a bit more shade and privacy while enjoying the outside – a deck roof may be in order. As beautiful as they are functional, modern deck shade ideas can be an extension of the luxurious deck experience you deserve, so you can enjoy your yard without overheating.
From pergola models, which are ideal for those who want their sunlight with a side of the shade, to canopies of all materials and designs, as well as the more traditional wooden and stucco coverings, there's a deck roof for every space and desired effect. Many roofing features offer adjustable or expandable coverings, allowing you the freedom to secure just the right amount of shelter no matter the hour or weather conditions.
Creating a deck cover might prove to be too expensive. On a budget? Don't worry. It doesn't mean that you can't have a beautiful covered deck design, even if you aren't prepared to invest a lot. Here are some covered deck ideas for those on a budget.
To save money, you can choose a deck cover with a wooden base and unique plastic panels. Such a pergola can be an excellent idea, as it keeps things shady without completely blocking the sun and offers a lovely minimal aesthetic at the same time.
You can also consider investing in a high-quality modern umbrella that will serve both as decoration and the shade and protection provider for both you and your outdoor furniture. It will be cheaper than any other deck covering but still be beautiful.
How about growing a canopy of vines? A lattice canopy with verdant vines makes a beautiful addition to any deck. You get the deck covering and shade you're looking for with the added bonus of vibrant greenery all around for no more than a few bucks.
Deck Privacy Ideas
They say good fences make good neighbors, and it couldn't b more true. How can you relax and enjoy your outdoor living space with someone peering over your property? Your deck should be your own personal outdoor oasis, and a lack of privacy can throw off the whole "personal retreat" vibe. You could build a fence around your entire property, but that could get expensive. Instead, these deck privacy ideas will help you enjoy your backyard decks in peace.
Growing lush greenery or planting tall hedges can create almost instant privacy and makes for a tropical-looking, beautiful deck. If caring for plants doesn't sound like you, but you like the idea of greenery – try building a living wall on an outdoor privacy screen. You could also have planter stands around your deck or plant a few small trees around the edge of your deck.
Adding a pergola to your back deck is affordable, yet it can create privacy as well as offer sun protection. Once your pergola is up, you can also hang plants to create a "natural wall."
For a tropical feel, you could use a bamboo screen or actual bamboo. It grows fast and tall, making for a quick and inexpensive solution.
Check out some horizontal deck railing ideas, as they can give your deck more privacy.
Money-Saving Tips: Deck Design & Decorating Ideas
Tiny details that are often overlooked, like subtle decorative pieces, can really make your deck shine. And, contrary to popular belief, they don't have to be expensive.
You won't believe how much difference adding some cozy cushions, plants, flowers, or any other interesting decor piece can make. So, here are some affordable deck decorating ideas that can bring your deck design to life without spending a fortune on it.
Get Creative with Outdoor Lighting
No deck is finished without some well-spaced outdoor deck lighting to create that million-dollar look. Adding some lighting is an easy and cheap way to freshen up your simple back deck and make it cozier and inviting. The lights will allow you to use your deck at night and give it a dash of magic.
Hanging a string of twinkling lights will add a little something special to any outdoor space. Add some in-stair or in-floor lighting, or bring in some decorative lanterns if you have a covered deck. Nothing says cozy like the warm glow of a fire - gas fire pits are surprisingly inexpensive and require no electricity making them very cost-effective.
Cozy-Up the Flooring
Is your old concrete deck an eyesore? You can avoid the cost and mess of tearing it out by simply screwing down wood sleepers and decking over it. If you have an old wooden deck that doesn't look its best anymore or is made of unattractive materials that feel cold and bare, an outdoor rug can also freshen up your outdoor area in no time.
It will cover any wood chips or color imperfections and also make your deck space look much more cohesive and home-like, and it'll make even a simple backyard deck pop. Outdoor rugs are easy to find and are generally very affordable.
Decorate Your Back Deck With Plants
One of the most inexpensive deck ideas for decoration is to use plants. Plants are inexpensive but can do a lot for your outdoor living space. Plans and flowers in vibrant colors can make your deck come to life and even serve as a small garden. This will make even the simplest of decks with modest furniture look chic and inviting. If you don't have a lot of deck space, hang the plants to free up valuable ground space.
Budget-Friendly Back Deck Ideas for a Backyard Getaway
A smart backyard decking design, even on a budget, can create much-required extra living space and make the perfect outdoor retreat for soaking in the sun or gazing at the stars.
Trying to re-decorate or renovate your deck on a tight budget and schedule simply to raise the value of your property before selling? Sell your home as-is today with no fees, commissions, or repairs! SleeveUp Homes will buy your house in the state it's currently in for cash and pay top dollar for it.
Skip all the tiresome staging, repairs, cleaning, and showings to impress potential customers. No strangers traipsing through your home, no lengthy and expensive deck repairs holding up the sale. Contact us and request a cash offer today to see what we can do for you.