Deck the halls with boughs of holly! And some old sweaters and a funny Christmas-themed doormat? Not to your liking? We have some less out-there ideas. Here are 20 fun Christmas decorations that will brighten up your home and declare your love for Christmas to all visitors and passers-by.
And to mix it up a bit, we've divided the article into store-bought and DIY Christmas decorations, so you can have your pick and experiment a little, if you feel so inclined. In any case, let's get to the Christmas decoration ideas.
Buying Christmas Decorations
We'll start out with Christmas decorations you can buy if you're short on time and don't have time to play around making them yourself. And remember that you can always go beyond and combine the ideas into something new. Don't be afraid to take a few risks!
1. Christmas Doormat
A Christmas-themed doormat is an excellent way to show your visitors how much you adore Christmas. Or do you want to be a bit sarcastic and send a special message to someone? You can get standard Christmas-themed doormats almost anywhere, but you can also get one custom-inscribed just as easily.
A 'We Won't Burn the Turkey' one if you are having a friendly holiday-hosting competition with your sister and she had a bit of a mishap while hosting Thanksgiving, maybe?
2. Multi-Colored Outdoor Lights
Multi-colored light on a fir is an obvious choice and sure to spruce up the neighborhood. But do you really need a tree to put up lights in your yard? Absolutely not. Get some rainbow lights, attach them several feet off the ground in your yard, and arrange them in a way you find pleasing.
3. Tree Skirts
A knitted tree skirt is a somewhat subtle Christmas decoration and can help even out the colors. The rest of your decorations are brash a colorful? Get a more subdued tree skirt. Or go all in and go for a lively one. Oh, and there's another plus to a tree skirt – it's much easier to clean the needles if you put it on an indoor tree.
4. Door Hangers
Door hangers are one of the most quintessential Christmas decorations. And there are so many types you're sure to find something you like. Go for a snowflake or wreath if you're the traditional type. But you can also get a bit creative - we have a DIY door hanger idea that is very popular this year, but you'll need to wait a bit until we get to it.
5. Window Decals
Like door hangers, window decals can scream Christmas. Decals come in all shapes and sizes. Snowflakes, snowman, reindeers, and Santa Clause window decals are probably the most common Christmas decorations. But that doesn't mean you have to get standard ones. Going on a shopping trip to find some unusual decals can be a fun experience for the entire family.
6. Flameless Candles
Flameless candles are always a welcome addition. They're cheap, easily available, and the soft light they give off somehow always makes the home more welcoming. Just don't overdo it and put a set on each fireplace mantel and window sill.
7. Lanterns with LED Lights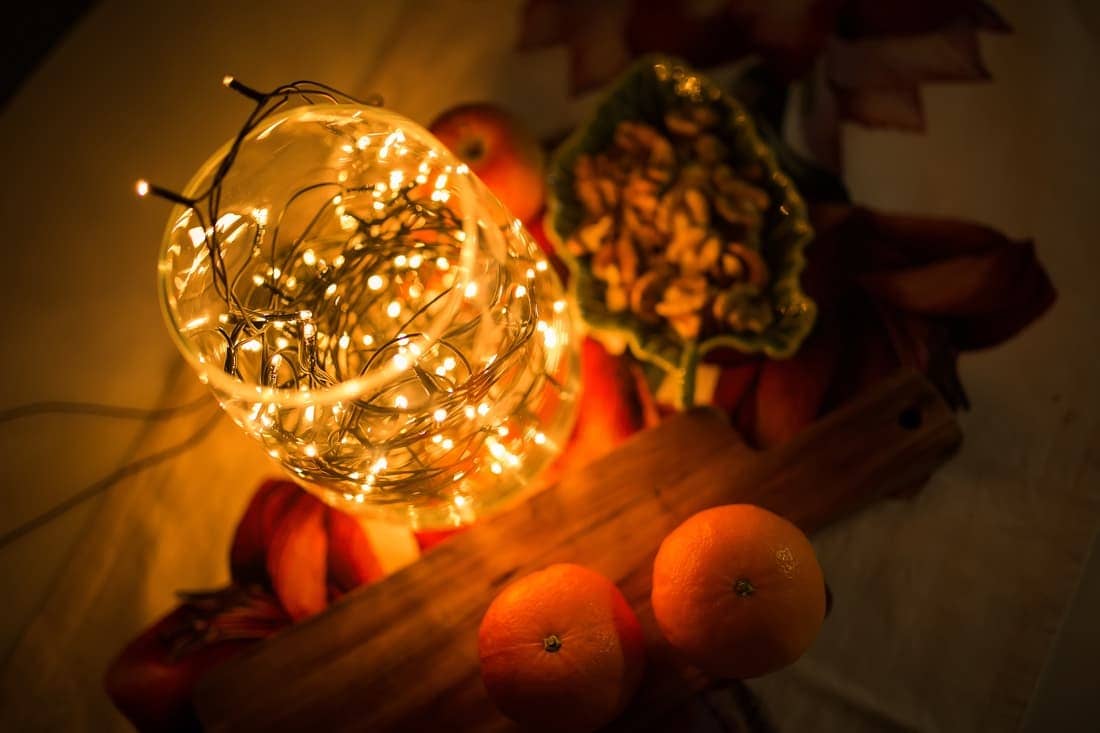 Lanterns with LED lights can be the best Christmas decoration. First off, they're quite nice looking in and of themselves. But more importantly, they can frame anything you want to highlight. Imagine a room only lighted by these lanterns as they surround your Christmas tree. Or how about making a pathway to your door framed by the lanterns?
8. A Lightbox for the Tree
A lightbox that counts down the days to Christmas can be an excellent accessory if you have small kids. Remember how excited you were as a kid while waiting for Christmas to arrive? The lightbox can be a constant reminder and get your kids' excitement up to eleven by Christmas Day. And let's be honest, it works on adults too.
9. Christmas-Themed Plates and Cutlery
So, we talked about that friendly holiday-hosting completion you have with your sister. Well, Christmas-themed plates and cutlery can net you another point. Get as many sets as you need and impress your guests with such a simple move.
10. Hanging Hedgehogs
Look, hedgehogs are cute. What do hedgehogs have to do with Christmas? Well… we don't know, honestly. But we do know that Christmas-themed hedgehog ornamentations are even cuter and very popular, so it's not just us. Get a few and maybe you'll feel the same way.
DIY Christmas Decorations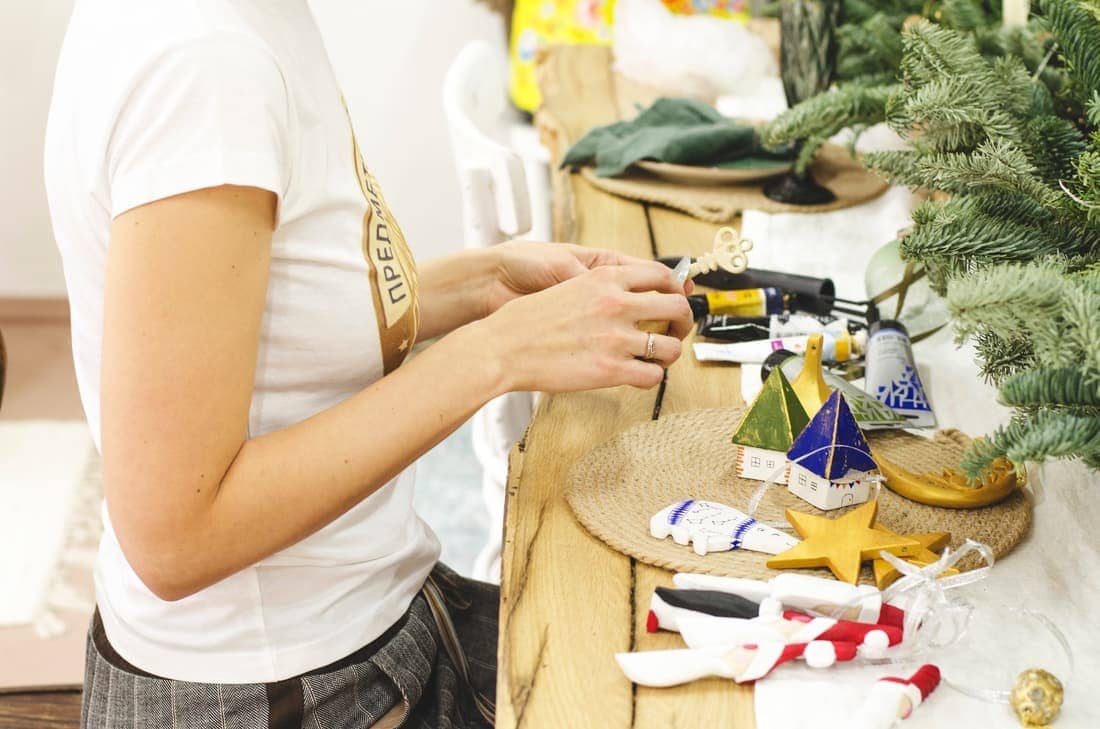 Now that we've gone through 10 Christmas decorations you can buy, let's get to some DIY ones. Just make sure you get started right away so that they're done by Christmas.
1. Christmas Card Display
You're bound to get some cards this Christmas. So why not collect them and put them on display? The cards will already be Christmas-themed so they'll go nicely with the rest of the decor and you'll be showing the senders you appreciate them. You can even take it a step further and arrange them in the form of a tree, a stocking, or whatever else appeals to you.
2. Pompom Christmas Trees
Do you have some old pompoms lying around in a closet or drawer? Why not make a Christmas tree out of them? All you need is the pompoms and some wire to hold them up. And don't be afraid if the colors don't match. Pompoms are supposed to be colorful, energetic, and in your face, so your pompom tree should do the same. This simple DIY Christmas decoration guarantees a playful living room.
3. Stitched Stockings
Stitched stockings are an essential Christmas accessory, but why not give it a shot and try to make your own ones this year? Yes, creating them takes some skills and you probably won't get it on the first go. But a few failed experiments can make nice memories and give your home a cozier feel. Who knows, you might even become an expert by the end of it.
4. Ice Skates Door Hanger
We talked about door hangers and here's a DIY one that's quite popular this year. Just take a pair of old (or new, it shouldn't really matter) sleek ice skates, fill them with greenery, and attach them to a wreath – you now have a gorgeous door hanger. A few bells that go with the color of your skates also can't hurt.
5. Old Sweater Decorations
Christmas sweaters tend to be… gaudy. But you can use that to your advantage. There are surely some old Christmas sweaters laying around that you haven't worn for years. Cut them up and use them to decorate your tree and house. They might not be the most fashionable of clothing, but that makes them perfect as a DIY decoration.
6. Customize Your Candle Jars
Candle jars are generally made to be pleasing and appealing. And you can take it up a notch for Christmas. Simply cut up some lemons or oranges and let the slices dry. Stuff them besides the candles in transparent candle jars and you have a small detail that nicely balances out the red and green. The additional fragrance is a plus.
7. Citrus-Slice Pine Branches
The idea here is the same as the one behind putting citrus slices in candle jars – the colors provide a nice contrast. Get some pine branches and arrange them in a vase, then hang orange and lemon slices. If you can't get the branches to stick together, use a paper clip. It's a subtle detail, but we guarantee you'll love it.
8. Paper Tablecloth
You know what would go well with Christmas-themed plates and cutlery? Not a Christmas-themed tablecloth - that would be overdoing it. But getting a black paper tablecloth and letting your kids paint on it? That's perfect. Or you can do it yourself, if chaotic is not the look you are going for. Either way, it'll be personalized and a nice touch to even out the décor.
9. Decking Out the Porch
Let's not forget about the porch. You'll likely have a lot of outdoor decorations and you can add to them by going for an old-timey look. Just stack some firewood, gather some pine branches, and place it all by the doorway. The pine scent combined with the visual display of firewood is bound to get everyone entering in a festive mood.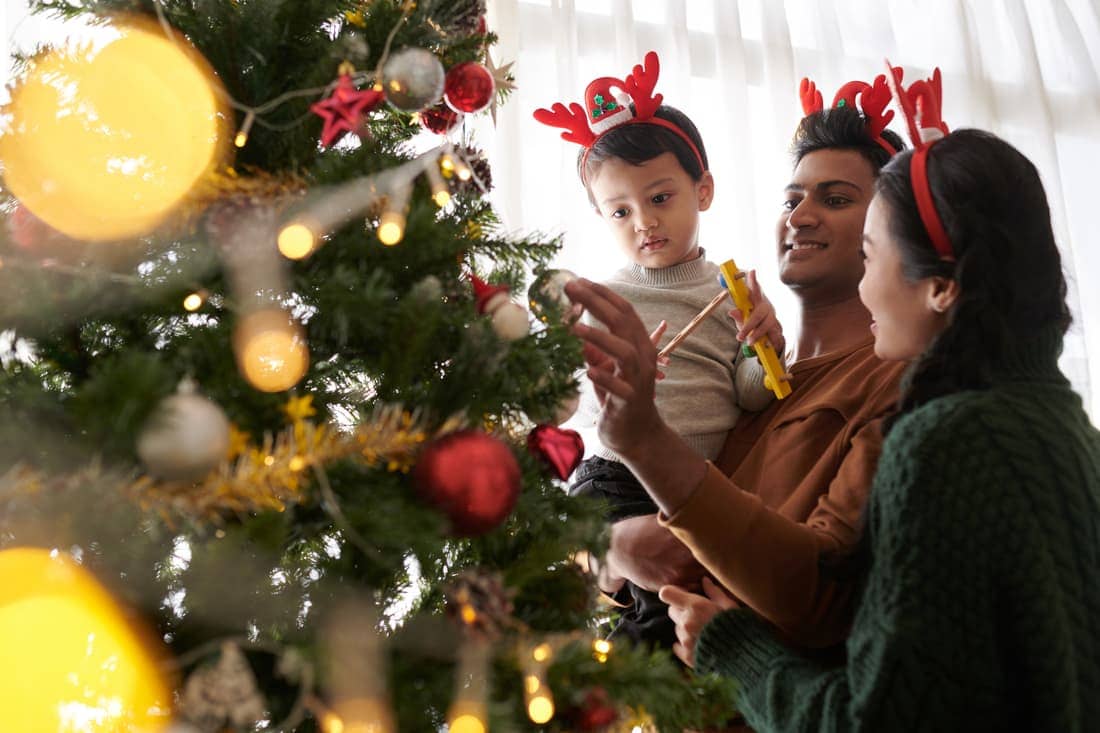 10. Plant Some… Trees?
One way to grow evergreens is to plant and cultivate cuttings. Now is not the time of year to plant most evergreens, but they can make for good Christmas decorations instead. Get some spruce cuttings, plant them in small flowerpots, and place them above the mantle. They won't wither quickly and you'll get a simple Christmas decoration that spruces up your home. And it smells nice.
Got Any Decoration Ideas You'd Like to Share?
We'd love to see it. If you apply any of these Christmas decoration ideas or come up with your own, take a picture and share it with us on Facebook or Instagram and let's get the Christmas season off to a good start!