Online marketing is as natural as breathing to most gen Zs and millennials. Every viral TikTok or Instagram trend is, ultimately, effective self-promotion, even if it's often unintentional. One recent social media trend is showing off your sense of style and creativity by how your room looks. And that's what this article will be about – aesthetic room decor ideas that will make people notice you.
You may be reading this article because you want to show off your creative side. In that case, we'll list 10 simple aesthetic room ideas (and 2 full-conversion ones) that will get your creative juices flowing and help you come up with something new.
For those older readers who aren't so much into social media trends, think of it this way – these simple room accessories are cheap and easy ways to promote yourself. If you are selling your house, this is one of the easiest paths to finding interested buyers. With aesthetic decor ideas at your fingertips, why not do some DIY marketing and get ahead of the pack?
In any case, here are 10 simple aesthetic room decor ideas everyone can implement.
1. As Many Plants As Your Room Can Take
The first rule of aesthetic room decor is that the room needs to pop. And that necessitates lots of plants to give off a natural and energetic vibe and provide entrancing colors. Whether you're going to have hanging plants or planters strewn across the room for that organized-chaos look is up to you.
And of course, plants let you play with the color palette, so they can be a good fit for literally any room. You can go for the subdued green of creeping vines, the warm purple of lavender, or the passionate red of a dahlia. They are the primary aesthetic accessory and at least a few should be in every room. The bottom line is – plants, plants, plants.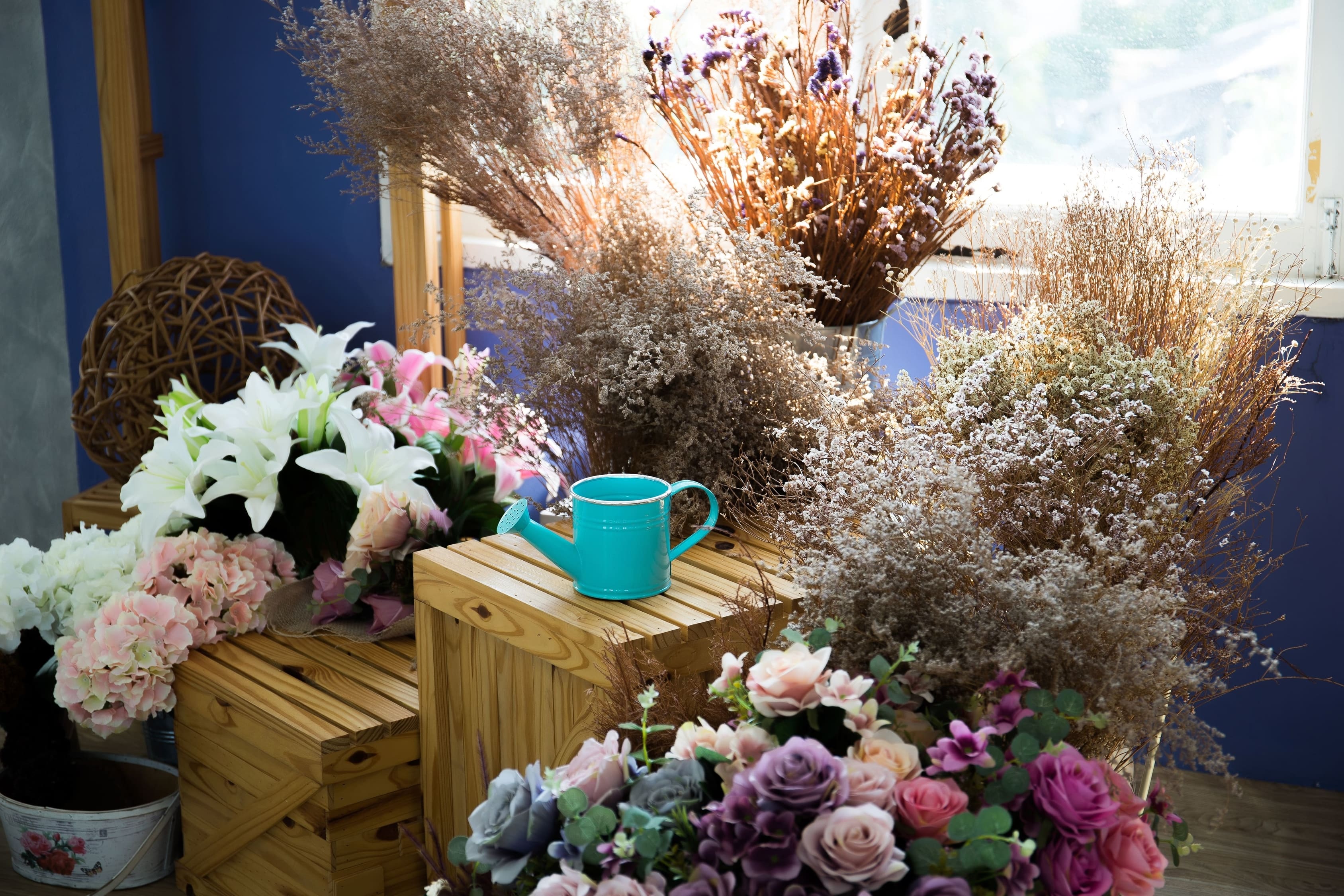 2. Fake Plants?
Fake plants quite make the same impression as real plants do, there's no going around that fact. But they are a good substitute and will provide your room with unique textures. Maybe you have allergies or just don't want to spend energy taking care of the plants. Your reasons are your own, but whatever they are, fake plants are a good substitute for the real thing.
3. Fairy String Lights
Fairy string lights are a must if you are going for a cozy and comfy room aesthetic. They add character but are unassuming. They are perfect for framing the focal point of your room to make it stand out. And there are so many variations of fairy string lights that you will easily match them with the overall aesthetic you are going for. Oh, and they are quite cheap to get.
4. Room Decor for Small Rooms – Full-Length Mirror
A full-length mirror can be the centerpiece of any small room. Just imagine one in the corner opposite your window framed by your string lights. A full-length mirror is an aesthetic room decor idea that fits with everything. But it's particularly suitable for small rooms – the interplay of light with the mirror will make your room appear much more spacious and natural.
5. Wall Art
It won't come as a surprise that wall art has always been a thing. But in the last few decades, wall art has become so… 1950s-like? In any case, old-timey. But you can use that to your advantage. Go for a vintage look with a modern touch by making one or two art pieces the cornerstone of your room's aesthetic and complement them with similar themes.
6. Wall Flower Garlands
Still not into wall art? That's perfectly fine. Another option is making flower garlands and hanging them on your walls. Or simply stick flowers to your walls. They will be just as attention-grabbing as wall art but will make your room more energetic. And if you can't be bothered with fresh flowers, you can always use dried or fake.
7. Neon Signs
Hanging neon signs is another aesthetic room decor idea focusing on your walls. However, neon signs definitely don't go with everything. If you're going for a natural or vintage look, don't go for neon signs. On the other hand, if you're going for a 70s- or 80s-themed room, neon signs are a must. And there are so many types that you are bound to find something you like.
8. Vinyl Records
When talking about vintage looks, vinyl records must be mentioned. First off, they look great and you can mix and match them until you find a pattern you like. And second, you get to show off your music taste. Also, the records don't have to be the only thing handing on your walls – you can incorporate them into a wall collage for more visual diversity.
9. Tapestries
Another option for walls is tapestries (although you can just as easily use them as curtains or bedcovers). Now, tapestries are works of art by themselves and come in a plethora of patterns, sizes, and textures. You are sure to find one you like that fits your overall room decor. On the downside, high-end tapestries can be quite expensive.
9. Tapestries
Another option for walls is tapestries (although you can just as easily use them as curtains or bedcovers). Now, tapestries are works of art by themselves and come in a plethora of patterns, sizes, and textures. You are sure to find one you like that fits your overall room decor. On the downside, high-end tapestries can be quite expensive.
10. Canopy
In case you want your aesthetic room to be truly unique, you can choose to put a canopy over your bed. Similar to tapestries, canopies come in many styles, although they always fall on the more elegant side of room aesthetics. If nothing else, maybe it will keep the mosquitoes out?
Full-Conversion Aesthetic Room Ideas
We've listed 10 aesthetic decor room ideas that are based on mixing and matching different room accessories to come up with your own style. But you can also focus on one style and do a full-room conversion. If this is the path you're choosing, we suggest you check out:
Danish Pastel Aesthetic Room
The Danish pastel aesthetic has been all the rage since 2020. It is characterized by Scandinavian furniture, bent and curvy lines, naturally-lit rooms, and pastel colors contrasted with white or light walls. Danish pastel rooms give off a vibe of warmth and innocence.
Cottagecore Aesthetic Room
Cottagecore, as the name suggests, is a modern take on old-time cottages. It is characterized by earthy and green colors, botanical motifs, and wood furniture. Vintage accessories like old framed mirrors or lanterns are perfect additions to a cottagecore aesthetic room. A cottagecore room should be subdued and relaxing.
Are You Redecorating Your Home to Attract Buyers?
If you are interested in aesthetic room decor ideas because you are thinking of selling your house and wish to attract buyers via social media, there's no need. SleeveUp Homes will buy your house in the state it's in currently for cash and pay top dollar.
We are a local Southern California company and will buy your house directly from you. There are no realtors or other middlemen involved – which means that you get to negotiate the terms of sale and pay no realtor commission. On top of that, we'll take care of the closing costs.
If you are interested in how much you can get for your house as-is, request a cash offer and see what we can do for you.