A surge in sales of the most affordable houses in the US has been reported after the mortgage forbearance and the foreclosure moratorium ended last year. The first year of the pandemic brought a spike in sales of expensive and luxury homes, which calmed down during the fourth quarter of 2021.
The booming sales of affordable and most affordable homes happened partly due to a straightening job market. This motivated many people to take advantage of still low, although on the rise, mortgage rates. The sales of affordable houses are up thanks to real estate investors, who saw an opportunity for returns.
The economic help that was established at the start of the pandemic was slowly shutting down on a federal and state level. Low-income households couldn't handle the costs of homeowning after the mortgage forbearance agreements ended, thus by putting their house on the market, created a highly sought-after supply. Redfin reports 11.3% year-over-year inventory growth in the fourth quarter of 2021.
This surge in supply is recognized by investors who bought a record number of properties in the last year. Investors bought 18.2% of houses on the market in the third quarter of 2021 - that's around $64 billion. More than 30% of those homes are priced at $300,000 or less.
Redfin categorizes houses by price in five groups: luxury, expensive, mid-ranged, affordable, and most affordable. Sales spiked only in the affordable and most affordable categories, while the number of sold higher-cost properties decreased.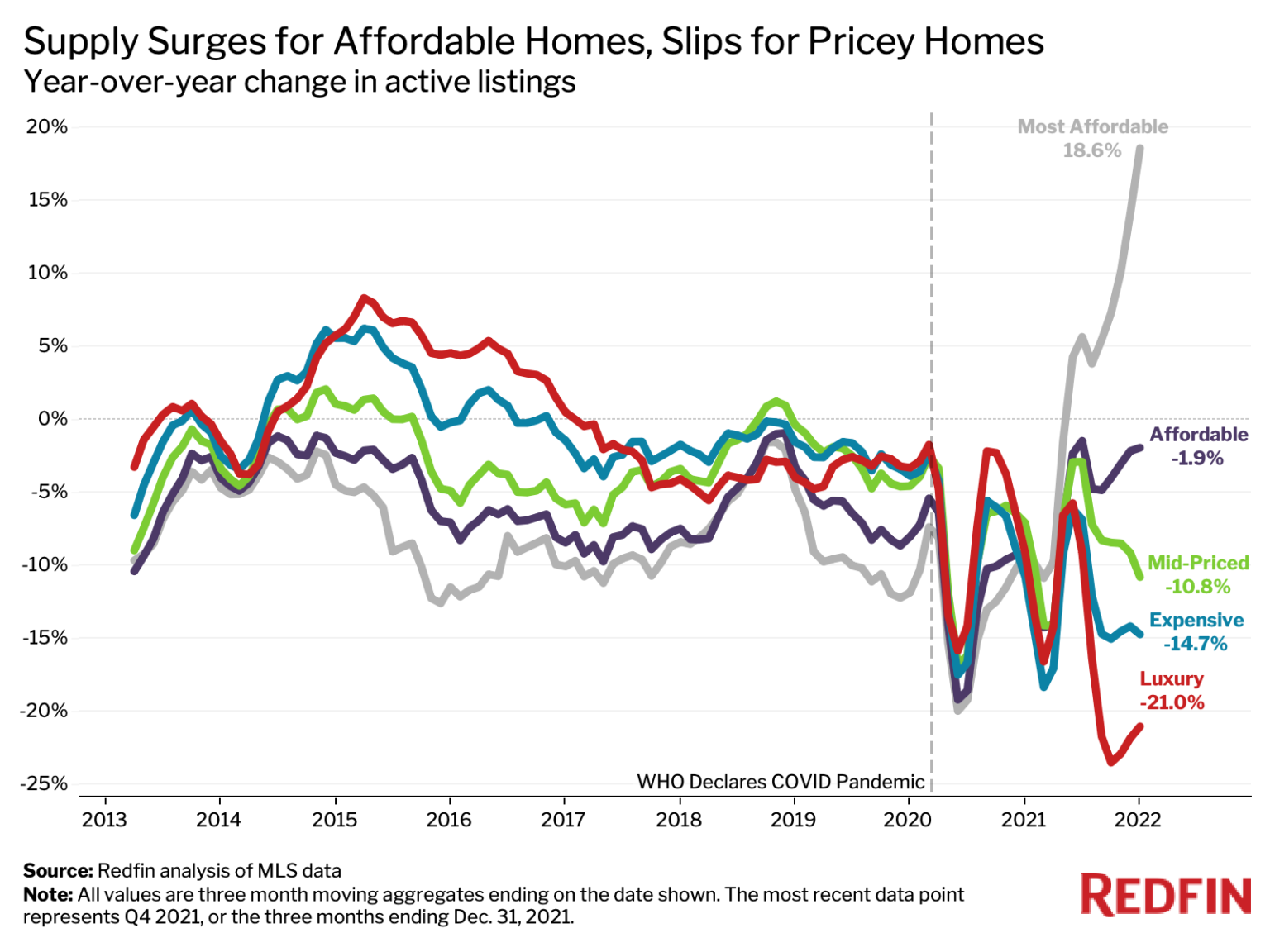 Luxury properties took the biggest hit, as there are 16.3% fewer sales than in 2020, all because of low supply. Still, the numbers of sales are far above pre-pandemic levels and the demand is still high, and sales speed speaks in favor of that. A luxury house is on the market for as little as an average of 39 days.
As there is a sudden 31% rise in listings of lower-priced homes, there is also a rise in people looking for renting units. The shutdown of economic help is pricing people out of their homes. Investors are anticipating an influx of lower-earning renters, which is why they are dominating the sales of more affordable, single-family housing.
The Prices are Still Rising
All while sales are going down, the prices are still remaining robust, especially in the mid-range sector. Prices of mid-range properties are up 18.9% year over year, showed the reports from December 2021.
Expensive and luxury real estate worth increased in every US metro area, but the biggest increase has been reported in Miami, Riverside, and Austin. Those homes range from 600,000 to more than a million dollars.
The only price deduction in the most affordable category has been seen in San Franciso, out of all US metro areas. Everywhere else there is a 10.9% increase, and an average single-family unit in that category costs a little less than $130.000.
Is the Market in a Housing Bubble?
A housing bubble is a phenomenon in the real estate economy characterized by a sudden and rapid influx of homebuyers and investors, a shortage of supply, and soaring prices, which all together lead to a market collapse.
Some buyers and sellers are worried that the market as it is now is heading for a slump, but some experts predict that the competitive market is going to calm down during 2022. Many are afraid of the same destiny that overtook the market in the 2000s and brought the recession.
Experts are countering by saying that the 2008 collapse happened due to loose rules when giving out mortgages. Rates may be low, but the lending practices are much stricter than ever. If experts' predictions are true, the housing market is just going through a highly competitive stage, and there will be no major repercussions on the country's economy.